Southern Alberta hamlet evacuated after train hits propane tanker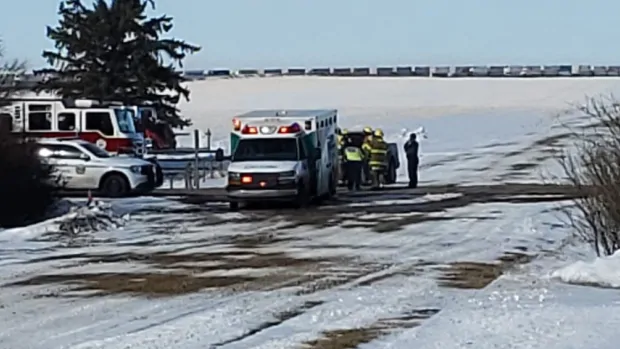 The hamlet of Swalwell in southern Alberta has been ordered to evacuate after a train collided with a propane tanker truck.
An information alert was issued at 4:30 p.m. Monday.
"Avoid the area. Evacuate immediately. Follow the directions of local authorities," the alert read.
Traffic was blocked at Township Road 302 and Railway Avenue, and the evacuation was in progress.
CN Rail said propane from the truck leaked out but no goods from the train, which was carrying freight containers, spilled.
There were no injuries or fires immediately reported, CN Rail said. Both fire crews and CN police were on scene.
"At this time, we don't know the severity of the leak, but due to the nature of the product, every precaution is being taken," an updated posted to Kneehill County's website read.
Kneehill County stated that fire department members were going door to door to ensure residents left safely.
County Reeve Jerry Wittstock said it's not unusual for trains to derail in the area, but that this is the most serious incident of the kind he's seen.
Wittstock said around 68 homes are located in the hamlet, and some homes are near the railroad tracks.
Evacuees were being asked to register at a reception centre set up in the cafeteria at the Prairie Bible Institute, 350 Fifth Avenue North in Three Hills, Alta.
Swalwell is located about 90 kilometres northeast of Calgary and has a population of around 100.