On Natalie Portman's Statement Dress at the 2020 Oscars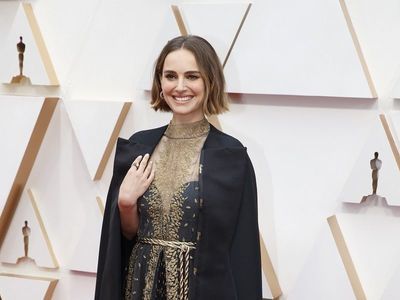 There are statement dresses, and then there are statements. At the Oscars last month, Natalie Portman wore the former while wordlessly communicating the latter.
Portman's black Dior frock embroidered in gold boasted a matching cape with the names of eight female filmmakers whose movies, with one exception, were neither nominated for Best Picture nor Best International Feature Film. In large part that is because the nomination process is tilted against women directors.
The surnames on Portman's cape—Diop, Gerwig, Har'el, Heller, Matsoukas, Scafaria, Sciamma, and Wang—were likewise embroidered in gold, symbolically enabling them to have a presence on the red carpet and share a flash of Oscar gold. Greta Gerwig, whose "Little Women" was nominated for Best Picture and won one out of its six nominations (for Best Costume Design, natch), was the exception. Portman eloquently communicated that 2019 was one hell of a year for female filmmakers.
And yet. No international film nomination for Mati Diop's "Atlantics," a haunting film about immigration that won the Grand Jury prize at Cannes? No nods for Alma Har'el's "Honey Boy," Shia LeBeouf's semi-autobiography? Apart from a Best Supporting Actor nomination for Tom Hanks, nothing else for Marielle Heller's "A Beautiful Day in the Neighborhood," a film that chronicled Fred Rogers' humanizing impact on a hardened journalist? What of Melina Matsoukas' "Queen and Slim," an outlaw romance about a black couple who flee arrest for a minor infraction? Or Lorene Scafaria's "Hustlers," which follows exploited pole dancers who turn the tables on men? Then there's Celine Sciamma's exquisite "Portrait of a Woman on Fire," a French period drama (now in theaters) about a female portraitist and her subject. And heaven knows why not Lulu Wang's "The Farewell," a comedy about a Chinese-American family who think that what the clan's matriarch back in China doesn't know (her cancer diagnosis) won't hurt her?
As to why Jennifer Kent ("The Nightingale"), Mimi Leder ("'On the Basis of Sex")*, Kasi Lemmons ("Harriet") and Olivia Wilde ("Booksmart") weren't embroidered on Portman's cape, I can't say. But their films are stamped on my heart and those of many others. And though I'm talking about the big screen, let me add Ava DuVernay's superlative Netflix miniseries, "When They See Us" as well.
As to why these films weren't on the radar of Oscar voters, let's stipulate that the percentage of women who directed the top 100 box office films in 2019 was 12%. And the percentage of women who directed films in the top 250 box office films was 13%. The good news is that these are historic highs. These numbers come from Dr. Martha Lauzen, executive director of the Center for the Study of Women in Television and Film and a professor of film and television at San Diego State University, who has crunched them for more than 20 years (her findings are available by clicking here).
While those percentages are historic highs—and being in the top 100 usually indicates that the movie also did very well at the box office—Lauzen suggests that we look at "below-the-radar" data to understand why at awards time pictures directed by women may not get the attention they deserve.
When Lauzen looks at the metadata, she notes that in the U.S., male movie reviewers outnumber females by roughly two to one. Why does this matter? Because women reviewers tend to give higher ratings than men to films with female protagonists: Women writers award an average rating of 78% and males an average rating of 68% to films with female protagonists.
Since women write only 32% of the reviews, more men than women review movies from female filmmakers. Thus from the get-go, films by women don't assume as high a profile as they might when they enter the marketplace.
Come awards season (which effectively has replaced winter on the Hollywood calendar), the members of the Academy Director's Branch—which is 38% female—nominate the best director. Not to put too fine a point on it, but that means 62% of those doing the nominating are men, and they are advocating movies directed by men. From these statistics it wouldn't be fair to say that if there were gender parity in the Directors Branch, more women would be nominated for Best Director. But it is fair to note that the Directors Branch is tilted in the favor of male directors.
And it is fair to remind everyone that in Oscar history, only five women—Lina Wertmüller, Jane Campion, Sofia Coppola, Kathryn Bigelow, and Greta Gerwig—have been nominated Best Director. And that only one—Bigelow, for "The Hurt Locker"—has won.
As much as I liked the grace with which Portman reminded us of some of the women directors not cited, I would rather see a female filmmaker carrying her Oscar for direction than her name embroidered on a designer cape, however fetching.
*Leder's movie opened for Oscar consideration in LA/NY on December 25, 2018 but opened wide on January 11, 2019.