Number of coronavirus cases in Alberta to be updated by medical health officer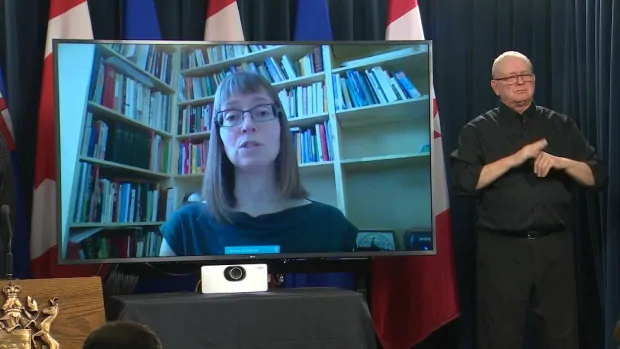 The number of reported COVID-19 cases in Alberta has been rising steadily since early March.
The province's chief medical officer of health will provide the latest update Tuesday afternoon from the media room at the Alberta legislature.
Dr. Deena Hinshaw, who went into self-isolation when she began suffering symptoms of a cold this week, confirmed on Tuesday that she has tested negative for COVID-19 and has returned to work.
Hinshaw has become the public face of the crisis in Alberta, providing regular updates about the COVID-19 situation in the province and the far-reaching measures being taken to try to slow the advance of the virus that causes the illness.
Less than two weeks ago, on March 5, the province had reported a single case of COVID-19. From that point, the climbing number of cases looks like this:
March 6, two cases
March 8, four cases
March 9, seven cases
March 10, 14 cases
March 11, 19 cases
March 12, 23 cases
March 13, 29 cases
March 14, 39 cases
March 15, 56 cases
March 16, 74 cases
On Monday via conference call, Hinshaw reported 18 new cases of COVID-19, including five people who have been hospitalized, two of them in intensive care.
"The risk has increased [with] community transmission," Hinshaw said, "and Albertans need to be mindful that the things that they do every day, the choices they make in their everyday life, can save lives. Staying home when they're sick, that can save lives."
The province reported one case each in the north and south health zones, which means the illness has now been found across Alberta.
The total number of cases in Alberta on Monday included:
52 in the Calgary zone;
18 in the Edmonton zone;
two in the central zone;
one in the north zone, and;
one in the south zone.