MPs return to Ottawa to pass emergency COVID-19 funds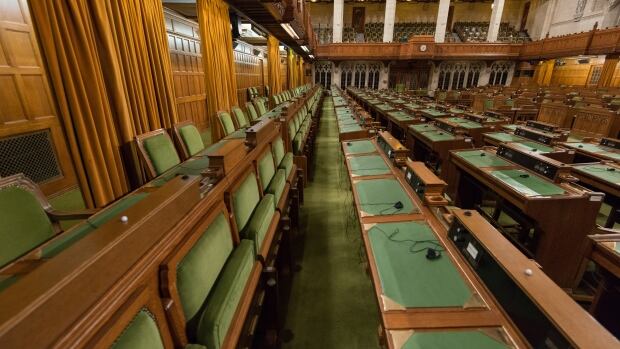 A small group of MPs will practise social distancing in the House of Commons today as they return to Ottawa to pass legislation to unlock billions in emergency funds to help Canadians and businesses through the COVID-19 crisis.
Finance Minister Bill Morneau will table the bill to spend up to $82 billion in financial supports and deferred taxes when the House begins sitting at noon ET. About 33 MPs, including deputy House Speaker Bruce Stanton, are expected to be there. CBCNews.ca will carry the special sitting live.
Special live coverage on CBC News Network on the pandemic also begins at 11 a.m. ET and will carry Prime Minister Justin Trudeau's daily briefing at 11:15 a.m. Watch it live here.
Late Monday, the Liberals backed off a proposal that would have given the government sweeping new powers to spend, borrow and tax Canadians for 21 months without parliamentary approval.
The Conservative Opposition had criticized the move as an attempt to get Parliament to sign them a blank cheque.
Once the emergency aid legislation passes in the House, it will move on to the Senate for more debate, which is expected tomorrow.
The proposed aid package includes:
A temporary boost to Canada Child Benefit payments, delivering about $2 billion in extra support.
A new Emergency Care Benefit of up to $900 biweekly, for up to 15 weeks, to provide income support to workers, including the self-employed, who have to stay home and don't qualify for paid sick leave or employment insurance. The measure could disburse up to $10 billion.
A new Emergency Support Benefit to provide up to $5 billion in support to workers who are not eligible for EI and who are facing unemployment.
A six-month, interest-free reprieve on student loan payments.
A doubling of the homeless care program.
An extension of the tax filing deadline to June 1.
A policy change allowing taxpayers to defer until after Aug. 31 tax payments that are due after today and before September.
$305 million for a new Indigenous Community Support Fund to address immediate needs in First Nations, Inuit and Métis Nation communities.