Edmonton mayor to update city's COVID-19 response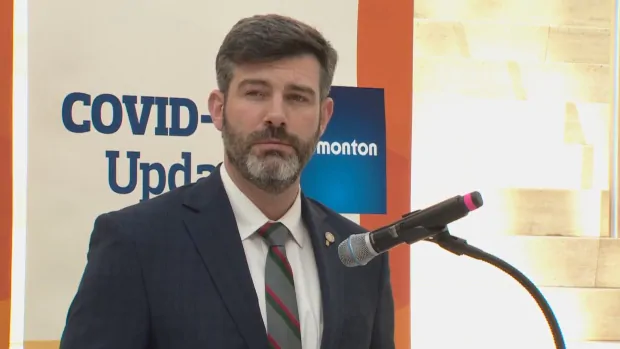 Edmonton Mayor Don Iveson says the city is working with the province on a move to defer property taxes due to economic pressures caused by the COVID-19 pandemic.
"The city takes those looming bills very seriously and understands paying them would be a challenge," Iveson said Wednesday at a news conference.
The city has decided not to declare a local state of emergency but could revisit that with one hour's notice, the mayor said following Wednedsay's meeting of the emergency advisory committee.
"At this time it's our belief the situation does not currently warrant such action on behalf of the city," Iveson said.
You can watch the update live here. The update will also be livestreamed on the City of Edmonton's YouTube page.
During the meeting, Laughlin said he does not recommend the city declare a local state of emergency, CBC city hall reporter Natasha Riebe said on Twitter.
The meeting has also heard discussions about the decision to scale back Edmonton Transit buses and trains to Saturday service, which created problems for commuters on Tuesday.
Transit ridership has fallen off 49 per cent since March 8, city administrators said in a presentation.
Deputy city manager Gord Cebryk said 60 Edmonton Transit employees are now self-isolating.
60 Edmonton transit employees are self-isolating, deputy city manager Gord Cebryk tells emergency advisory committee <a href="https://twitter.com/hashtag/yegcc?src=hash&amp;ref_src=twsrc%5Etfw">#yegcc</a> <a href="https://twitter.com/hashtag/yeg?src=hash&amp;ref_src=twsrc%5Etfw">#yeg</a> <a href="https://twitter.com/hashtag/yegtraffic?src=hash&amp;ref_src=twsrc%5Etfw">#yegtraffic</a> <a href="https://twitter.com/hashtag/coronavirus?src=hash&amp;ref_src=twsrc%5Etfw">#coronavirus</a>

&mdash;@natashariebe