Coronavirus: What's happening in Canada and around the world Friday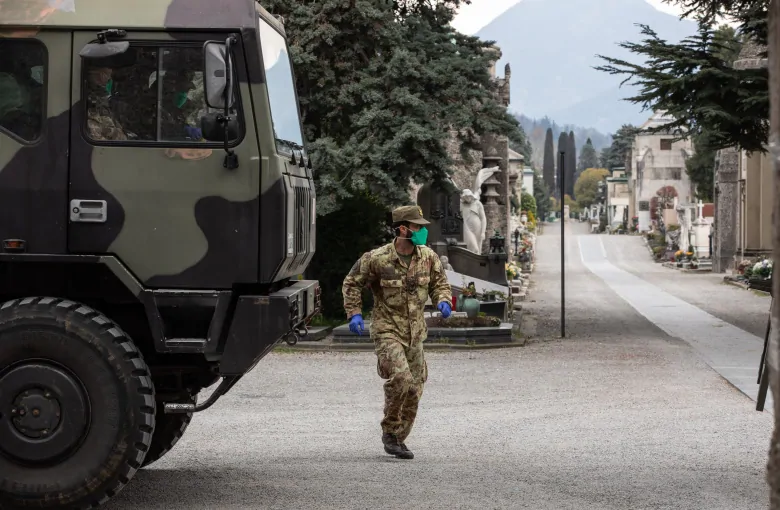 The latest:
Prime Minister Justin Trudeau said it's not yet clear how long measures to combat COVID-19 will need to stay in place, as he offered the latest details on a plan meant to help small businesses get through the financial fallout generated by the coronavirus outbreak.
The COVID-19 pandemic, which began in China and has since spread around the world, leaving more than 560,000 people infected, is causing massive job loss and economic disruption.
Trudeau said Friday there are many projections around how the COVID-19 crisis will unfold — but those projections all "hinge on choices" Canadians have made in the past few days and will make in the days ahead.
WATCH | Trudeau says severity of the COVID-19 pandemic depends on Canadians' actions:
"We will be able to say more about how many weeks or months this lasts" as the government learns the impact of those choices, he said. Later, he added that officials will be better able to predict how long measures would last once they get a sense of whether efforts to slow the spread of the disease have been effective.
"But I am very optimistic that we're going to get through this in the right way, because Canadians do what they need to do to be there for each other and to keep us all safe."
As of 1 p.m. ET Friday, Canadian health officials had reported more than 4,200 confirmed and presumptive cases, with 43 deaths. There has also been one reported COVID-19 related death of a Canadian abroad when a former passenger of the Diamond Princess cruise ship died in Japan.
However, Dr. Howad Njoo, Canada's deputy chief public health officer, said that at any point, there are "many other people under investigation awaiting laboratory tests, or not being tested at all." He said people who live in areas without known cases should understand that doesn't mean there aren't cases or "exposures waiting to happen" in their community.
Testing has been rising in Canada, but the availability and process varies by region. To date, Njoo said, Canada has tested 165,000 people. For most people, the coronavirus causes mild or moderate symptoms, such as fever and cough, that clear up in two to three weeks. For some, especially older adults and people with existing health problems, it can cause more severe illness, including pneumonia, or death. There is no proven vaccine or treatment for the novel coronavirus.
Njoo reminded Canadians of "all ages" to not underestimate the severity of the disease, echoing a message from Canada's chief public health officer, Dr. Theresa Tam, the day before.
WATCH | Dr. Theresa Tam talks about COVID-19 in young people:
Tam said on Twitter Thursday that to date in Canada, 6.1 per cent of COVID-19 cases require hospitalization, 2.6 per cent of cases fall critically ill and require ICU care, and one per cent of cases prove fatal.
The one-per-cent case fatality rate "means our health-care system is not currently overwhelmed," Tam tweeted. "But we can further reduce fatalities by preventing COVID-19 in vulnerable populations like long-term care."
At Friday's briefing, Njoo said everyone, no matter their age, must "strictly maintain physical distancing, comply with quarantine and self-isolation orders, and protect and support those who are most vulnerable."
Njoo and other government and public health officials have shifted phrasing slightly to say "physical distancing" instead of "social distancing" in a bid to be clear and emphasize the continued need for social connection even when people are physically separated.
"Whatever your situation is, stay in your bubble and please, don't step outside of it and don't burst anyone else's bubble," Njoo said, pointing to a phrase used in New Zealand to describe the small group of people who are living together.
Small businesses wage subsidy gets big boost
Speaking outside his home at Rideau Cottage, Trudeau focused much of his daily briefing on small businesses, saying he knows recent weeks have been "heartbreaking" for business owners and entrepreneurs.
He said the government, which had previously announced a temporary 10-per-cent wage subsidy, will boost that to 75 per cent for qualifying businesses. The shift comes after many in the business world, as well as labour groups and opposition politicians, had called on the government to increase the subsidy.
"We're helping companies keep people on the payroll so that workers are supported and the economy is positioned to recover from this," Trudeau said.
The prime minister said the subsidy for small- and medium-sized businesses would be backdated to mid-March. More details about the plan for small businesses, including a loan program, will be released in the coming days, he said.
Earlier Friday, the Bank of Canada made an unscheduled announcement, dropping its benchmark rate by 50 basis points to 0.25 per cent in an effort to support an economy hit hard by the outbreak of coronavirus.
Bank of Canada governor Stephen Poloz said the whole world is being impacted by the COVID-19 shock, but said some economies are being affected also by the oil price competition between Russia and Saudi Arabia. That means the Canadian economy has two shocks to deal with, he said.
Poloz said the rate cut is meant to cushion those blows and ease the cost of borrowing. "A firefighter has never been criticized for using too much water," he said as he explained the decision.
The budget watchdog for Parliament, meanwhile, is projecting the federal deficit in the coming fiscal year could hit $112.7 billion — a jump of almost $90 billion from previous forecasts. An online post from the Office of the Parliamentary Budget Officer (PBO) said the "economic and fiscal outlook is extremely uncertain" and notes that the office will "update its scenario analysis as necessary" as more information and data becomes available.
"We stress that this scenario is not a forecast of the most likely outcome. It is an illustrative scenario of one possible outcome," the PBO post said.
On Wall Street, stocks fell Friday morning as investors waited for the U.S. Congress to deliver a big financial rescue package aimed at cushioning ailing businesses and households from the coronavirus crisis.
South of the border, the United States now has the most recorded cases of any country in the world, surpassing China — where the outbreak began — and Italy, which has been the epicentre of the outbreak in Europe.
According to a case tracking system maintained by Johns Hopkins University, there are more than 92,000 cases in the U.S, with more than 1,400 deaths reported.
The Canada-U.S. border continues to be the subject of discussions, with the Canadian government balking at reported U.S. plans to station American troops near the border and to deport asylum-seekers turned back by Canada due to temporary pandemic containment measures.
"When we have more information, we'll share it," Trudeau said Friday. "We continue to engage closely in back-and-forths with the American administration on many, many issues around the border."
U.K. prime minister tests positive
U.K. Prime Minister Boris Johnson announced Friday that he, too, had tested positive for COVID-19.
"Over the last 24 hours I have developed mild symptoms and tested positive for coronavirus," Johnson said. "I am now self-isolating, but I will continue to lead the government's response via video-conference as we fight this virus."
Johnson, 55, was the first leader of a major nation known to have contracted COVID-19. Matt Hancock, the U.K.'s health secretary, also tested positive for coronavirus. Hancock said on Twitter that his symptoms are mild and he's working from home while self-isolating.
The news comes after a spokesperson for Clarence House announced that Prince Charles had tested positive and was self-isolating.
On Friday, health officials said Britain had 14,579 confirmed cases of COVID-19, and 759 people have died — 181 deaths in 24 hours, the highest daily toll yet.
WATCH | London erupts in applause for health-care workers:
Here's what's happening in Canada's provinces and territories
In British Columbia, people who ignore COVID-19 public health orders face a fine of up to $25,000. The province has also banned reselling essential supplies, including cleaning materials and personal protective equipment. Read more about what's happening in B.C.
Alberta Health Services is looking to free up additional hospital beds to help with the COVID-19 outbreak. Dr. Mark Joffe, vice-president and medical director for northern Alberta, said that AHS staff and doctors have been "working feverishly for a number of weeks now" to plan and are still working to find additional space in the system. Read more about what's happening in Alberta, including a story from Edmonton about a laptop drive aiming to connect marginalized people during the coronavirus pandemic.
Saskatchewan is releasing more information about COVID-19 cases in the province, including information on residents who have recovered after testing positive. The province, which has reported 95 cases, lists three cases as recovered. Read more about what's happening in Saskatchewan, which announced a new appointment-only testing site in Regina.
Manitoba is expanding its COVID-19 testing to include symptomatic health workers, people who live in group care settings (including long-term care and remote work camps), inmates and more. Chief provincial public health officer Dr. Brent Roussin also said all people living on First Nations in the province who are experiencing respiratory symptoms will be tested. Read more about what's happening in Manitoba, where a group of workers at the water treatment plant in Brandon are staying at the facility to ensure water keeps flowing.
An infectious disease specialist in Toronto is warning that "it's almost inevitable" that hospitals in Ontario are going to see a surge in COVID-19 cases. Dr. Andrew Morris says it's not yet clear exactly when it will happen but said the best estimates suggest clinicians will "start seeing a rise in the next week or so" and will see cases continue to increase for weeks, if not months. Read more about what's happening in Ontario.
WATCH | WW II veteran dies from COVID-19, family unable to say goodbye:
In Quebec, Premier François Legault is urging anyone who is in a position to help to volunteer at places like food banks, which are seeing an increase in demand. "We're counting on you to create a wave of solidarity in Quebec," Legault said — adding that people who need help shouldn't hesitate to reach out. Read more about what's happening in Quebec, including the story of a nurse working at one of Montreal's testing sites.
WATCH: Drone video taken over Montreal shows once-bustling public spaces nearly empty
New Brunswick's premier says between 25,000 and 30,000 people in the province have already lost their jobs in the COVID-19 pandemic. "We are facing a situation unlike we have ever experienced before," Blaine Higgs said Thursday. Read more about what's happening in New Brunswick, including an effort to connect laid-off workers with food manufacturers struggling to keep up with demand.
In Nova Scotia, the head of the province's telephone health service says anyone who gets a referral will get a COVID-19 test. Dr. Todd Howlett, medical director of 811, said the service is adapting to meet the demand created by the outbreak. Read more about what's happening in Nova Scotia.
Prince Edward Island has reported a total of nine cases of COVID-19, including at least one who has recovered. Read more about what's happening on P.E.I.
In Newfoundland and Labrador, the health minister says the province's public health emergency could last months. "I am pretty sure that it's going to be some time in June," John Haggie said. "Whether or not we make a Canada Day celebration, time will tell." Read more about what's happening in N.L.
Yukon's government is banning residential evictions during the COVID-19 pandemic. Air North, meanwhile, is laying off more than half of its workers and reducing service because of the outbreak. Read more about what's happening across Canada's North.
Here's what's happening in the United States
From Reuters, updated at 12:00 p.m. ET
U.S. doctors and nurses on the front lines of the coronavirus outbreak came under increasing stress on Friday as the number of cases skyrocketed and hospital staff were forced to ration care for an overwhelming number of patients, a day after the U.S. surpassed a grim milestone, becoming the country with the highest number of infections in the world.
One emergency room doctor in Michigan said he was using a single paper face mask for an entire shift due to a shortage and that his hospital would soon run out of ventilators, the machines needed by sufferers of COVID-19, the respiratory disease caused by the virus, to help them breathe.
After claiming on Thursday that he believed the numbers of ventilators being requested by states were sometimes exaggerated, U.S. President Donald Trump promised an announcement later Friday on the purchase of additional ones.
The Democratic-majority House met the necessary quorum of members to pass a $2.2-trillion coronavirus rescue bill early Friday afternoon. Many members of the chamber are still in their home districts and unable to travel to Washington, D.C. Trump has promised to sign the bill immediately. It passed in the Senate earlier this week.
Here's what's happening in Europe
From Reuters and The Associated Press, updated at 12:00 p.m. ET
Italy has become the second country to overtake China in coronavirus infections, reaching 86,498 cases on the same day it recorded its single biggest leap in deaths, with 969 more victims. Italy has recorded more virus-related deaths than any other country in the world, and has reported a further 9,134.
Spain's coronavirus death toll rose overnight by 769 cases to 4,858, the health ministry said on Friday, a new record in the number of fatalities recorded in 24 hours. The total number of those infected rose by more than 7,800 on Friday to 64,059.
Germany has proposed using big data and location tracking to isolate people with coronavirus once social distancing measures now in force have slowed its spread, media reported on Friday.
Poland has temporarily closed its borders to thousands of cross-border workers. The measures take effect Friday and require cross-border workers to stay on one side of the border until April 11, just before Easter. Except for trucks and trains carrying goods, anyone crossing into Poland will be put on 14-day quarantine. The country has confirmed 1,244 cases of infection and 16 people have died.
Hospitals in and around Paris will be swamped within 48 hours, the head of the French Hospital Federation said on Friday, with the peak not expected until April. A 16-year-old French schoolgirl from the Essonne region has become the youngest person in the country to die from COVID-19. Even though the death rate from the virus among young people is low, France's public health body has said that 35 per cent of intensive-care patients are under 60.
In southern Finland, police are preparing to enforce the new regulation aimed at ceasing all unnecessary human traffic to and from Uusimaa, the region that includes the capital, Helsinki, according to Social Affairs Minister Krista Kiuru. The Nordic country has so far confirmed 958 coronavirus cases — the vast majority of them in Uusimaa — and five deaths. The exceptional move, which is set to end April 19, affects the daily lives of some 1.7 million people, nearly a third of Finland's population.
Switzerland's infections topped 11,800 as the government pumped money into the economy and army medical units helped hospitals. Swiss authorities are lighting up one of their most famed landmarks, the Matterhorn, to show solidarity in the fight against the coronavirus.
Here's a look at what's happening in some other parts of the world
South Korea said it will block any passenger with even a mild fever from entering the country starting next week to counter a rise in coronavirus cases linked to arrivals from abroad. Health Ministry official Koh Deuk-young on Friday said all airlines flying to South Korea from Monday will be required to screen passengers for fevers and deny boarding to anyone with a temperature higher than 37.5 C. Koh said airlines will refund tickets for those who are denied flights.
South Korea in past weeks has been scrambling to strengthen border controls, including enforcing two-week quarantines on South Korean nationals and foreigners with long-term stay visas arriving from the United States and Europe amid broadening outbreaks in the West.
Chinese leader Xi Jinping has told U.S. President Donald Trump that China "understands the United States's current predicament over the COVID-19 outbreak and stands ready to provide support within its capacity." The official Xinhua News Agency said Xi delivered the message in a call to Trump on Friday, in which he also urged the U.S. to "take substantive action in improving bilateral relations."
In the phone call, Xi "suggested that the two sides work together to boost co-operation in epidemic control and other fields, and develop a relationship of non-conflict, non-confrontation, mutual respect and win-win co-operation," the official Xinhua News Agency reported. The virus outbreak was first reported in China in December and now appears to have peaked in the country, even while the government remains on guard against imported cases.
Indonesia's coronavirus cases surpassed 1,000 in the biggest one-day jump as the government ordered mass testing across the country to contain the disease's spread. The government on Friday confirmed 153 new COVID-19 cases, with 87 deaths. Indonesia has planned to distribute about a half million test kits across the archipelago nation, which is home for 270 million people.
In Singapore, famous for its strict social rules, anyone caught intentionally sitting less than a metre away from another person in a public place can be fined up to S$10,000 ($9,890 Cdn), jailed up to six months, or both.
Iran has confirmed another 144 deaths from the coronavirus and says thousands more are in critical condition as the military completed work on a 2,000-bed field hospital in an exhibition centre in the capital. Iran has reported nearly 2,400 deaths among more than 32,000 cases.
Iranian officials have repeatedly insisted they have the outbreak under control, despite concerns it could overwhelm the country's health facilities. Authorities have urged people to stay home but have not imposed the sweeping lockdowns seen elsewhere in the region.
Israel has meanwhile seen a surge in infections in recent days. It now has 3,035 confirmed cases and 10 fatalities.
South Africa has announced its first two deaths from the coronavirus as the country's cases rose above 1,000. The health minister said in a statement that the deaths occurred in Western Cape province. South Africa has the most cases in Africa and as of midnight entered a three-week lockdown. The military is in the streets helping to enforce measures that include bans on alcohol sales. Concerns are high about water supply in crowded, low-income townships.