Alberta legislators to debate COVID-19 issues Wednesday evening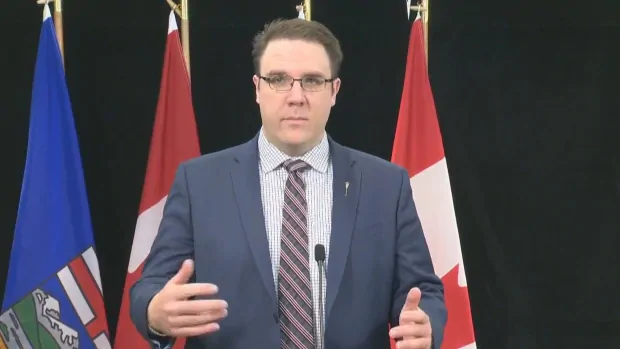 Government House leader Jason Nixon says Alberta legislators will have a debate Wednesday evening on issues around the province's response to COVID-19.
Nixon told a news conference he plans to move a motion in the assembly Tuesday to create rules around the debate. He said it is not an emergency debate, but a debate to provide an update to Albertans.
It is needed because question period doesn't provide enough time for the type of debate needed, Nixon said.
The motion will put in place parameters, including allotted speaking times for Premier Jason Kenney, Opposition leader Rachel Notley, and cabinet ministers involved in the response to the pandemic.
Nixon said that because of physical distancing requirements, the intent is to limit the number of MLAs in the house to 20 — 14 on the government side and six Opposition members.
The debate will start Tuesday evening starting at 7:30 p.m. and will likely continue until 12:30 a.m. or 1 a.m. Wednesday, Nixon said.
When the debate is over, "The government will update the Opposition and the legislature and, through them, Albertans, on what's taking place with COVID-19," he said.
Nixon also signalled at Tuesday's news conference that the government will introduce several pieces of legislation related to COVID-19.
The bills will cover public health emergency powers, protection for renters and landlords, and orphan well clean-up.
On Tuesday morning, the province announced a $1.1 billion US equity investment to help get construction going for TC Energy Corp.'s Keystone XL pipeline project.
Premier Jason Kenney will be discussing that agreement this afternoon at a media availability in Cochrane, Alta.
The legislative assembly resumes at 1:30 p.m.