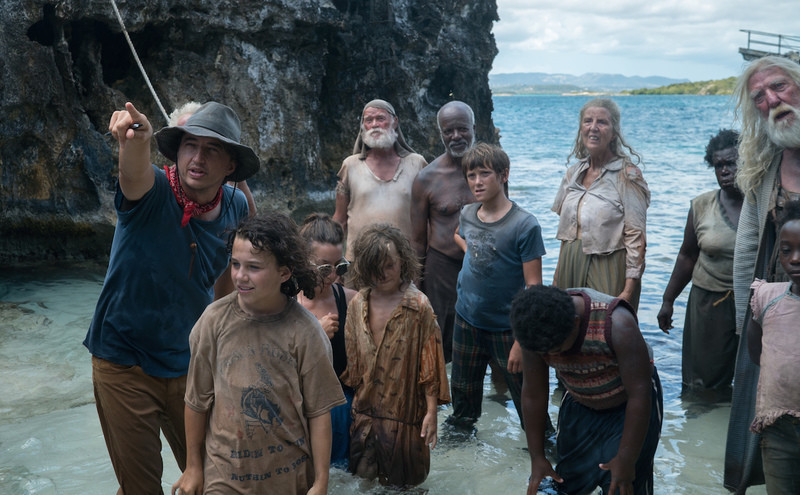 Matt writes: Ebertfest 2020, slated to run Wednesday, April 15th, through Saturday, April 18th, in Champaign, Illinois, has just announced its selections for opening and closing night. The festival will kick off with Francis Ford Coppola's newly restored 1984 gem, "The Cotton Club Encore," and close with Peter & Bobby Farrelly's uproarious 1998 comedy, "There's Something About Mary." You can watch Gene and Roger's original review of "Mary" below (despite the poor quality from YouTube), as well as Gene selecting the film as one of the year's best. Read the official Ebertfest announcement here.
Trailers
Candyman (2020). Directed by Nia DaCosta. Written by Jordan Peele and Win Rosenfeld (based on characters by Clive Barker). Starring Yahya Abdul-Mateen II, Teyonah Parris, Nathan Stewart-Jarrett. Synopsis: A "spiritual sequel" to the 1992 horror film "Candyman" that returns to the now-gentrified Chicago neighborhood where the legend began. Opens in US theaters on June 12th, 2020.
Scare Package (2020). Directed by Courtney Andujar, Hillary Andujar, Anthony Cousins, Emily Hagins, Aaron B. Koontz, Chris McInroy, Noah Segan and Baron Vaughn. Written by Courtney Andujar, Hillary Andujar, Cameron Burns, Anthony Cousins, Ben Fee, Frank Garcia-Hejl, Emily Hagins, John Karsko, Aaron B. Koontz, Chris McInroy, Noah Segan and Baron Vaughn. Starring Jeremy King, Noah Segan, Toni Trucks. Synopsis: 7 Filmmakers. 7 Tales of Terror. 0 Working Cell Phones. US release date is TBA.
The Painted Bird (2020). Written and directed by Václav Marhoul (based on the novel by Jerzy Kosinski). Starring Stellan Skarsgård, Harvey Keitel, Barry Pepper. Synopsis: A young Jewish boy somewhere in Eastern Europe seeks refuge during World War II where he encounters many different characters. Opens in US theaters on April 17th, 2020.
Nomad: In the Footsteps of Bruce Chatwin (2020). Directed by Werner Herzog. Synopsis: A documentary about the breathtaking beauty of British Columbia's Great Bear Rainforest, and its imminent destruction by the logging industry. Opens in US theaters on April 8th, 2020.
Dream Horse (2020). Directed by Euros Lyn. Written by Neil McKay. Starring Toni Collette, Damian Lewis, Joanna Page. Synopsis: Jan, a cleaner and bartender, decides to breed a race horse in her Welsh village. As the horse rises through the ranks, Jan and the townspeople are pitted against the racing elite in a race for the national championship. Opens in US theaters on May 1st, 2020.
Fatima (2020). Directed by Marco Pontecorvo. Written by Marco Pontecorvo, Valerio D'Annunzio and Barbara Nicolosi. Starring Harvey Keitel, Goran Visnjic, Sônia Braga. Synopsis: A 10-year-old shepherd and her two young cousins in Fátima, Portugal, report seeing visions of the Virgin Mary. Opens in US theaters on April 24th, 2020.
Saint Maud (2020). Written and directed by Rose Glass. Starring Morfydd Clark, Jennifer Ehle, Lily Knight. Synopsis: Follows a pious nurse who becomes dangerously obsessed with saving the soul of her dying patient. Opens in US theaters on April 3rd, 2020.
Stray Dolls (2020). Directed by Sonejuhi Sinha. Written by Charlotte Rabate and Sonejuhi Sinha. Starring Olivia DeJonge, Cynthia Nixon, Robert Aramayo. Synopsis: One petty crime spirals into the next. US release date is TBA.
Nina Wu (2020). Directed by Midi Z. Written by Ke-Xi Wu and Midi Z. Starring Ke-Xi Wu, Vivian Sung, Kimi Hsia. Synopsis: A girl leaves her small theatre company in the country for the big city in pursuit of her actress dream. Opens in US theaters on March 20th, 2020.
The Healer (2020). Written and directed by Paco Arango. Starring Oliver Jackson-Cohen, Jonathan Pryce, Camilla Luddington. Synopsis: A young man discovers suddenly to have the gift of healing. Trying to understand it and the new reality that it offers, a teenage girl with terminal cancer unexpectedly will show him the way. US release date is TBA.
Blithe Spirit (2020). Directed by Edward Hall. Written by Piers Ashworth, Meg Leonard and Nick Moorcroft (based on the play by Noël Coward). Starring Isla Fisher, Emilia Fox, Dan Stevens. Synopsis: A spiritualist medium holds a seance for a writer suffering from writers block but accidentally summons the spirit of his deceased first wife which leads to an increasingly complex love triangle with his current wife of five years. US release date is TBA.
The Postcard Killings (2020). Directed by Danis Tanovic. Written by Liza Marklund and Andrew Stern (based on the novel by Liza Marklund and James Patterson). Starring Jeffrey Dean Morgan, Famke Janssen, Naomi Battrick. Synopsis: A New York detective investigates the death of his daughter who was murdered while on her honeymoon in London; he recruits the help of a Scandinavian journalist when other couples throughout Europe suffer a similar fate. Opens in US theaters on March 13th, 2020.
Siberia (2020). Directed by Abel Ferrara. Written by Abel Ferrara, Christ Zois. Starring Willem Dafoe, Dounia Sichov, Simon McBurney. Synopsis: An exploration into the language of dreams. US release date is TBA.
Bad Education (2020). Directed by Cory Finley. Written by Mike Makowsky. Starring Hugh Jackman, Allison Janney, Geraldine Viswanathan. Synopsis: The unfolding of the single largest public school embezzlement scandal in history. Opens in US theaters on April 25th, 2020.
Human Capital (2020). Directed by Marc Meyers. Written by Oren Moverman (based on the novel by Stephen Amidon). Starring Marisa Tomei, Maya Hawke, Peter Sarsgaard. Synopsis: The lives of two different families collide when their children begin a relationship that leads to a tragic accident. Now playing in US theaters.
Charm City Kings (2020). Directed by Angel Manuel Soto. Written by Sherman Payne. Starring Teyonah Parris, Milan Ray, Jahi Di'Allo Winston. Synopsis: Fourteen-year-old Mouse desperately wants to join the Midnight Clique, an infamous group of Baltimore dirt-bike riders who rule the summertime streets. Opens in US theaters on April 10th, 2020.
Run (2020). Directed by Aneesh Chaganty. Written by Aneesh Chaganty and Sev Ohanian. Starring Sarah Paulson, Kiera Allen, Onalee Ames. Synopsis: A homeschooled teenager begins to suspect her mother is keeping a dark secret from her. Opens in US theaters on May 8th, 2020.
Endings, Beginnings (2020). Directed by Drake Doremus. Written by Drake Doremus and Jardine Libaire. Starring Shailene Woodley, Jamie Dornan, Sebastian Stan. Synopsis: A 30-something woman navigating through love and heartbreak over the course of one year. During that time, she will unlock the secrets to her life in a sudden turn of events and in the most surprising of places. Opens in US theaters on May 1st, 2020.
Matt writes: Benh Zeitlin's Oscar-nominated debut feature, "Beasts of the Southern Wild," was among the last films to earn a rave review from Roger Ebert. I was privileged to interview Zeitlin about his latest audacious movie, "Wendy," as well as his equally remarkable work as a producer. You can read our full conversation here.
Clem Snide's new song, "Roger Ebert"
Matt writes: Guitarist/vocalist Eef Barzelay (a.k.a. Clem Snide, who in currently on tour) wrote a beautiful song entitled "Roger Ebert," which serves as the lead track on his album, Forever Just Beyond, due out March 27th. Click here to read the excerpt Chaz Ebert's 2013 conversation with Esquire's Chris Jones that inspired the song.
Free Movies
Melody for Three (1941). Directed by Erle C. Kenton. Written by Walter Ferris and Lee Loeb. Starring Jean Hersholt, Fay Wray, Walter Woolf King. Synopsis: Dr. Christian takes an interest in a young boy, a violin prodigy, whose mother is a divorced music teacher. His interest isn't just in the boy's music career–he believes it would be best for the boy to have his parents back together, and sets out to do just that.
The Little Shop of Horrors (1960). Directed by Roger Corman. Written by Charles B. Griffith. Starring Jonathan Haze, Jackie Joseph, Jack Nicholson. Synopsis: A clumsy young man nurtures a plant and discovers that it's carnivorous, forcing him to kill to feed it.
Breaking With Old Ideas (1976). Directed by Wenhua Li. Starring Zhenqing Guo, Suya Wang, Xiying Wen. Synopsis: One of the few Chinese films produced during the Cultural Revolution, about the clash between the communistic approach of a young university head and the school's more capitalist elements.