Why Nick Jonas and Priyanka Chopra Really Are a Perfect Match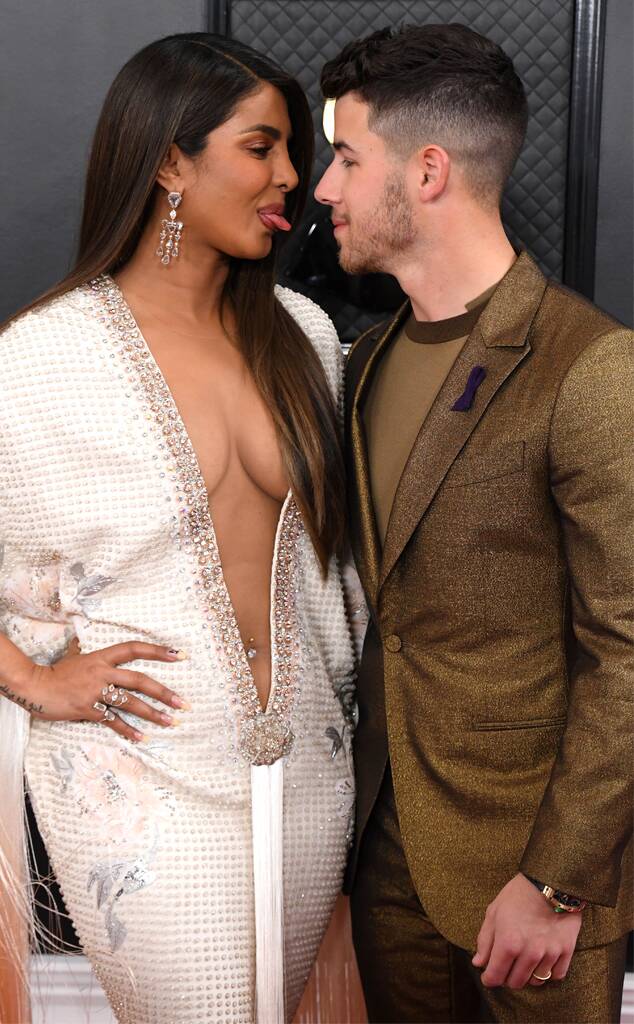 Sometimes Priyanka Chopra is simply burnin' up with pride at being Mrs. Jonas.
There are her #husbandappreciationposts and, of course, her groupie behavior at Jonas Brothers concerts and award shows. And then there are her feelings about Nick Jonas signing on as The Voice's 14th judge, alongside Blake Shelton, Kelly Clarkson and John Legend, starting with tonight's season 18 premiere.
"It's super exciting. I think Nick just needs to be himself, which he's going to," she shared on Today when the news was announced in October. Noting his Broadway beginnings and obvious experience as a world-renowned pop star she gushed, "He knows about music so much. He's literally been a music prodigy since he was 7-years-old, so I think it'll be amazing to see him working with new musicians and adding to that."
Plus he's competitive enough to win it on his first time out: "Blake," she warned, "you better watch out."
And should he need a little extra sway with the contestants, well, she knows what worked on her. "I decided to date him after seeing the video for 'Close,' where his shirt comes off," the 37-year-old told Harper's Bazaar last month. "So that song is my favorite."
Of course their romance, now nearly two years deep, is built on far more than simple physical attraction. "You bring me joy, grace, balance, excitement, passion.. all in the same moment…thank you for finding me," she wrote on Instagram in December, marking their first anniversary.
"One year ago today we said forever," her husband echoed. "Well forever isn't nearly long enough. I love you with all of my heart @priyankachopra."
David Fisher/Shutterstock
But, hey, forever has to start somewhere. And for the Miss World turned Bollywood legend turned TV star, thanks to her breakout role on Quantico, and the 27-year-old musician and actor, that launching point was Twitter.
Because sometimes great romances start by sliding into the DMs. Jonas had already texted Chopra's costar on the ABC drama, Graham Rogers. "Priyanka. Is. Wow." he relayed sheepishly to Vogue in 2018, insisting, "That's not the way I talk." His September 2016 note to Chopra was a bit more thought-out. "I'm hearing from a few mutual friends that we should meet," he detailed to the mag. "She responded day of with a message that said, 'My team can read this. Why don't you just text me.'"
And so he did, the two exchanging missives—"friendly with an eye toward flirtation," Jonas described—for the next five months, the beginning of a love story for the digital age. Then came that little incident at the 2017 Oscars.
They had both scored coveted invites to the Vanity Fair bash, when he watched her walk past in a black sequined Michael Kors. "And I put my drink down," he shared with Vogue, "get on one knee—this is in front of a bunch of people—and I say, 'You're real. Where have you been all my life?' Like, loud." Though she had a waiting car and a flight to India to catch, she agreed to a quick drink.
They had another just ahead of the Met Gala. Both invited guests of Ralph Lauren, they met up for a drink a week earlier, a date that transitioned from New York City's iconic Carlyle Hotel, to Chopra's nearby apartment. But with the actress' mother, Madhu Chopra watching Law & Order in her nightgown nearby, the encounter remained decided PC. "We hung out for a couple of hours," Chopra said. "He patted my back before he left."
Days later, they'd walk the carpet in tandem, denying that there was anything more to the story than their shared Ralph Lauren finery. Even they never expected that within a year and a half they'd be asking the designer to craft their wedding wear.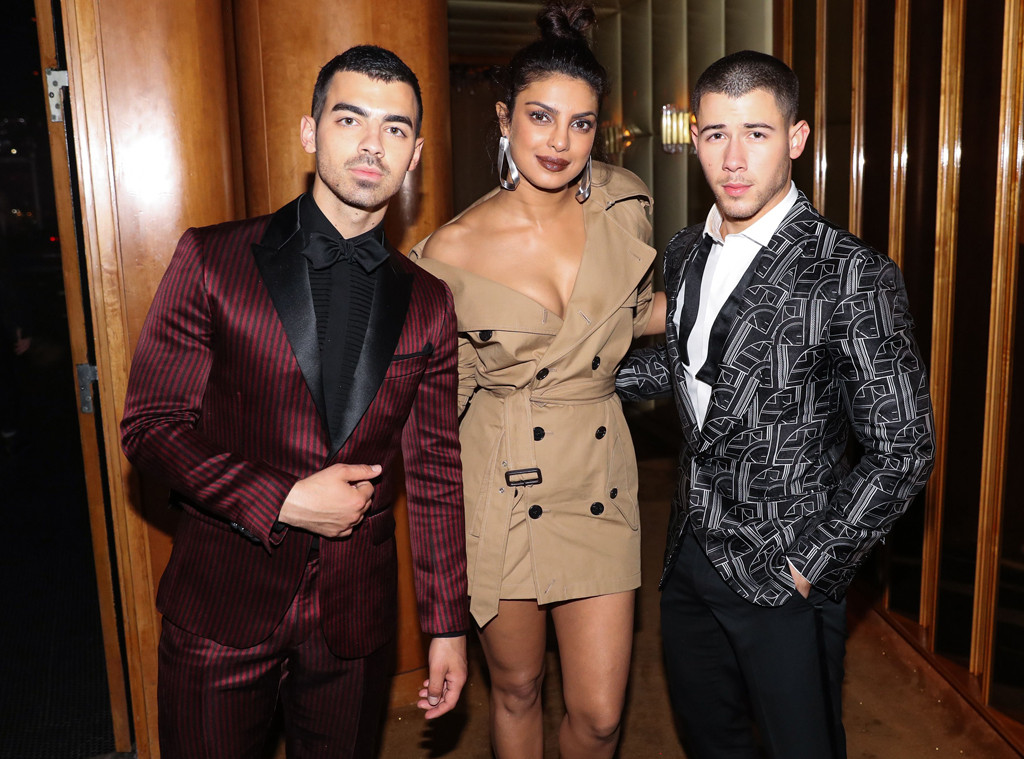 Neil Rasmus/BFA/REX/Shutterstock
But after 12 months of little contact—"Our lives were kind of taking us different places and the thing is that was funny is people would ask us, both in interview settings and in private, 'Are you guys seeing each other?' and the answer was no," he told Jimmy Fallon—they'd meet back up at fashion's big night. And this time when Jonas shot his shot, he didn't miss.
On May 25 he asked her to tag along with a group of friends to a live performance of Beauty and the Beast at the Hollywood Bowl, meeting up beforehand at the Chateau Marmont. "She walks into the Chateau, and I feel an overwhelming sense of peace and understanding about this next chapter of my life," he told Vogue. By the time they'd come home from the Dodgers game the next evening, he knew, calling his mom the next morning to tell her that he'd found his future bride.
"This is date three," Chopra noted to the outlet, but for all her chiding, she was certain as well. Early on they were mid-date, she recalled, when he told her, "I love the way you look at the world. I love the drive you have." It was the exact right thing to say, she said, "As a girl, I've never had a guy tell me, 'I like your ambition.' It's always been the opposite."
Between that and his closeness to his New Jersey-based clan, she was done for. "I can go into all of it and get all mushy, but I think the thing that really connected both of us is our love for family and faith and the importance of being connected to those that are always going to be there for you," he told E! News Jason Kennedy in 2018 when asked the secret to their pairing. "We found that in each other as well, which is a beautiful thing."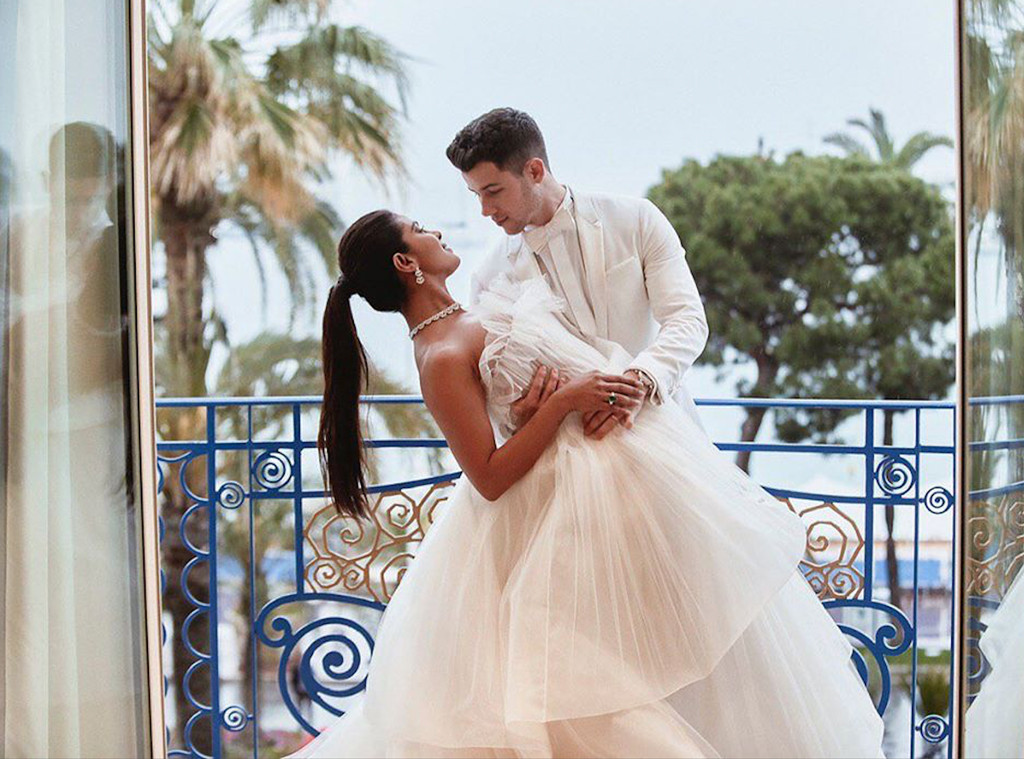 Nicolas Gerardin / Instagram
Seeing no reason to wait on their forever, he proposed with her dream Tiffany & Co. ring (he'd shut down a London outpost of the famed jewelry retailer to shop with his brothers weeks earlier) during a birthday trip to Crete that July.
"I got down on one knee, again, and I said: Will you make me the happiest man in the world and marry me?" Jonas told Vogue. "No joke—she took about 45 seconds. Forty-five seconds of silence."
Suddenly, though, with the cushion-cut diamond on her left hand, there was no time to wait. "We decided on the venue for our wedding in October and we got married on 1 December. We had one-and-a-half months to plan, so we were just like, 'Yeah, yeah, yeah, let's get it.' And suddenly we were like, 'Ohhh god,'" Chopra remembered to Elle UK last summer. "It was very extravagant. Hopefully, you just do it once. So it's fine."
Their wedding(s) were no doubt every bit as exhausting as they were exhilarating, the pair criss-crossing India to take part in several receptions following their initial multi-day event combining their separate traditions and religions. But now more than 14 months in, they've settled into their forever.
"I have a sense of contentment," she told E! News. "I feel like that's the best part of being married."
With Jonas, she's found the place she can exhale after a hard day, the person she intends to build her life alongside. "Every single day when I wake up, I'm like, 'Oh, I have a home. Like this is my home. This person is my home,'" she shared. "And I didn't know that feeling outside of my parents. Like, it's like, 'Oh, this is the family that I have chosen.' It's family."
So they've locked down the important bits, the stuff that gives relationships longevity. The rest they're enjoying learning as they go along.
"Nick and I didn't really know that much about each other's careers before we came into each other's lives," she admitted to Harper's Bazaar. (Don't worry, she's since becoming an avowed Jonatic.) "So we used to do a show-and-tell at night where it would be like, 'This is my first song!' or 'This is my first movie!' or 'This is the first song I wrote myself,' things like that. And actually that's how we're still getting to know each other."
And they've each discovered enough to pull off some pretty epic surprises: Mariah Carey tickets and a $199,000 Mercedes Maybach for Chopra; a birthday game of touch football on Chicago's Soldier Field and a German Shepard puppy for Jonas.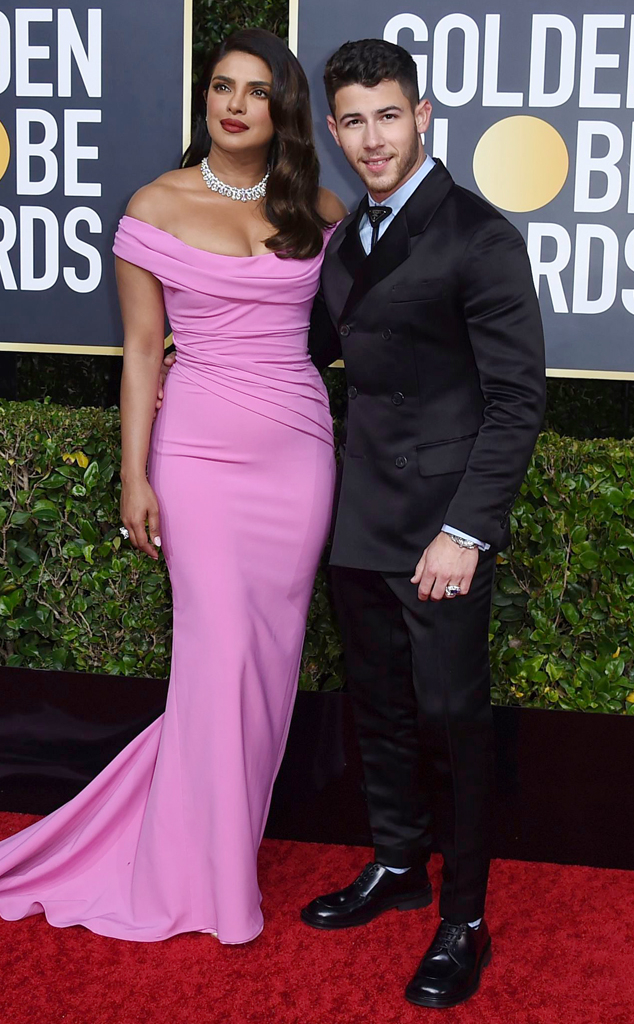 Jordan Strauss/Invision/AP/Shutterstock
The latter could be viewed as a trial run for future offspring. Both the actress and her musician love—currently executive producing an unscripted Amazon series based on the pre-wedding sangeet tradition—have made it clear that's the next step they're eyeing.
"Buying a home and having a baby are on my to-do list," she told Vogue India last fall. And they did just shell out for a 20,000-square-foot Encino, Calif. spread with six bedrooms to spare, so…
"I definitely want to be a father someday," Jonas shared on Spotify's The Rewind with Guy Raz in 2018. "I think that's a real dream, and I think I have had to grow up pretty quick. With that, you could look at it two ways, you could say that was unfair, or you could say it has given me some real perspective at an early age. And I have seen a lot of life at an early age and I hope to be able to share that with a kid of my own someday."
His bride is game, telling E! News, "I've wanted to experience motherhood since I was 12-years-old. I love kids, I've always wanted to have them. And whenever it's time, I'm sure it will."
For now, though, she's busy enjoying her happily ever after. "Every fairytale ends at the princess getting married to the prince," she posed to ET. "What happens to her life after that? So the idea is, 'Oh my God, she found her prince and now her life's done.' Most people's lives start after they get married. And that's how it should be."