Where some see Indigenous communities in crisis, We Matter sees hope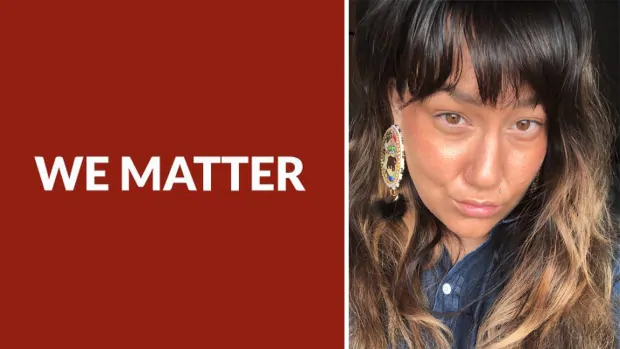 In the media, Frances Elizabeth Moore sees Indigenous communities in crisis portrayed as being hopeless and helpless.
But in her work as the operations and national outreach manager for We Matter, she sees so much more within the communities she works — and she wants others to see it, too.
"When discussing Indigenous youth suicide, the majority of the articles are framed with this tone that everything is just so dire," said Moore, who is Anishinaabekwe from Timiskaming First Nation.
"But there are ways that we can go about doing this that don't actually contribute to the issue, but instead uplifts those that are experiencing the crisis."
We Matter started as a social media campaign to uplift Indigenous youth by sharing messages from notable Indigenous people, but grew and evolved from there.
The organization often provides resources and supports to communities, including toolkits that offer coping strategies for support workers and youth.
The resources are largely dependent on what the community needs in times of crisis. For one community, Manitou Rapids First Nation in Rainy River, We Matter supported the creation of a youth council and a homework club, both of which fit well with their youth population, much of which is between the ages of 10 and 13.
In her work, Moore sees first-hand the determination and resilience of the youth in their communities. She supports them how she can, and, in turn, many of them see Moore as someone they can trust, she said.
But it's this resilience that Moore said isn't garnering enough attention from media and politicians alike.
"When the youth only has that negative representation and they're bombarded with those messages, how do you think that it affects [how] they see themselves?" Moore said.
"We need to recognize that there are an immense amount of struggles that the youth face, but when all we focus on is those negative struggles, we lose sight of their strengths."
"To me, the We Matter campaign ultimately is hope," Moore said. "We share the happier aspects of Indigenous life and what it means to be Indigenous."
---
If you or anyone you know is experiencing emotional distress and want to talk, you can call the toll-free Hope For Wellness line at 1-855-242-3310 or chat online at hopeforwellness.ca.
If you are seeking long-term help, information on resources for Indigenous people provided by the federal government are available here.
If you want to help organizations who help Indigenous communities experiencing crises both survive and thrive, organizations like We Matter provide toolkits, resources and support to communities who need it.
If you're looking for resources that you might use to help the promotion of vibrant Indigenous life in your community, visit the Thunderbird Partnership Foundation's Wise Practices website.