Meeting of Wet'suwet'en hereditary chiefs, federal, provincial governments set for Thursday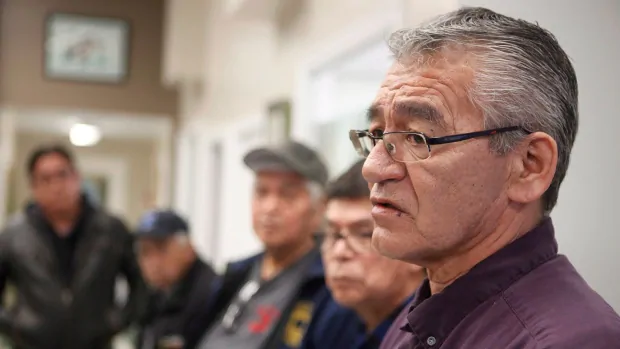 A proposed meeting between the Wet'suwet'en hereditary chiefs, the federal government and the British Columbia government is set to take place on Thursday, following word that talks for a meeting had fallen through Wednesday afternoon.
In an interview with CBC News, Chief Na'Moks​​, also known as John Ridsdale, said the Office of the Wet'suwet'en received a call Wednesday night from someone representing the federal and B.C. governments saying news that the proposed meeting was cancelled was a miscommunication.
"Miscommunication, I don't know how that would happen," said Ridsdale. "Our executive director was called, and given that message, and no reasoning why it was back on."
"We're pleased with having the talks back on, our willingness has always been there."
Ridsdale, a spokesperson for the hereditary chiefs, said two days of meetings to discuss title and land rights of the Wet'suwet'en will take place at the Office of the Wet'suwet'en in Smithers, B.C., sometime on Thursday afternoon.
Former NDP MP Nathan Cullen confirmed Thursday's meeting to Radio-Canada's Philippe Leblanc. Cullen was tasked by B.C. Premier John Horgan with acting as an intermediary between the Wet'suwe'ten hereditary chiefs, the province of B.C., RCMP, Coastal GasLink and others.
Just a few hours earlier, the office of the Wet'suwet'en said both the federal and B.C. governments had declined an invitation from the chiefs, whose opposition to a pipeline through their traditional territory in northwest B.C. has sparked protests and rail blockades across the country.
The office of the B.C. Premier had confirmed in a statement the province has "not been able to come to agreement for a meeting."
"We had hoped the hereditary chiefs would agree to a period of peace and respect during the talks, which would include encouraging their supporters to remove blockades."
But the premier's office said it remained interested in meeting with the hereditary chiefs.
It was not immediately clear who was invited from the federal government. Federal representatives were not immediately available for comment.
Ridsdale said he talked with leaders of the Mohawks of Tyendinaga, who have blocked railways near Belleville, Ont., for several weeks.
"They [the Mohawks] told us that if [they] take a step back then maybe the discussions won't happen at all," Ridsdale said.