3 arrested as Toronto police break up rail blockade that disrupted GO train service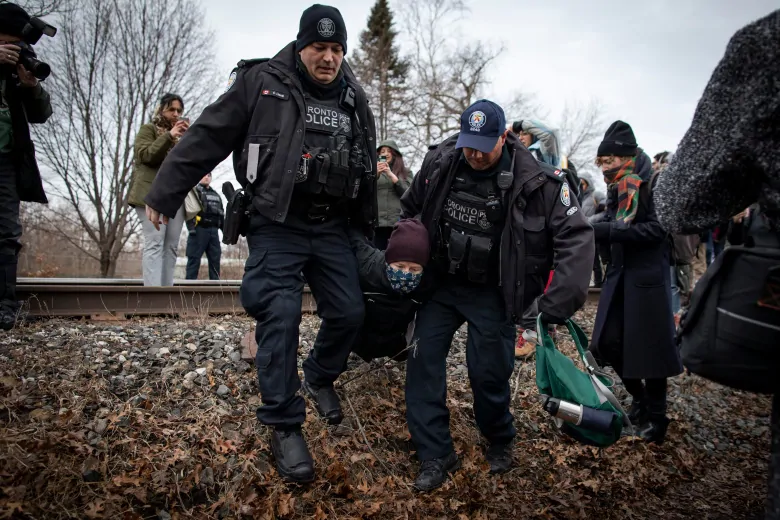 Toronto police have broken up a protest in the city's west end that disrupted GO train service on the Milton line yesterday.
Around 3 a.m. ET, police began removing demonstrators. Most were immediately released, although three people were arrested, police said in a series of tweets overnight.
The Indigenous land rights protest took place behind Lambton Arena, near the corner of Dundas Street W. and Scarlett Road in the city's west end.
At least 30 people blocked the tracks in that area for several hours. Hundreds of other people stood alongside the tracks in support.
Toronto police told The Canadian Press they were called to the demonstration Tuesday to keep the peace and limit disruption to "critical infrastructure."
Watch Toronto police remove the rail blockade:
Rising Tide Toronto, a grassroots collective, said on Twitter that the rail blockade was in support of Wet'suwet'en hereditary chiefs and Tyendinaga Mohawks.
The chiefs oppose a natural gas pipeline project that cuts across their traditional territory in northern B.C. and are engaged in contentious negotiations with the federal government over police presence on their land.
The Mohawks staged a rail blockade near Belleville, Ont. and 10 protesters were arrested there on Monday. A small encampment remains a short distance from the original blockade.
Blockade led to service suspension
The Toronto blockade lead to a major service disruption during the Tuesday afternoon rush hour. Metrolinx announced shortly after 6 p.m that GO train service on the Milton line had resumed with a detour in place due to the "safety incident" on the tracks.
The detour added about 30 minutes to each affected trip.
The regional transit agency said early Wednesday that service is expected to run regularly throughout the morning on all seven of its rail routes.
Spokesperson Anne Marie Aikins said Metrolinx is working closely with police to monitor any further demonstrations that might form today.
"It's a complex network of rail that is shared between different partners," she told CBC Toronto.
"It's been a very unpredictable couple of days and I'm not 100 per cent sure we're out of it."
Other disruptions Tuesday included a blockade along a highway near the site of an ongoing land dispute in Caledonia, Ont., and one along a stretch of rail in Sherbrooke, Que., about 150 kilometres east of Montreal.
Several high-profile blockades were dismantled by police in B.C. and Ontario earlier this week.
Federal Indigenous Services Minister Marc Miller has said Ottawa is still committed to peacefully resolving the situation that has hampered freight and passenger travel in much of the country for nearly three weeks.