Prince and Paris Jackson Share Memories of Dad Michael Jackson for Vogue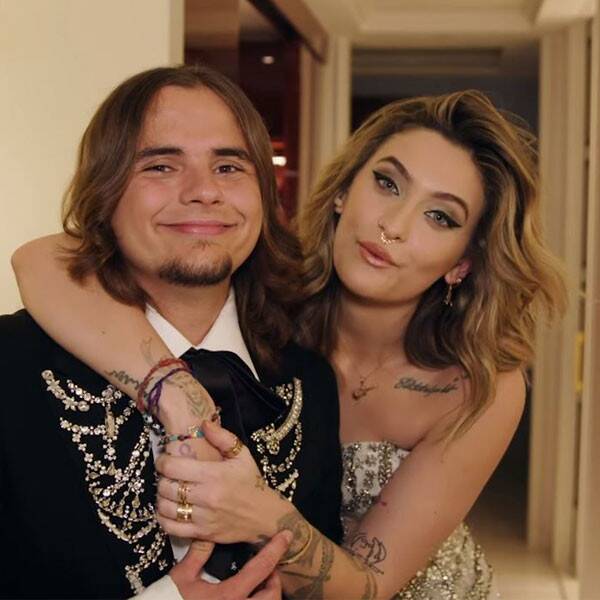 Paris Jacksonand Prince Jacksonare keeping their father's legacy alive.
Michael Jackson's eldest children represented him at Motown's 60th-anniversary celebration in Paris and, unsurprisingly, the momentous occasion inspired many memories of their late father. In a behind-the-scenes video from Vogue, Paris and Prince reminisce about days past and how they keep their father's memory alive in subtle but important ways.
One such way is in their choice of dress. The two siblings reveal that they still work with their father's stylist Rushka Bergman, who is able to achieve the flashy styles that Michael was known for. This is evidently clear when she helps Prince into a jacket that is "the most divine."
"I remember Rushka was my dad's stylist. She would always come in with these large racks… my dad loved shiny things, blingy, you know? So when I came in yesterday to look at the jacket, it was almost nostalgic," Prince shares. "It was very cool that to see that I am like, not really being put in the same shoes, but almost doing a very similar thing."
He adds that it felt like everything was coming "full circle."
Paris, on the other hand, opts for a more rocker look combined with touches of sparkle, thus representing the more daring side of her father's sense of fashion. One of her two dresses for the night features a thigh-high leg slit, which compliments her lean legs and torso.
Clearly, dressing in styles that their father would approve of is of importance, especially since they're doing it for a label that their father loved so dearly. They reveal that Michael's history with Motown is one that their father spoke of "fondly." According to Prince, "Motown is, I mean, how do you explain Motown? If you're part of Motown, it's kind of like an extended family. Like, 'Oh, you were a part of that too?'"
And his big sister agrees. She tells the cameras, "I think of my childhood when I hear the word Motown. I grew up listening to all of that and it's very nostalgic."