Disney Plus Launches with Original Shows in the Shadow of Its Massive Library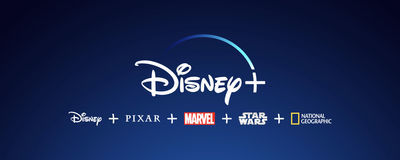 After months of promotion, the almighty Disney Plus finally launches tomorrow, November 12th, and the Mouse House is dropping a number of original shows to go along with its catalog of hundreds of classic animated films, Marvel movies, Star Wars films, and TV seasons (including the entirety of "The Simpsons"). The biggest new show is "The Mandalorian," a program set in the Lucasfilm universe that Disney chose not to make available to critics in advance (we will have a review of the premiere first thing tomorrow), and the biggest film is the new version of "Lady and the Tramp," reviewed today. What's left? An array of good-to-mediocre programming aimed squarely at the same audience who watched The Disney Channel over the last few decades. Once again, Pixar steals the day, although a solid new reality show should have some fans too. In order of preference:
"Sparkshorts"/"Forky Asks a Question"
As breaks between marathons of the Disney and Pixar canon that's about to dominate the lives of Disney Plus subscribers around the world, pop over to these series of short films from the company that gave us "Toy Story," "Inside Out," "WALL-E," "Finding Nemo," and so many more. Fans of this summer's "Toy Story 4" will enjoy the very-brief "Forky Asks a Question" series, which feature the anxious spork in a 10-episode series of 2-3-minute shorts. They're clever little bursts of entertainment, featuring voice work by Tony Hale and John Ratzenberger. More ambitious are the series known as "Sparkshorts," a collection in which Pixar employees are given six months and a limited budget to create a short film. Three shorts from this program were released on YouTube earlier this year – "Purl," "Smash and Grab," and "Kitbull" – and those are all here, to be joined by a monthly series of new offerings, starting with the cute "Float," about a father whose daughter, well, floats. All four are ambitious and different in ways that we don't often see from the shorts that precede Pixar films in theaters. Check em out.
"Encore!"
The most effective original series on Disney Plus isn't animated and isn't even fiction – it's this reality show with a wonderfully simple premise: a musical high school reunion. Casts from high school productions return to re-stage the play they were in decades earlier. Executive-produced by Kristen Bell, this is a well-made show that becomes more about how we change (and how much we don't) as we go from high school to adulthood. Watching people slide back into insecurities they left behind or rekindle artistic sides that life forced them to repress makes for fascinating reality TV. It's a clever idea, well-executed by Bell and her team.
"Marvel's Hero Project"
More manipulative by some stretch but still effective at times is this reality show designed to inspire people to recognize the real heroes in the world. Each episode details the story of someone who could aptly be called heroic, who Marvel then uses to create their own comic book. Leaving aside the somewhat nauseating branding that being included in the Marvel universe is the ultimate sign of heroism, these human-interest stories are undeniably powerful at times, and the series is reasonably well-made. Sometimes kids can use a reminder that not all heroes wear capes, and this is a reasonable place to start the conversation about the definition of the word "hero."
"The World According to Jeff Goldblum"
Your overall tolerance for Jeff Goldblum's quirky old man persona that he's really developed into a brand over the last decade or so will determine how many episodes of this original series you end up watching. While I like Goldblum as an actor, his leaning into his eccentricity in interviews have kind of made him the new Christopher Walken, and a little bit of that goes a long way. The episodes of this series feature Goldblum exploring different subjects – like "Sneakers" in the premiere and "Ice Cream" in the second episode – but they're really just vehicles for the actor to refine his new image. Imagine a half-hour Apartments.com commercial and you have some idea what to expect here. I found it mostly annoying.
"The Imagineering Story"
You know those videos you see at Disney World about the history of the park? Imagine a series version of that, with largely the same production value and depth. This docu-series proposes to tell the story of the history of the Disney Parks, but it plays more like an infomercial than a documentary. Produced and directed by people with history with the parks, it is a stunningly hagiographic piece of television that verges on placing Disney World in the same ranks as the Seven Wonders of the World. I love Disney World, but you'll learn almost nothing from this series, one that should have taken a step back and attempted something greater than a long-form commercial.
"High School Musical: The Musical: The Series"
A caveat: I was never a big fan of "High School Musical," although I think I saw all of the movies and respected what they did and the fan base that loved them. Having said that, even fans of "HSM" seem to be annoyed by this very annoying show, a program that clearly feels designed to appeal to fans of Disney Channel's Young Adult originals but simply lacks in every department. it's about the staging of a version of "HSM" in a high school, but that's just the backdrop for another mediocre love triangle story. The dialogue and characters here are so grating that it's one minor rewrite away from a "Scary Movie"-style parody of "High School Musical" instead.