AFI Fest 2019: Richard Jewell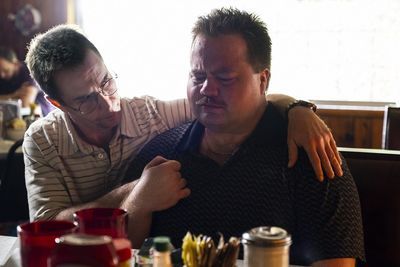 White heroes who have achieved accolade for doing what they were supposed to in accordance with an agenda that skews heavily conservative, preoccupy veteran director Clint Eastwood like no other subjects—even more so than those characters he picks to play himself as an actor. In "Richard Jewell," his latest based-on-true-events outing, the object of his interest is a security guard whose obsessive attention to protocol prevented the Centennial Park bombing during the 1996 Atlanta Olympics from being deadlier than it was. Yet, Jewell (Paul Walter Hauser) didn't become compelling enough to be the muse of a famed Vanity Fair article, a screenplay by Billy Ray, and an Eastwood picture solely for his life-saving actions, but rather for the campaign mounted by the FBI and the media to deem him the principal suspect behind the very ploy he helped thwart.
Standard in all craft respects with an absolute lack of stylistic flair, the film still thrives, propelled by some of the finest on-screen performance of the year, which manifest with intriguing complexity. If time grants "Richard Jewell" any sort of legacy, it'll be for housing a career-defining performance by Hauser, who finally transcends the henchmen ridiculed because of their weight he'd been cast as in "BlacKkKlansman" or "I, Tonya." But Ray's screenplay (his third to make it to the screen this year after "Terminator: Dark Fate" and "Gemini Man") doesn't put Jewell on a pedestal of virtue either, which allows for Hauser to thread his way through the layers of Jewell's psyche. As a man whose appearance and socioeconomic background position him as disposable in the eyes of the powerful, Jewell covets respect and validation from authority, a surrogate father of sorts.
"I'm law enforcement too," he tells John Hamm's Tom Shaw, the federal agent leading the investigation, repeatedly seeking to be seen as an equal and not the butt of their humiliating joke. In magisterial form, Hauser breathes heartbreaking gentleness into a role that could have mined the same stereotypes used to build Jewell's profile as a "lone bomber." Rosy-cheeked and with a lump in his throat holding back tears, Hauser culminating speech, coated in pain and disillusionment, hits an affecting high note.
Hauser's banter with Sam Rockwell's Watson Bryant, a hard-ass attorney that takes on the case on the belief that Jewell would never deliberately injure others, works as an anchor for Jewell through the ordeal. Rockwell, an actor on his way to become the official redeemer of bigots, brings a crass and nonchalant attitude that eventually yields fraternal gems between the two actors.
Emotionally constipated for the entirety of its first half, aligning with the protagonist's desire to believe in the system while withholding his anger, the movie is unclogged when both Richard and his mother Bobi Jewell (Kathy Bates) reach their ultimate breaking point following intense surveillance and public scrutiny. Bates stuns in an incremental turn that goes from playing an unassuming encourager of a kindhearted son who has not always taken the best routes to a desperate and broken defender of his very humanity.
Olivia Wilde, however, doesn't enjoy the same treatment from Ray's text. She ends the year that started with women-driven comedy "Booksmart" as her directorial debut on a sour note with a one-dimensional portrayal of Kathy Scruggs, who's shown as an unscrupulous journalist bargaining sex with sources for information. Taking on such a disparaging part for the sake of working with Eastwood backfired. On a similar note, the legendary filmmaker's engagement with people who are not strapping pale dudes comes in the form of an unfortunate homophobic gag in which Jewell expresses he'd rather be seen as a murdered than a gay man.
The salt of the earth individuals the director adores having at his narrative epicenter are for first time in recent memory not alpha men ("American Sniper," "The 15:17 to Paris") fighting bad guys with fists and guns. It's slightly refreshing to see the director look for courage elsewhere, even if it's still within his wheelhouse as paladin for untold white male stories.
Notable amongst a crowd of dull choices that fail to exploit the medium is the presence of the "Macarena" craze as a symbol of global unity over something frivolous prior to the digital age. Still, the oppressively gray palette, conventional coverage, and erratic use of score devalue the piece on an artistic level. One, however, could definitely say that's Eastwood's new normal.
At 89, Eastwood treats filmmaking nearly as a manual trade, an unfussy profession with a clear purpose for which flamboyance would represent a burden. In that sense, his recent efforts aesthetically reflect the white men he depicts with aggrandizing righteousness but little concern for cinematic vanity. Their greatness, he seems to believe, comes from their humble simplicity. In turn, he sees the act of telling their stories as his duty, done not as the work of an artist conjuring up evocative imagery, but simply because they are right thing to do for these men.
Unlike Scorsese, whose brand is to push for innovation even today, Eastwood appears perfectly comfortable with average projects that occasionally feature standout turns from his talented casts. He cranks them out and moves on to find another working-class warrior with big enough balls—Eastwood being the judge of that of course—to not let himself be bullied by the man. With "Richard Jewell," nonetheless, he follows that well-traveled path and turns a once thought false hero into a real one whose heart beats for something more than just a flag.