A Tsuut'ina artist's Super 8 film has disappeared while in transit with Canada Post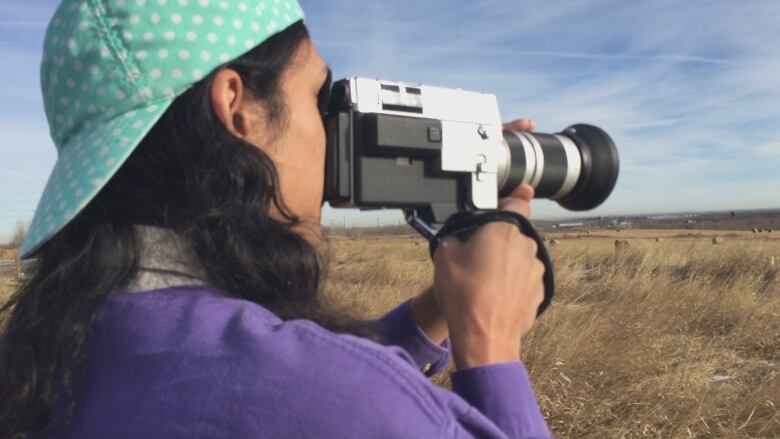 An Indigenous artist is looking for answers — and 12 rolls of Super 8 film — that disappeared while in transit with Canada Post.
The film had just been processed at a cost of nearly $1,500 to contemporary artist Seth Cardinal Dodginghorse, who is working on a project funded by the Original People's Investment Program.
"When I found out I laughed about it because I was like, 'Oh, what are they gonna do? Edit my film for me?'" he said. "I'm not too sure what someone would do [with] a Super 8 film footage at all."
Cardinal Dodginghorse had personally dropped the reels off in Toronto in September, where the specialty film would be scanned, developed and processed.
"That's one of the only places I know about that can do that," he said.
Then, a few weeks ago, Cardinal Dodginghorse was given a tracking number and was informed the film was in the mail.
"I followed it every day because I was super excited," he said.
And on Tuesday he got the news he'd been waiting for – his package containing the film was to be delivered that day.
"I watched it throughout the day, so I know that it was in Calgary being driven around somewhere or at some facility that Canada Post operates," he said. "And I waited around, but eventually it wasn't delivered at all that day."
Documenting history
The footage on the reels is important to Cardinal Dodginghorse.
He spent his summer travelling to museums in Ontario and Alberta documenting artifacts and items from Tsuut'ina that had either been taken, misplaced or purchased — and learning about how they ended up where they are today.
"It's an important story for myself, because I was wondering about the history of colonialism, as well as our connection to sacred objects and physical objects that we would actually wear in our everyday life," he said.
"It all kind of goes to my connection of the Ring Road," he said. "That's where my family used to live. So the film is about my family's connection to that land as well as our objects that come from that land."
On Wednesday, Cardinal Dodginghorse says he got another notification that he should attend a nearby Canada Post office to pick up his package.
"I signed for it and then when they handed it to me, it was physically open," he said. "There was nothing inside. The label was ripped open and there was dirt on it. The only thing inside was … my receipt."
When he asked the Canada Post employee about the opened envelope, the clerk was unable to provide an explanation, other than it had just been dropped off 10 minutes before — and that he'd have to contact customer service.
But, when Cardinal Dodginghorse got a customer service agent on the phone, they told him he couldn't personally file the complaint and that it'd have to come from the sender.
"I talked to the folks at Toronto. They told me they would file the claim with Canada Post, which we've done," he said.
CBC News reached out to Canada Post, who did not provide a response prior to publishing.
What happens next
Luckily for Cardinal Dodginghorse, the film processors did backup a digital copy of his work, and they will be sending him that.
But, the project won't have the same impact.
"What I was hoping to do was, with the physical film, was to edit and splice that tape together to make my film," he said. "Without having the physical film, I would have to go about it a different way."
And the irony of this situation isn't lost on Cardinal Dodginghorse, who was attempting to bring the physical film back in place of the objects its footage held, which had been taken from the land.
"I was hoping to use the footage I shot in the museums and on the reserve to physically archive that in some way for the future," he said.
He says if someone were to return the film, there'd be no questions asked, and he'd be able to finish the work he started.