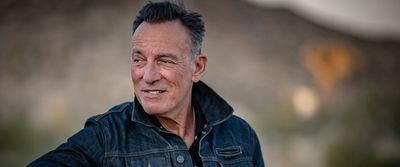 Thom Zimny and Bruce Springsteen's "Western Stars" is a lovely companion piece to the latest album from the legendary musician, a gorgeous, introspective journey into the very concept of the American conscience. As Springsteen lays out in the introduction, life is often a push-and-pull between the concept of the individual and the need for community. We desire self-expression and individuality, but we also long for family, friends, and togetherness. How do these two things express themselves across our lives in art, love, religion, and even the many mistakes we make over the course of a lifetime? These are the deep themes in Springsteen's album that are enhanced through this excellent film, one that captures the duality of its creator and its concept in ways that few album companion pieces have before.
The structure of "Western Stars" is simple and effective. The Boss recently told Indiewire that his landmark album Nebraska was heavily influenced by Terrence Malick's "Badlands," and one can see how that influence carries all the way to "Western Stars" in its meditative, poetic style, one that's deeply entranced by open spaces and the beauty of nature. We hear no one else's voice but Springsteen's in "Western Stars," as he alternates voiceover passages that serve as introductions to his songs with live performances from an amazing, intimate show in the loft of a barn he owns. As he says at the beginning, it's a sacred space, one that reflects the history it's seen in its deep wood and high ceilings.
Keeping with the Malick style, Springsteen's introductions are not your standard songwriter banter. He's digging deeper here than he has publicly before, looking at how the characters he's created for these songs represent both something greater about the human condition and his own past. When he sings on "Stones" with his wife Patti Scialfa, "Those were only the lies you've told me," it feels both like a confessional and a character. Like a lot of great writers of any medium, Springsteen finds a way to reveal something about himself and us through the characters he portrays musically. Western Stars is full of songs in which he plays a "role" such as an aging genre star on the title track or a stuntman on "Drive Fast" but what makes the album a masterpiece is how much these characters reveal about other people, especially their creator. And what makes the film special is how much Springsteen is willing to reveal about this aspect of the album, commenting on the many mistakes he's made in his life—at one point, he even claims that he hurt pretty much everyone he's ever loved—and how even when he takes on these characters, he's telling us something about himself.
Most of what draws people to "Western Stars" will be the music, and this movie is a stunner purely as a concert film. Springsteen somehow squeezes an entire ensemble into that hay loft, and one can hear the strings and backup singers bouncing off the high wood ceilings. However, it all comes back to Bruce. I liked "Western Stars" the best when it felt the most intimate, keeping us in tight focus on Springsteen's face, as he reveals a depth to his voice that feels more resonant than ever before. It's something that comes with age, and while Bruce looks nowhere near his age of 70, there's an experience that comes through in his tone that's mesmerizing. He's looking back at a long life, well-lived, and revealing so much about himself through these songs. Melancholy, contemplative tracks like "There Goes My Miracle" and "Sundown" are ones that a younger Springsteen couldn't have made connect like the 2019 version does. It's not quite as drastic as Bob Dylan singing "It's not dark yet but it's getting there" on 1997's masterful Time Out of Mind, but it reminds me of that confessional work in the way it captures an artist in a different phase of his life.
"Western Stars" the movie enhances and reflects on the album's themes in unexpectedly moving ways. It would be incredibly easy to capture Springsteen's energy in a concert film and we will see many tributes to his life and career in documentary form in years to come, but this work is focused, lyrical, and personal in ways that accompany the album instead of just trying to market or recreate it. The film makes one of the best works of Springsteen's career even better. Heck, I'm pretty sure Terrence Malick would like it too.