Stolen Oslo ambulance hits family, 2 babies injured, police say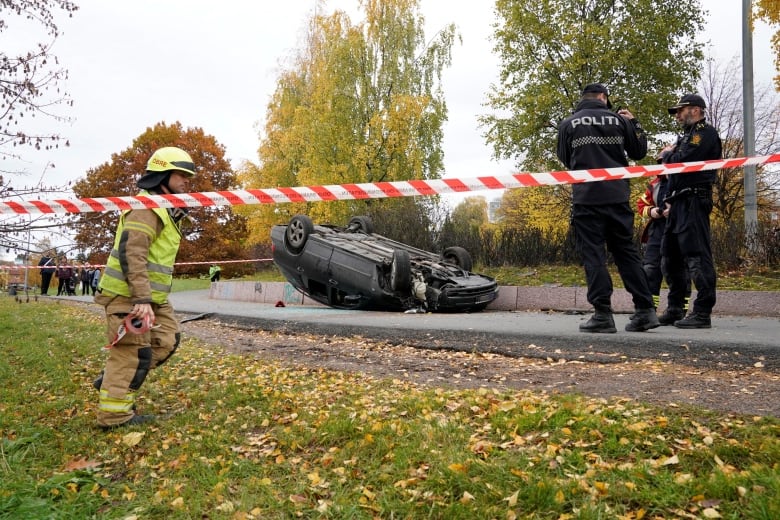 An armed man stole an ambulance in Oslo on Tuesday, lightly injuring five people — including two babies — when he drove off and hit a family, Norwegian police and hospital officials said.
"Two babies were injured after the hijacked ambulance hit a family. They are twins, seven months old, they are being treated," Oslo University hospital spokesman Anders Bayer said.
The injuries were light however, police later said.
Oslo police said on Twitter a woman with a stroller was run over, while an an elderly married couple narrowly escaped being hit by the vehicle.
It is unclear how many people in total have been injured.
The man was apprehended after police shot at the vehicle, police said, adding the suspect was not critically injured. The investigation was in its early phase, with no information to suggest the incident was related to terrorism, police said.
Ambulansen ble stjålet fra Rosenhoff litt over kl. 1230. Kontroll på ambulansen og en mistenkt i Krebs gate ca. kl. 1245. En kvinne med barnevogn og et eldre ektepar er påkjørt eller måtte hoppe unna ved Sandaker Senter. Kvinnen og barna er kjørt til sykehus.

—@oslopolitiops
The ambulance was stolen from the Oslo neighborhood of Rosenhoff just after 12:30 p.m. local time, police said.
Bayer confirmed to Norwegian news agency NTB that the ambulance was stolen by an armed person. Three hospital employees on the vehicle when it was stolen were unharmed, Bayer added.
The hospital spokesman said the ambulance crew had responded to a routine incident when their vehicle was taken.
"They were called to an ordinary traffic accident, where they were met by the armed person," Bayer said, adding that the hospital had quickly tracked the ambulance via its built-in GPS device.
"Some minutes later, one of our other ambulances managed to stop the hijacked vehicle by crashing into it. Then the police came after the crash and got him," Bayer said.
The ambulance came to a halt just over 1.5 kilometres from where it was hijacked.
Police have cordoned off a large area of the northern Oslo and a significant numbers of officers were deployed in the city, officials said.
Officers are hunting for a second suspect, a woman, over the theft of the ambulance, police tweeted Tuesday.
She is described as looking "intoxicated."
Public broadcaster NRK showed images of an ambulance driving through the Torshov neighborhood of Oslo while several gunshots rang out.
Police declined to comment on whether the incident was being treated as a deliberate attack.
"An armed man stole an ambulance, drove away and hit some people. We got him now," a police spokesman said.