Ronnie Ortiz-Magro Faces 5 Misdemeanors After Escaping Felony Charge
Hollywood To You / BACKGRID
UPDATE: Shortly after news broke that Ronnie Ortiz-Magro would not face a felony charge over his alleged altercation with Jen Harley, E! News confirmed that the Jersey Shore star is now facing five misdemeanors.
According to the Los Angeles District Attorney's Office, Ronnie is facing one count of domestic violence, one count of brandishing a weapon, one count of child endangerment, one count of resisting arrest and one count of criminal threats.
Jen's attorney told E! News Jen "is the victim in this case" and that "any attempts to portray her as anything other than the victim is just wrong."
"Everyone acknowledges she was the victim," the attorney stated. "We don't contest with what the authorities have done with the charges. We believe her injuries were serious, and could have easily [been] a felony, but the charges he is currently facing shows that the authorities agree that she was the victim of a crime. Her injuries are significant. I don't think the change in the charges is going to effect the restraining orders she has against him (in LA and Vegas). It bolsters that there were crimes committed, and fortifies the restraining orders that are in place. She's a resilient woman. Her daughter and her son are very special to her. She is focusing on them right now and is focusing on healing. She is still healing from the physical injuries. She suffered deep contusions and they will take some time to heal."
The attorney also said Jen "will likely have to be at the upcoming restraining order hearings."
—-
Ronnie Ortiz-Magro has escaped a felony charge stemming from his alleged altercation with ex-girlfriend Jen Harley.
Nearly three weeks ago in the early morning hours of Friday, Oct. 4, the Jersey Shore star was arrested on suspicion of felony domestic violence and kidnapping of his and Jen's 1-year-old daughter. Now, E! News can confirm that the Los Angeles District Attorney's Office has officially deferred Ronnie's case to the City Attorney.
A spokesperson with the City Attorney's Office says there are currently plans to "review" the case and allegations against Ronnie. A misdemeanor domestic violence charge is punishable by a maximum of one year in county jail. According to a previous report from TMZ, the D.A.'s Office also declined charging Ronnie with kidnapping.
Prior to the latest development, authorities placed the reality TV star under an emergency protective order that required him to stay 100-yards away from Jen.
After posting $100,000 bond, Ronnie's attorney told E! News in a statement, "The reporting of the alleged incident relating to Ronnie Magro yesterday is based upon pure speculation and innuendo. We are currently conducting our own investigation and will have no further comment until that has been concluded."
Meanwhile, Jen's attorney maintained she was a "victim of a crime," explaining to us, "Her concern is to protect herself and her daughter. She is going to do what is necessary to protect her daughter's interests and health."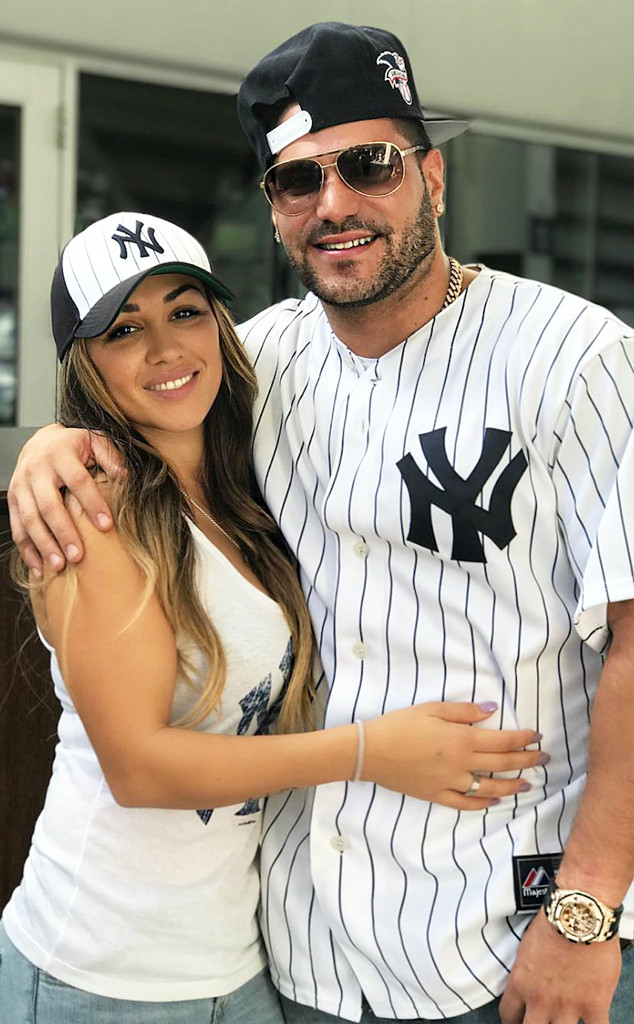 Instagram
Just hours before the reported violence broke out, Ronnie and Jen confirmed they had reconciled by attending a Hollywood party together. Needless to say, this on-again, off-again couple has since officially called it quits.
"They both are acknowledging the relationship is over," a source told E! News. "They are looking at this incident as a no turning back point. Both Ronnie and Jen now clearly see being together is not in the best interest of their daughter."
Over the weekend, Ronnie documented time spent with their little girl, Ariana.
E! News has reached out to both Ronnie and Jen's camps for comment.
(This story was originally published Oct. 23 at 5:31 p.m.)