Rally for Cassidy Bernard lines highway outside We'koqma'q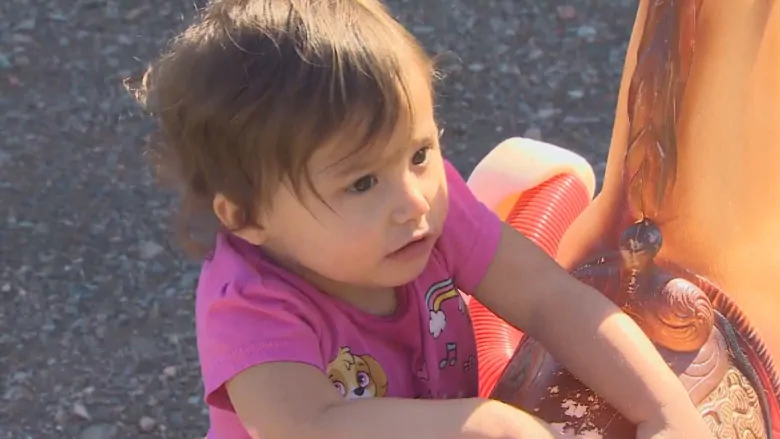 Hundreds of people lined up along a section of Highway 105 next to We'koqma'q First Nation in Cape Breton Thursday afternoon in memory of Cassidy Bernard, who was found dead one year ago.
An RCMP investigation into the 22-year-old's death is ongoing. Police have said it was suspicious, but there have been no arrests.
Cassidy's mother, Mona Bernard, said she hoped the rally would remind people just how difficult it is to wait for answers.
"It's very frustrating. It's heartbreaking, really, to have to go another day without knowing. It's terrifying to know it's a whole year and I don't know," said Mona Bernard. "But I get through, with the girls."
Cassidy's six-month-old twin daughters were in the home at the time of their mother's death, but were unharmed.
Their grandmother said despite the circumstances of losing their mother, they're happy and healthy children.
"They know her picture. They see her picture and they'll say 'Mummy.' I tell them it's Mummy Angel," she said.
Bernard said she misses her daughter's "laughter, her joy, her plain, blunt honesty."
"Cassidy was like a boss — a bossy person. When she spoke, everybody listened. She wasn't very big either," her mother said with a laugh. "She had a sort of strength that shines through."
She struggles with one painful memory that is impossible to forget — the moment she found her daughter's body.
"I keep seeing the same thing over and over again. I can't believe it's been a year," she said.
Darian Cremo from Waycobah First Nation said the community has been living in fear and needs to know what happened to Cassidy, her first cousin, in order to grieve.
"It's been the worst year of my life. That was the worst day of my life. It's been hectic. We just want answers," she said. "If I could go back in time, I would, but I can't."
Donald Morrisson of Eskasoni First Nation said one of his daughters went missing in 2005, when she was 17 years old. On Thursday, he brought his nine-year-old daughter to the rally.
"It really means a lot to me, to support the group, the cause. It's not just for my daughter or Cassidy, it's for all the women, men, children, that have gone missing," he said.
"The families have heavy hearts, even still today after so many years. It really hurts. I hope something comes out of it — justice for all."
Mona Bernard said her community's support has helped her amid her grief.
"I'm just so honoured and touched that Cassidy had so much power over the people and the people are just coming together because everybody is mourning their loss. It's not just me. It's the whole community itself. You can feel it wherever you go — love and heart warmth."
Meanwhile, Nova Scotia RCMP said in an emailed statement they are staying in regular contact with Bernard's family.
"We fully realize the community is waiting for answers from us. We look forward to being able to provide an update on this incident," said Cpl. Jennifer Clarke.
MORE TOP STORIES