Home Entertainment Guide: October 31, 2019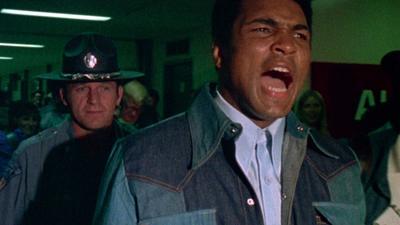 7 NEW TO NETFLIX
"Echo in the Canyon"
"Free Fire"
"I'll See You in My Dreams"
"The Karate Kid"
"Men in Black"
"Master Z: The Ip Man Legacy"
"The Texas Chainsaw Massacre"
8 NEW TO BLU-RAY/DVD
"An American Werewolf in London"
Criterion and Shout Factory get the most attention for catalog releases of films that you might already own on DVD but haven't yet upgraded to Blu-ray. The wonderful folks at Arrow Video (who have three titles in this week's column alone) should be a part of this conversation too. Given their heavy genre catalog, they often release some of their best work of the year around Halloween (last year's edition of "Crimson Peak" was one of the best of 2018). They give one of October 2019's most lavish Blu-ray treatments to John Landis' wildly influential 1981 horror hit, a movie that broke ground in creature effects in a manner we hadn't really seen before. When I think of "American Werewolf," I think of that transformation scene, one of the first in a movie like this to look actually painful instead of just vaguely annoying. As for the whole film, I'm not as big a fan as some of my genre-loving colleagues, but I recognize its importance to the genre, and admire the Arrow treatment, complete with new, creative packaging and a TON of special features, the highlight of which is an entirely new documentary with legends like Landis, David Naughton, and Joe Dante.
Special Features
New audio commentary by Beware the Moon filmmaker Paul Davis
Audio Commentary by actors David Naughton and Griffin Dunne
Mark of The Beast: The Legacy of the Universal Werewolf, newly produced, feature-length documentary by filmmaker Daniel Griffith, featuring interviews with John Landis, David Naughton, Joe Dante and more
An American Filmmaker in London, a newly filmed interview with John Landis in which he reflects on his time working in Britain and British cinema
I Think He's a Jew: The Werewolf's Secret, new video essay by filmmaker Jon Spira (Elstree 1976) about how Landis' film explores Jewish identity
The Werewolf's Call, Corin Hardy, director of The Nun, chats with writer Simon Ward about their formative experiences with Landis' film
Wares of the Wolf, new featurette in which SFX artist Dan Martin and Tim Lawes of The Prop Store look at some of the original costumes and special effects artifacts from the film
Beware the Moon, Paul Davis' acclaimed, feature-length exploration of Landis' film which boasts extensive cast and crew interviews
Making An American Werewolf in London, a short archival featurette on the film's production
An Interview with John Landis, a lengthy archival interview with the director about the film
Makeup Artist Rick Baker on An American Werewolf in London, the legendary make-up artist discusses his work on the film
I Walked with a Werewolf, an archival interview with the make-up artist about Universal horror and its legacy of Wolfman films
Casting of the Hand, archival footage from Rick Baker's workshop as they cast David Naughton's hand
Outtakes
Original trailers, teasers and radio spots
Extensive image gallery featuring over 200 stills, posters and other ephemera
Reversible sleeve featuring original poster art and artwork by Graham Humphreys
Double-sided fold-out poster
Six double-sided, postcard-sized lobby card reproductions
Limited 60-page booklet featuring new writing by Travis Crawford and Simon Ward, archival articles and original reviews
Press Quotes
I walked out of this movie at this year's SXSW Film Festival thinking that it was a near-miss, a movie that felt a little too aware of its mocking tone to connect with me. It's one of those comedies that's so deadpan that it sometimes flatlines, but I grew to admire writer/director Riley Stearns' commitment to its unique sense of humor, and how deftly he gets his talented cast on the same page. Jesse Eisenberg leans into the danger that has sometimes simmered under the surface of his milquetoast exterior while Alessandro Nivola perfectly captures the kind of guy who gets off of controlling others. He's a bully in disguise, the kind of asshole who says he's tearing you down to build you up but really lives for the first part. And I'll never forget seeing the big final moment at the World Premiere (or later at the Chicago Critics Film Festival)—it's such an unexpected, clever bit of writing and directing that it almost makes this a must-see on its very own. Watch it with friends.
Special Features
An Important Message from Sensei
Cast and Crew Interviews
It's a bit odd to advertise the previous directorial works of the star of a new film, but that's how much us fans of "Primer" and "Upstream Color" are jonesing for Shane Carruth to make a new movie. We'll take what we can get. And what we get here is a solid little horror movie, the kind of promising work that does a lot with a very limited budget. I particularly like how director Billy Senese uses space in the mental hospital at which most of his film takes place. This is the story of a man who wakes up in a body bag, having no idea how he got there, and we soon discover that he may have brought something truly horrible back from the other side. Carruth is an effective lead and his expertise in sound design was likely a major asset here, but this is really a calling card for Senese, a name that I'll be excited to see on another movie soon. Just like Carruth.
Special Features
Commentary with writer-director Billy Senese, producer-actor Shane Carruth and co-star Jeremy Childs
Commentary with writer-director Billy Senese, producers Denis Deck and Jonathan Rogers, and cinematographer Andy Duensing
A Walk Through The Dead Center, a making-of documentary featuring new interviews with writer-director Billy Senese, producer-actor Shane Carruth, cinematographer Andy Duensing, and many others revisiting the locations and discussing the production
Nine deleted scenes, including an alternate ending
On-set interviews with actors Shane Carruth and Poorna Jagannathan
Head-Casting with Jeremy Childs, a brief look at the creation of the make-up effects seen in the climax of the film
Intruder, a short film from 2011 directed by Billy Senese and starring Jeremy Childs
The Suicide Tapes, the original short film from 2010 directed by Senese and starring Childs that later inspired The Dead Center
Midnight Radio Theater, six chilling radio plays ('Insomnia', 'The Long Weekend', 'Disposable Life', 'The Suicide Tapes', 'The Woman In The Basement', 'Blood Oath', 'Flu') written, produced and directed by Billy Senese
Theatrical trailer and teasers
Image gallery
Reversible sleeve featuring new and original artwork
"The Lion King"
What more could I possibly say about "The Lion King" remake that hasn't already been said? The remake of the animated hit made a bajillion dollars, proving that people truly do love the familiar. This is a remarkably loyal remake … to a fault. Director Jon Favreau found ways to expand on the world of a classic in "The Jungle Book" that he simply fails to find here, almost as if he's afraid to alter any of the beats that audiences expect. Yes, this led to a fortune at the box office, but people will forget this movie quickly. I will say this—the Blu-ray is typically Disney strong, especially the 4K transfer, which is one of the sharpest I've ever seen. Well, that and this is better than that Will Smith "Aladdin" nonsense any day.
Special Features
Perfecting the Pride
The Journey to "The Lion King"
More to Be Scene – Recording studio and layer-by-layer progressions of some of most iconic moments in "The Lion King."
"Never Too Late" (lyric video) by Elton John
"Spirit" performed by Beyoncé Knowles-Carter
Filmmaker Introduction
Audio Commentary – By Director Jon Favreau.
Digital Exclusive – Pride Lands Pedia —Dung beetle shares the importance of his "roll" in the African Savanna in a fun, bug's eye view of the land and its inhabitants.
"Matewan" (Criterion)
I may miss John Sayles more than any of the filmmakers who shaped why I love movies (narrowly beating Wes Craven and Peter Weir). No, Sayles isn't gone, but he's not working with any regularity. If you haven't treated yourself to his best work, you owe yourself a journey through his filmography. He's such a deeply humanist filmmaker, someone who taps into his characters with an empathy that we don't really see from a lot of dramatists today. Take this 1987 drama, the story of a miners' strike in 1987, anchored by Chris Cooper's debut performance. No one makes films like this today, aimed directly at adults in a way that never talks down to them or feels remotely manipulative or melodramatic. This is one of his best ensembles—Cooper, James Earl Jones, David Strathairn, Mary McDonell—and it was shot by the legendary Haskell Wexler. It's a great Criterion edition, including a new 4K transfer and a commentary track from Sayles and Wexler himself.
Special Features
New 4K digital restoration, supervised by director John Sayles, with uncompressed monaural soundtrack on the Blu-ray
Audio commentary from 2013 featuring Sayles and cinematographer Haskell Wexler
Two new documentaries on the making of the film featuring Sayles, producer Maggie Renzi, production designer Nora Chavooshian, and actors Chris Cooper, James Earl Jones, Mary McDonnell, Will Oldham, and David Strathairn
New interview with composer Mason Daring
Short documentary on the impact that Matewan's production had on West Virginia
New program on the film's production design featuring Chavooshian
Trailer
PLUS: An essay by critic A. S. Hamrah
"Ringu Collection"
I don't think we give Hideo Nakata's "Ringu" nearly enough credit for anticipating viral culture. Two decades ago, here was a film about viral urban legends that basically warned people to "share or die." And I also know for a fact that the film doesn't get the attention it deserves for its visual acumen. This is a terrifying movie filled with wonderful little beats instead of the traditional jump scare. I'll never forget having ordered "Ringu" from a Japanese DVD company back in the early-'00s, long before it was easily available here, and watching it by myself very late at night. The DVD froze up RIGHT as the climactic event was happening and I screamed. Now you don't have to order from Asia, you can get this gorgeous, Arrow-produced box set. The sequels don't compare to the original, but even they have some visuals that aren't easy to shake.
Special Features
Bonus feature: Spiral, George Iida's 1998 sequel to Ringu
New Audio commentary on Ringu by film historian David Kalat
New Audio commentary on Ringu 0 by author and critic Alexandra Heller-Nicholas
The Ringu Legacy, a series of new interviews from critics and filmmakers on their memories of the Ringu series and its enduring legacy
A Vicious Circle, a new video interview with author and critic Kat Ellinger on the career of Hideo Nakata
Circumnavigating Ringu, a new video essay by author and critic Kat Ellinger on the evolution of the Ringu series
Spooks, Sighs and Videotape, a new video essay by critic Jasper Sharp on the J-horror phenomenon
The Psychology of Fear, a newly edited archival interview with author Koji Suzuki
Archival behind-the-scenes featurette on Ringu 0
Ringu 0 deleted scenes
Sadako's Video
Multiple theatrical trailers for the Ringu series
FIRST PRESSING ONLY: Limited edition 60-page booklet featuring new writing from Violet Lucca, Alexandra Heller-Nicholas, Jasper Sharp, Kieran Fisher and Kat Ellinger
Limited edition packaging featuring original and newly commissioned artwork
"Stuber"
The final product may have been a bit disappointing but I still admire the effort behind "Stuber," an attempt to find the magic of those '80s action-buddy movies like "Midnight Run" and "Lethal Weapon." Kumail Nanjiani and Dave Bautista are perfectly cast in this story of a very long night for an Uber driver, and they can make some of the flat jokes tolerable, especially on DVD and Blu-ray. After all, action comedies like the ones that inspired "Stuber" were staples of the VHS market, only building in popularity as they were rented over and over again. This is the kind of thing that plays well at home.
Special Features
Deleted Scenes
Gag Reel
Joke-O-Rama
Georgia Film Works
Audio Commentary by Michael Dowse and Kumail Nanjiani
Gallery
Theatrical Trailer
Sneak Peak
"When We Were Kings" (Criterion)
One of the best sports documentaries of all time, Leon Gast's acclaimed film transcends its subject to become not just a document of an event but a statement about history, race, and one of the most important figures of the twentieth century. Filmed by Gast in 1974, "When We Were Kings" captures the build-up to the Rumble in the Jungle, a legendary fight between Muhammad Ali and George Foreman that captivated the entire world. The winner of the Oscar for Best Documentary, this film captures how this was more than just a fight—it was an event organized by black people, featuring black people, for a black audience. And Gast was allowed rare, personal footage with Ali, a man who keenly understood the importance of this event to not just his career or fans but the entire world. In typically great Criterion fashion, they include an entire film as a special features, the strong 2008 doc "Soul Power." Two movies for the price of one.
Special Features
New, restored 4K digital transfer, with 5.0 surround DTS-HD Master Audio soundtrack on the Blu-ray
Soul Power, a 2008 documentary about the Zaïre 74 music festival directed by Jeffrey Kusama-Hinte
New interview with producer David Sonenberg
Interview from 1997 with director Leon Gast
Trailer
PLUS: An essay by critic Kelefa Sanneh