Happy Birthday, Kim Kardashian! Celebrate Her Special Day By Reliving the West Kids' Cutest Pics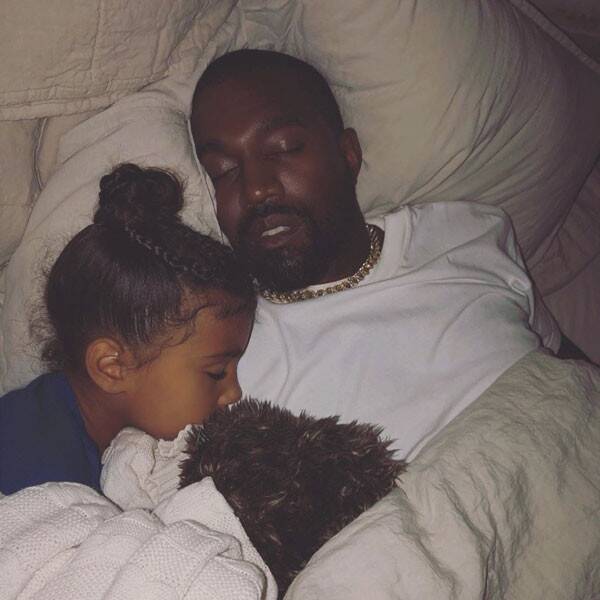 It's a good time to be Kim Kardashian.
Between her reality TV career, her growing businesses—KKW Beauty and SKIMS Solutionwear line, to be exact—and her advocacy work, the Keeping Up With the Kardashians star, who is now 39, has cemented herself as a triple threat.
However, it's safe to say that Kardashian's proudest project to date is her beautiful family. As fans surely know, the seasoned E! personality has had quite the love story with rapper Kanye West, with whom she shares four children.
Kimye welcomed their oldest daughter North West on June 15, 2013 and oldest son Saint West on December 5, 2015. Yet, as those pregnancies were extremely difficult and took a toll on Kardashian's health, doctors advised the A-lister against becoming pregnant again.
This advisory didn't stop Kardashian and West from expanding their brood as they went on to welcome both daughter Chicago West (born January 15, 2018) and son Psalm West (born May 9, 2019) via surrogacy.
And Kardashian is clearly loving being a mother of four.
"I think for some reason, four [kids] is really zen for me. I feel really balanced," Kardashian previously told E! News during an exclusive chat. "All the kids get along so well. It seems like the baby brought in this energy to get all the kids to get along and love each other and they're all obsessed with each other now and supportive. I feel so lucky because it feels really good."
While the famed businesswoman has joked it's almost "impossible" to get a picture with all four of her kids, she still manages to share sweet family moments on social media.
In fact, most recently, Kardashian posted images from Saint, Chicago and Psalm's baptism at the Etchmiadzin Cathedral in Vagharshapat, Armenia. North was baptized four years prior in Jerusalem.
Thus, in honor of Kim's 39th birthday, be sure to relive these sweet Kardashian-West family moments in the pics below!
Instagram
Zzzz

How cute and North and Kanye cuddling?!
Instagram
Quality Time

Psalm hangs out with his cousin True in an adorable photo series shared to Instagram by both youngsters' moms. "OBSESSED," Kim captioned hers.
Jackie Nickerson
Blessed!

Another sweet snapshot from last week's family baptism.
Jackie Nickerson
Armenia

"Thank you Armenia for such a memorable trip," Kim captioned a gorgeous Instagram photo series from her family's recent baptism overseas. "So blessed to have been baptized along with my babies at Mother See of Holy Etchmiadzin, Armenia's main cathedral which is sometimes referred to as the Vatican of the Armenian Apostolic Church. This church was built in 303 AD."
Jackie Nickerson
Baptism

Kourtney and her children, also visiting Armenia, were baptized with the West family.
Jackie Nickerson
North

North stands beside her mom during the baptisms at Armenia's oldest cathedral.
Jackie Nickerson
Saint

Jackie Nickerson
Chicago

North grabs Chicago's hand during the ceremony.
Jackie Nickerson
Psalm

Baby Psalm is baptized alongside his mom, aunt, siblings and cousins.
Instagram / Kim Kardashian
Goals

What a crew! "Squad," Kim captioned this sweet photo with North, Saint and Chicago.
Instagram / Kim Kardashian
Good Views

The clan cozies up around a peaceful fireside dinner. "Wyoming Nights," Kim wrote on Instagram.
Instagram / Kim Kardashian
Wyoming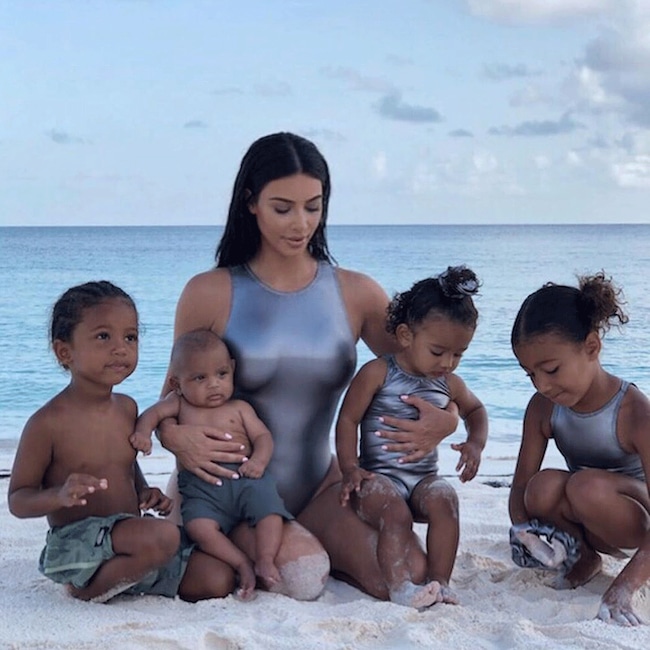 Instagram
Supermom

"I thought taking a pic with three kids was hard OMG this is almost impossible!" Kim captioned the family photo.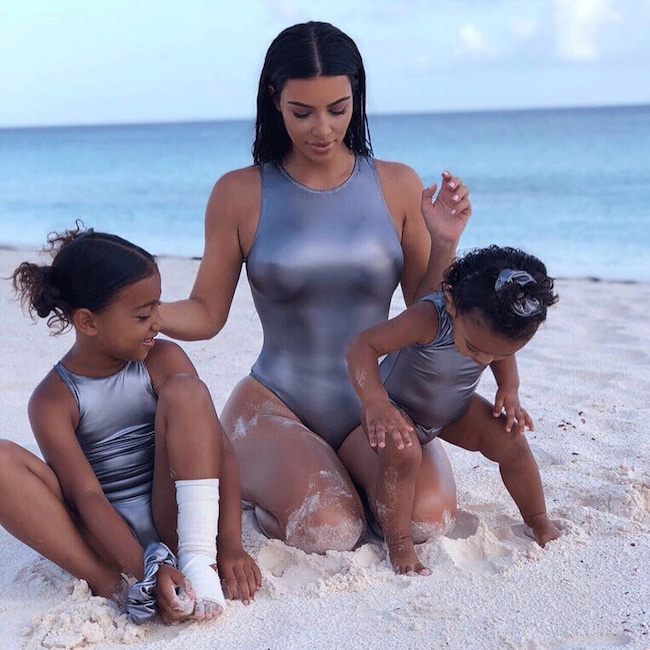 Instagram
The Gals

Kim, North and Chicago in between takes!
Instagram
Family Portrait

Instagram
Throwback

In April 2019, Kim shared this throwback pic of North and P writing, "Look what I found. They were so small."
Instagram
Party of 5

"Morning," Kim captioned this cuddly pic of her family of five in bed together.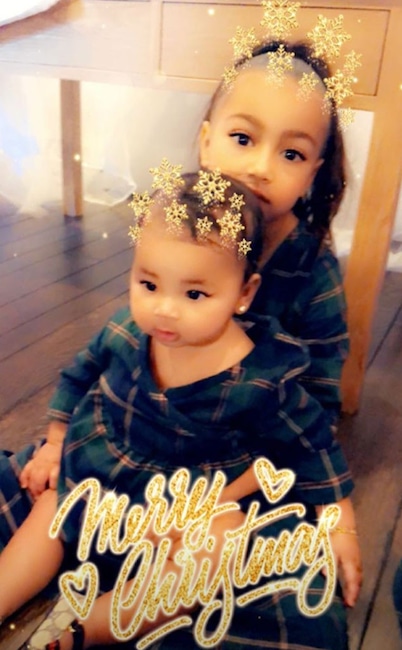 Instagram
Holiday Hugs

True sits on North's lap during the Kardashian-Jenner fam's 2018 Christmas celebrations.
Instagram / Kim Kardashian
Festive Fam

Kim holds daughters Nori and Chicago close during the family's annual Christmas Eve Party.
Twitter
Model Behavior

North Crashes Kim's photo shoot and proves she has a future in the modeling business.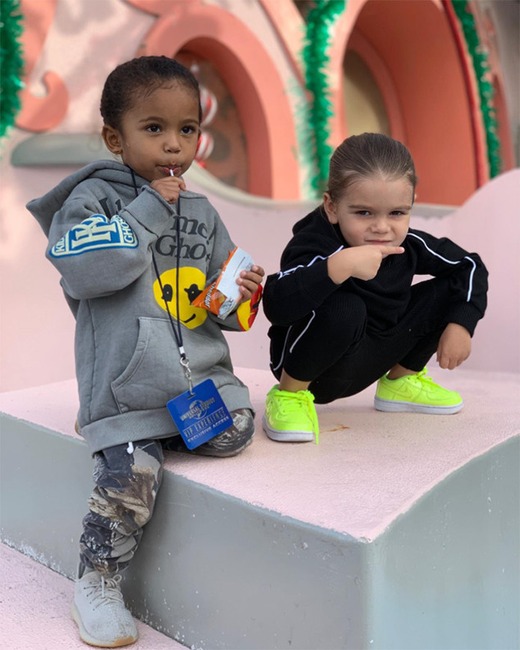 Twitter
The Cool Kids

"there's no one cooler than them," Kourtney captioned a pic of cousins Saint and Reign enjoying a day at Universal Studios Hollywood.
Instagram
Family Portrait

"I don't think you really understand how hard it is to take a good family pic. This was all we got before all three kids started crying. I think I cried too," Kim shared of their adorable family photo.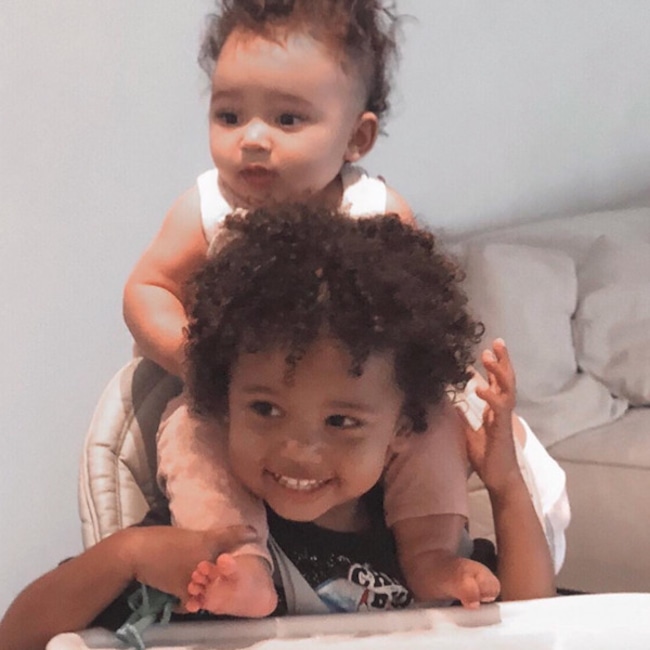 Instagram
Supportive Saint

Chicago hops on Saint's shoulders. "Wild Hair Don't Care," Kim captioned.
Instagram
Kanye Kisses

Daddy's girl North shares sweet smooches with her papa. "I can still feel the love," Kim wrote.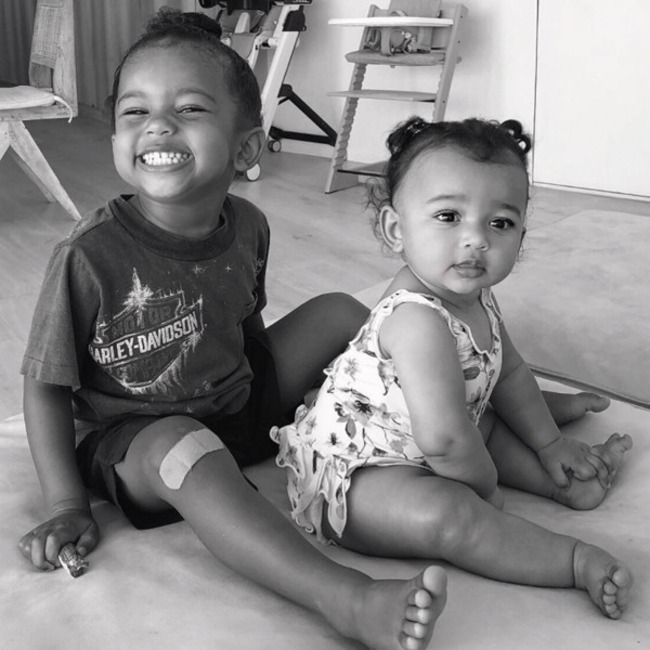 Instagram
Cheesin'

"Morning cuties," Kim wrote with this precious pic of Saint flashing a giant smile.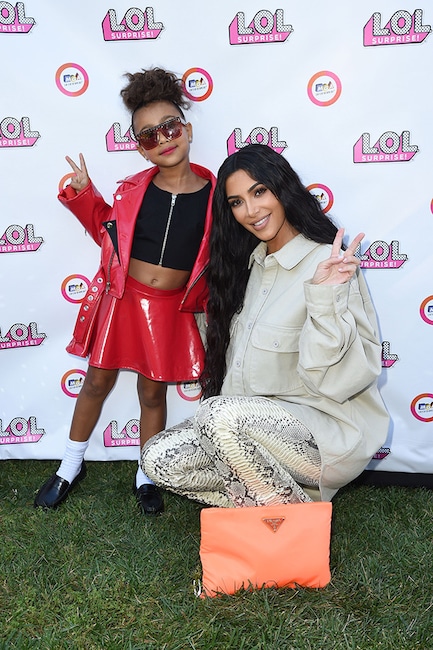 Michael Simon Photography
Runway Rockstar

Kim supports North as she walks her first runway show!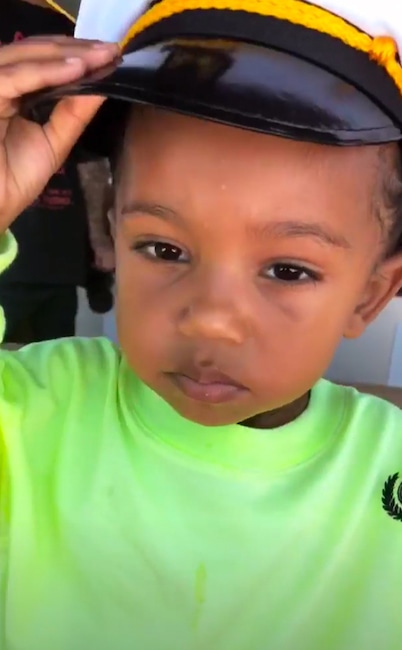 Instagram
Saint the Sailor

Little Saint channels his inner boat captain.
Instagram
B-Day Besties

North and Penelope celebrate their joint birthday party.
Instagram
Splish Splash

Eric McCandless via Getty Images
Girls' Outing

North and Penelope attend an event with Kim.
Instagram
Daddy's Boy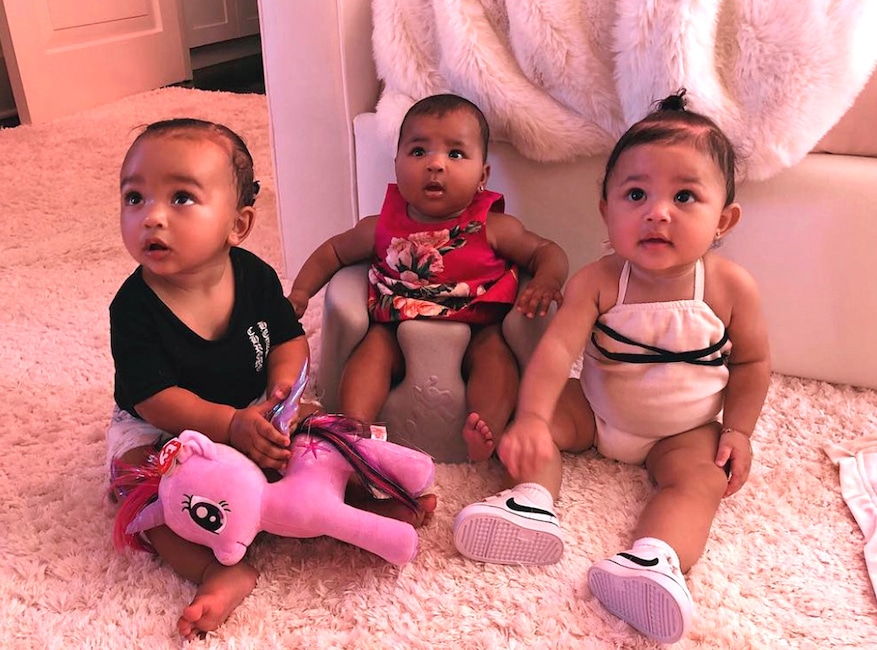 Kim Kardashian/Instagram
Triple Threat

Kim calls cute cousins Chicago, True and Stormi, "The Triplets."
Saint vs. Santa

Looks like little Saint didn't have the best first meeting with Santa Claus!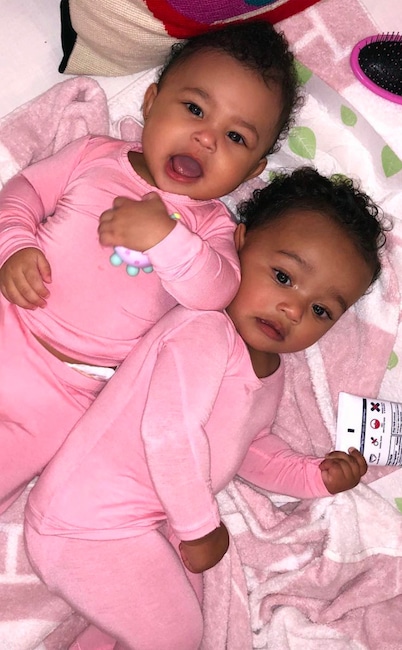 Instagram
Pretty in Pink

"Happiness" is Stormi and Chicago cuddling in matching pink outfits.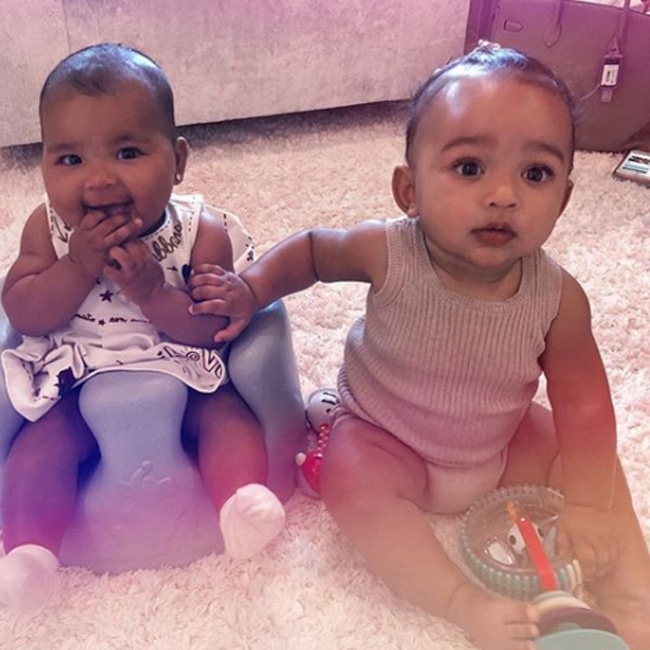 Instagram
True Love

"I got this True," is what Kim imagined Chi saying in this photo.
Twitter
Dream Come True

"awwww GOOD Morning cousin," Kim write with this pic of Dream giving North a big bear hug.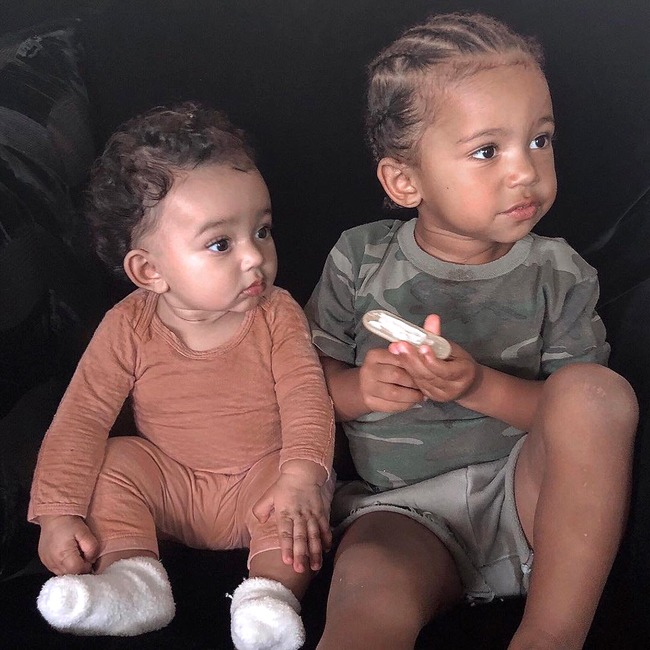 Kim Kardashian/Instagram
Bother-Sister Bond

"These two are inseparable #Chi #Saint," Kim posted on Instagram of Saint and Chicago.
Instagram
Coordinating Cuties

North and Saint match their parents during a family fun day.
Instagram
Cuddle Bugs

Kim and Kanye's two oldest kids snuggle with their mama.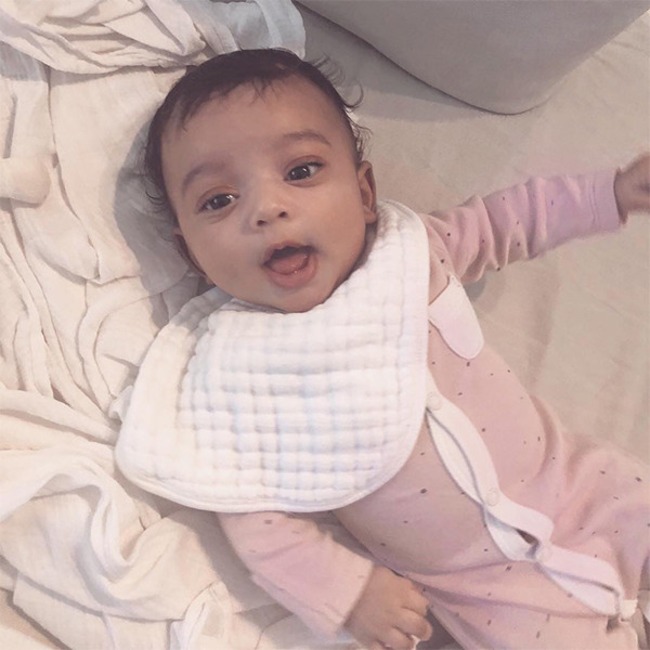 Instagram
Rise & Shine

"Morning cutie," Kim wrote of baby Chi.
Instagram
Christmas Eve Fun

Instagram
Swim Sesh

Big sister North helps Saint in the pool.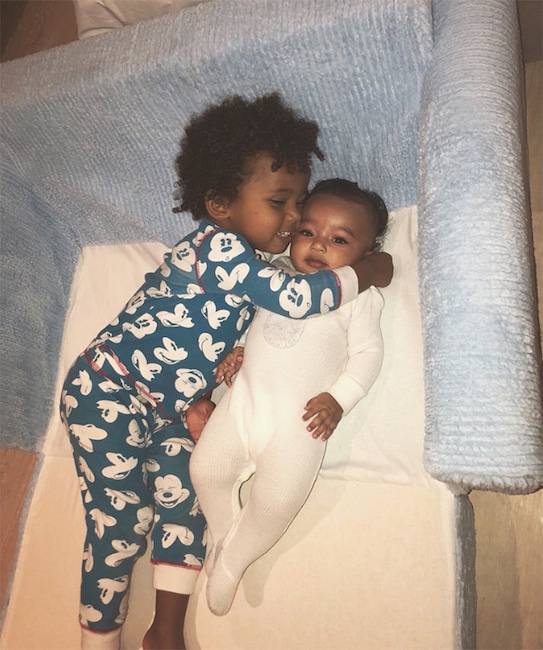 E!
Hug It Out

Too cute! "Sometimes we all need hugs," Kim wrote of Saint and Chicago.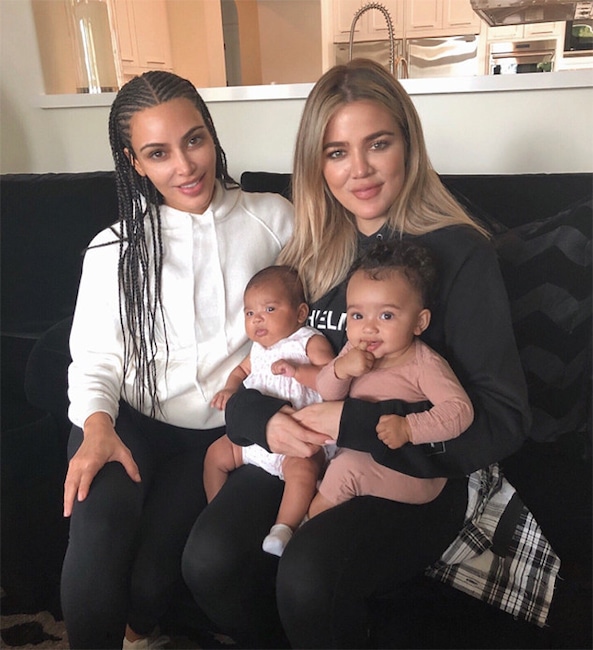 Twitter
Birthday Wishes

Kim wished sister Khloe a happy birthday with this adorable pic of True and Chi. "Happy Birthday to one of my favorite souls on this planet! @khloekardashian This year you have shown strength like none other. I admire you for always following your heart. I love seeing you as a mom and can't wait for the years ahead," Kim posted.
Instagram
Fab Five

The West family is definitely a "Party of 5."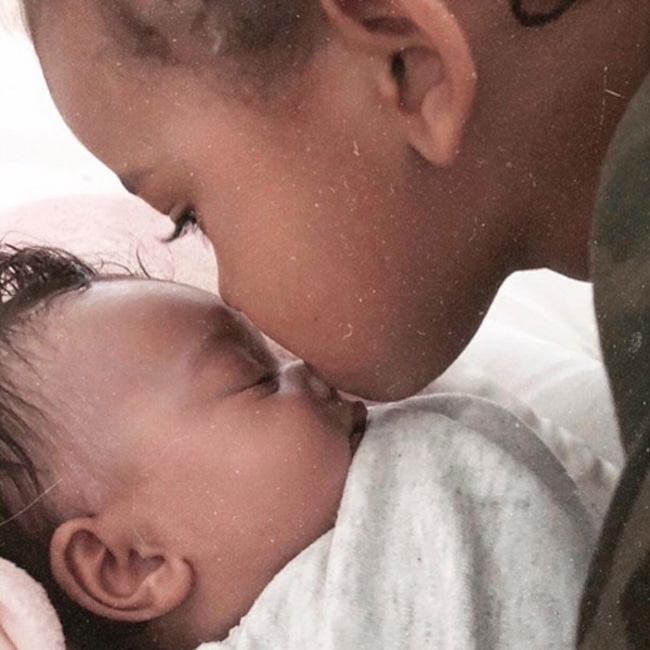 Instagram
Sweet Kisses

"He loves her so much," Kim captioned a pic of Saint smooching little sister Chi.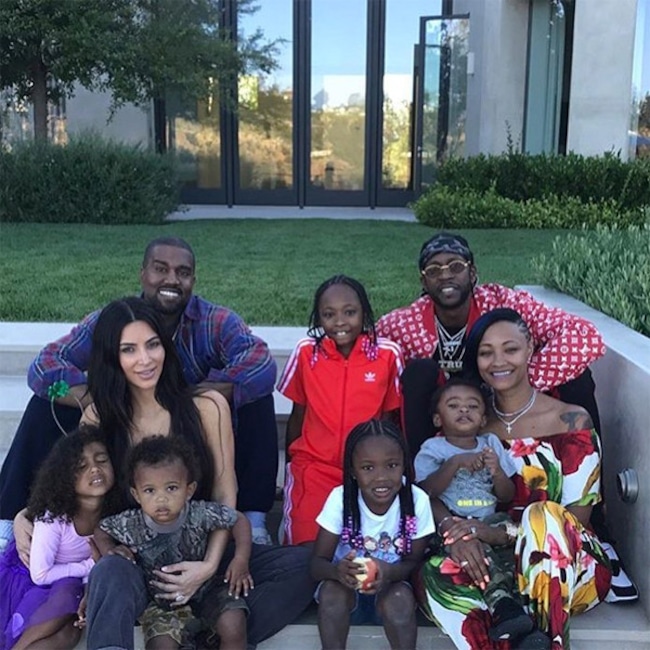 Instagram
Fourth of July Fun

North, Saint, Kim and Kanye enjoy some summer fun on July 4 weekend.
Instagram
Slumber Party

"Chicago, Saint and North have a blast in bed with Kim. "Welcome to the good life…" she wrote.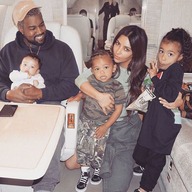 Photos
See More From The West Kids' Cutest Pics
Don't forget to wish the proud mom a happy birthday on social media!