CIFF 2019: The Apollo, The Torch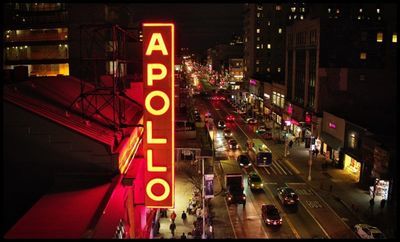 For anyone with even the slightest working knowledge of pop cultural history, it is impossible to underestimate the importance and significance of Harlem's famed Apollo Theater and legendary blues musician Buddy Guy. The former is one of the most famous concert venues in the world and has featured performances by virtually every African-American entertainer of note since it opened in 1934 while the latter has been an influence on several generations of musicians and was once called "the best guitar player alive" by none other than Eric Clapton. However, once one becomes an institution in the way that they have, where do they go from there? Do they serve as living reminders to their considerable past achievements or do they try to remain a vital presence by continuing to evolve with the times? In short, do they become ghosts or spirits? That is the question hanging over two new documentaries screened at the Chicago International Film Festival—"The Apollo" and "The Torch"—and both find their subjects grappling with it in intriguing ways.
Considering the vast amount of history that the Apollo Theater has borne witness to since it opened its doors in 1934, the idea of one film succinctly summing up both its past and future in a satisfying manner would seem to be a foolhardy notion at best. While it could easily be the subject of one of those extended Ken Burns-style documentaries without coming close to running out of material, director Roger Ross Williams (whose previous efforts include the Oscar-nominated documentary "Life, Animated") does a very good job of presenting an astonishing array of information in a compact, though never rushed, 98 minutes. While there are dozens of incredible pieces of archival footage highlighting decades worth of historical performances, it proves to be than a simple clip job—it tells the story of an entire cultural movement whose history continues to be written every time that someone steps onto that stage.
We get to see priceless performance moments from the worlds of music, dance and comedy ranging from Billie Holliday singing a mesmerizing rendition of her classic "Strange Fruit" to a young and unknown Lauryn Hill getting booed by a raucous crowd during one of the venue's famous Amateur Night programs. (There is another clip of her after becoming a success where she is received a bit more warmly.) A number of these performers also get to talk, either via archival footage or new interviews, about what appearing at the Apollo meant to them, including vintage footage of Ella Fitzgerald talking about her participation in Amateur Night and new material in which Leslie Uggams reminisces about appearing as a child performer alongside the likes of Louis Armstrong and Dinah Washington and Paul McCartney discussing how the Beatles were persuaded not to visit the venue during their historic first visit to New York. The people who have worked behind-the-scenes at the theater over the years inspire a number of fascinating recollections as well, including Frank Schillman, who was the original owner, payed his performers minimal pay for multiple performances and kept voluminous note cards detailing how their shows went and whether they were worth the expenditure. There is Joe Grey, who was an ordinary stagehand until he was persuaded to sing one night and eventually became the emcee for Amateur Night, the brilliant creation of talent scout Ralph Cooper that is one of the most famous things about the place. Then there is Billy "Mr. Apollo" Mitchell, who first started working there at the age of 15 and now leads guided tours of the venue in which he cheerfully shares everything that he has learned during that time.
Over the years, the Apollo has gone through its share of ups and downs—it even closed for several years before reopening in the Eighties and getting new cultural cachet through the long-running TV series "Showtime at the Apollo"—and while its position as an institution is set for the foreseeable future, the people in charge are clearly interested in it representing a viable creative future for the African-American community as much as a storied historic past. To that end, we are given a look at the mounting of an ambitious production based on Ta-Nehisi Coates's "Between the World and Me," a work dealing with the realities of being a black man in contemporary America. By the time that opening night arrives, it becomes clear that the piece is the ideal continuation of an artistic history that has gone from Holliday's "Strange Fruit" to the electrifying performances of James Brown (who recorded what might be the greatest live album of all time on its stage in 1962) to the incendiary comedy of Dick Gregory and Richard Pryor. "The Apollo" distills that legacy into a feature-length running time and for anyone interested in American popular culture and the way that it can impact and be impacted by the world outside its doors, it is pretty much essential viewing.
As for "The Torch," it views its subject as a sort of flesh-and-blood version of the Apollo—a living and breathing piece of African-American history that refuses to slow down even at the age of 83. (Earlier this year, he took home his eighth Grammy award)/ Shot over the course of a couple of years, we see Guy touring, recording and, best of all, sharing stories about his amazing life. Whether discussing his beginnings as the son of a sharecropper in Louisiana, how his interest in playing the guitar (which began when he made his own two-string instrument before graduating to the real thing) led to him making a fateful trip to Chicago in 1957 to seek his fortune as a musician or his ultimate success, Guy is as lively and engaging as can be. Guy is simply loaded with tales to tell and the ones involving other legendary musicians are pretty much priceless—I especially loved the ones he recounts about his first encounters with John Lee Hooker (whose "Boogie Chillen" was the first song he learned to play) and Muddy Waters and backing Big Mama Thornton on a performance of her classic "Hound Dog." And while he is relatively modest while discussing his own gifts as a performer, there are a number of famous faces on hand (including Carlos Santana, Jonny Lang, Susan Tedeschi and Joe Bonamassa) to testify as to his musical bona fides and to certify that he is pretty much the last man standing from the era of great traditional American blues musicians.
It is that latter notion that turns out to be the unexpected heart of the film. We learn that in the same way that he was taken under the wings of such legends as Muddy Waters and Howling Wolf when he was just starting out and learned from their examples, he has long sought out young blues musicians to mentor so that they may go on to continue the traditions and keep one of the most vital forms of American music alive. One day in 2007, while doing a concert in New Bedford, Massachusetts, he invited seven-year-old guitar player Quinn Sullivan on stage as a way of encouraging young musicians and was blown away by the kid's genuine musical chops—there is video and it is pretty astonishing. Now a recording artist in his own right who has produced his own hit album and toured the world, often alongside the likes of Guy, B.B. King and other greats, Sullivan (who will also appear at the screening) himself is at a sort of crossroads as he makes the inevitable shift from "astonishingly talented kid" to "blues musician." On the one hand, he clearly takes heed the words of his mentor, "Don't let the blues die." On the other, Santana makes a point when he suggests that Sullivan needs to "expand your portfolio" and find his own sound with which to make his mark instead of clinging solely to the ideas of the past. Thanks to this element, "The Torch" becomes more than just a celebration of a single (and undeniably deserving) artists—it pays tribute to an entire art form and makes it live and breathe without reducing it to some kind of musty museum artifact.