An Arc Towards a Better Future: The Alternate Reality of the Space Race In For All Mankind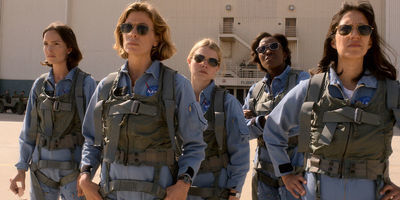 June 1969. Around the world, people are watching to see the first man walk on the moon. We see boots emerging from the lunar module … and he speaks. In Russian. "For All Mankind" is an alternate history of the space race, the high-concept, high-budget premiere kicking off the new streaming service from Apple, called Apple TV+. In the series, America is spurred on by the failure to beat the Russians to the moon. Senator Ted Kennedy cancels his plans to go to Chappaquiddick to return to Washington, where he becomes a powerful political rival to President Richard Nixon as he prepares to run for re-election, putting more pressure on him to end the war in Vietnam. And the space program brings in a new team of female astronauts. The show has just been renewed for a second season.
Producer Ron Moore and members of the cast talked to RogerEbert.com about both the reality and the fantasy of the show, and what it means today to reconsider our past.
Ron, how do you decide what to keep from the past and what to change?
It all started with the writers in the room. We said, "Okay, once the Russians beat us to the moon, what are the events that would change after that?" I mean, one of the very first things that came up was just our discovery that, you know, Ted Kennedy's infamous party and Chappaquiddick was literally, just a couple weeks after the Apollo 11 moon landing. And we said, "Well, he wouldn't go to that party, then he would go back to Washington and then it things just started to diverge." And then it was, "What would happen? Oh, now he's a threat to Nixon in the '72 race. What's Nixon's reaction to that and Nixon decides to pull out of Vietnam early because that benefits him politically," and on and on and on and it was really fun.
I enjoy history. So, it was a lot of fun with "what if" games that we could play just kind of moving forward. The trick for us was never to really allow that to dominate the show because the show isn't really about that. It's about these characters and their lives and what they're going through. but we wanted to show the world changing around them. So, there's a lot of stuff on TVs or just in background material for us and you wanted the show to sort of arc towards a better future in a better world, even though there are still tragedies and setbacks and things along the way.
We know in real life the astronaut's wives were not just struggling with the restrictions of the pre-feminist era and the fear of having their husbands in unprecedented danger but also the stifling scrutiny from NASA and the press. How did you prepare for that?
SHANTEL VANSANTEN: I didn't go into it watching or reading anything other people have necessarily done. I took an account of who I thought Karen was and who the story needed her to be in the relationship and then did a lot of research about the NASA program and then applied it to mothers and wives. I was surprised to find out that women could not even apply for a credit card back then without their husband's approval. You have to dive in from so many different aspects when you're doing a show like this and when you were not alive during that time, you have to take your history and research to see what would apply to you and make decisions to formulate a well-rounded character. The writing leans towards not boxing somebody into to just being the label of an astronaut wife but actually a partnership and part of a unit that functions so that he can function for all mankind.
Wardrobe always helps to create the era, too. The very first thing we did was take a Christmas photo that was going to be placed in our house. We hadn't even started shooting yet. We both came out of our trailers and I looked him and said, "You look like a sexy Grandpa, Mr. Rogers." I always felt like I looked like my grandmother. I felt like I looked old. That was the effect of everything in that day and age from the hair to the makeup—but it's also really wonderful because you lose every sense of yourself. And you look at and you're like, this is all Karen like, there is no part of this that's me. And that part is great to lose yourself in. The undergarments are so interesting. The getting dressed processes is not like a five minute it's like you have thirty minutes to get it all on.
SARAH JONES: I understand why they burned the bra. I get it, I get it now. It wasn't really about feminism at all. It's just, "Who designed these?" Most definitely not women.
JODI BALFOUR: But it's also really fun. I feel like half the joy of working on a period show is literally putting on someone else's shoes in every way. With these clothes and hairstyles, nothing resembles the way we all dress and walk around now. So, for me anyway it helps with that ability to transport yourself and transform yourself and play somebody else because you look differently.
You can almost ritualize it. To be honest, I used to do this cheesy thing, where the last thing I would do is after putting on my wardrobe in my trailer before going out I just put my shoes on last. And as I put these ridiculous 1969, very uncomfortable, high heels on I take a moment and realize that I am literally stepping into someone else's shoes. That's cheesy and fun, but it is helpful.
RON MOORE: When we were creating the relationship between Edward and Karen, and I was writing the first episode, it was the scene where she is reacting to the fact that he's spilled the beans to the press, that great scene in the house where it's, "Well, I guess we're moving and you're going back to the Navy." I was writing that scene, which we just had kind of a sketch from in the writers room. To me that created that relationship because that was where I discovered Karen was the planner. And that she knew all the stakes. I like their relationship. I liked that she wasn't lecturing him about what had happened, when it could really have felt like one of the partners had let the other partner down. That scene kind of defined that relationship for the series.
What are the qualities that make a great astronaut?
JOEL KINNAMAN: They have to have a coolness to them, control of your emotions, because you get put in these extreme situations where you have to make decisions within a couple of seconds and it's life or death. And you have to be able to be calm in those situations. So, I think it lends itself to being a personality that is thoughtful, that isn't impulsive.
You're always figuring out what you want out of each situation and what every scene is about and sometimes the best way to get that is not to talk, just gauging what everyone else is doing. But for me the one of the main keys of being present on screen is to be listening. So, I like playing characters that are listening people as well.
Michael, would you say that about your character?
MICHAEL DORMAN: I kind of feel like he's not who he is. He creates this mask. And then you get glimpses of the real him, he gets glimpses of the real him throughout the season, and then in all to the next. Yeah, it was a fascinating character to play.
For him, it was more commandeering anything. The character I play originally wanted to work in the Marines, wanted to be underwater. And that for me said a lot about who he is. It didn't end well for him. Then it became about him just going as fast as he could. And then I think I guess for him to become an astronaut was more of his ability like he just fit there. Being able to fly whatever and you know, knowing everything ins and outs. For me, I don't understand much of it, but yeah, for him, I guess that that's what puts him there. A sense of freedom. A quiet space. A place where his mind quiets for a moment. He is completely instinctual. But it's just that place where everything's quiet for a minute.
Did you get a chance to do much research about the space program?
WRENN SCHMIDT: I just didn't have like an interest in space and took all of that for granted until starting to do research for this show. Fortunately, there's an abundance of material that's part of the public domain, that NASA puts out. So, doing research for this, it's kind of mind boggling to see how much was available to me to explore.
And then we had a kind of boot camp type day with Jerry Griffin, who was one of the original flight directors. He had a lot of wisdom and information to impart. And then it's going down different rabbit holes that makes sense for your storyline. And then, letting the stories inform you or things that we all share with each other, one of us finds good material, and it's like, "Hey, everybody, this thing was really great."
I felt like I, too, have a much deeper appreciation for the fact that when you look up at the moon now, I know how far away it is from this planet. And it just blows my mind that a person, more than one person has stood on that. It's crazy. And then I have a friend who works at JPL and so like having an understanding as well of what they're working on now is also insane.
So yeah, it's been like a really fun ride getting to know more and I feel like I have just scratched the surface.
I understand that the original concept of this series had it going for seven years and we may skip ahead to more recent settings. What would you like to see happen?
SARAH JONES: I'm like Buzz Lightyear — I want to go to infinity and beyond!