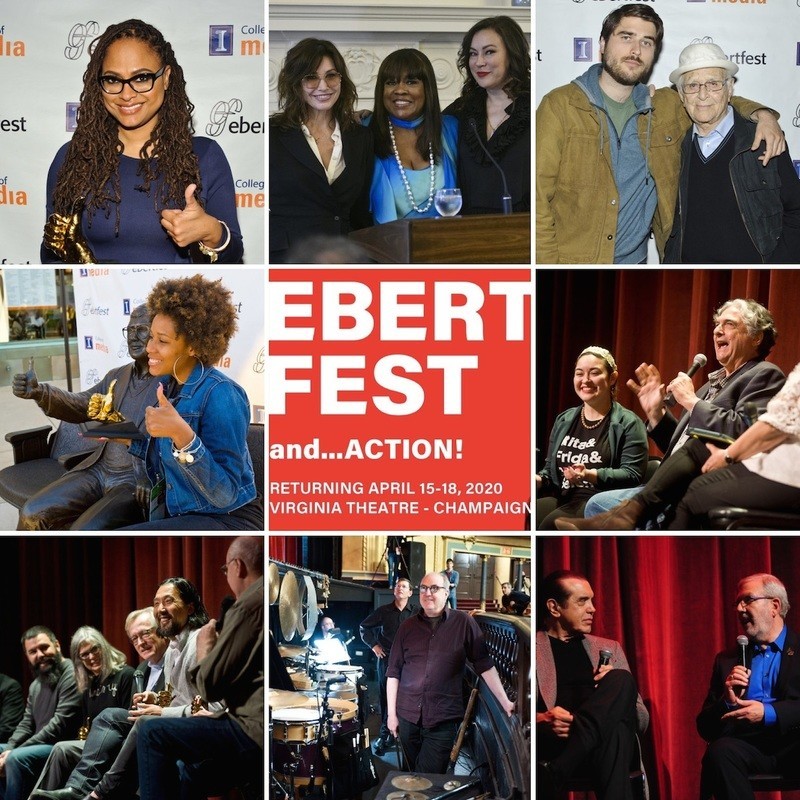 Matt writes: Passes for the 22nd installment of Roger Ebert's Film Festival, a.k.a. Ebertfest, in Champaign, Illinois, will go on sale the day after Halloween: Friday, November 1st. Ebertfest 2020 will run from Wednesday, April 15th, through Saturday, April 18th, at the Virginia Theatre and is guaranteed to be an unmissable event for movie lovers of all ages. One thousand passes will be available, and they can be purchased through the festival website, the theater website or the theater box office, 203 W. Park Ave., Champaign, 217-356-9063. To read the official announcement, click here.
Trailers
The Grudge (2020). Directed by Nicolas Pesce. Written by Nicolas Pesce (based on the original screenplay by Takashi Shimizu). Starring Betty Gilpin, Andrea Riseborough, Lin Shaye. Synopsis: A house is cursed by a vengeful ghost that dooms those who enter it with a violent death. Opens in US theaters on January 3rd, 2020.
Antlers (2020). Directed by Scott Cooper. Written by C. Henry Chaisson, Nick Antosca and Scott Cooper (based on the short story by Nick Antosca). Starring Keri Russell, Jesse Plemons, Jeremy T. Thomas. Synopsis: A small-town Oregon teacher and her brother, the local sheriff, become entwined with a young student harboring a dangerous secret with frightening consequences. Opens in US theaters on April 17th, 2020.
Bloodshot (2020). Directed by Dave Wilson. Written by Eric Heisserer and Jeff Wadlow (based on the comic book by Bob Layton, Don Perlin and Kevin VanHook). Starring Eiza González, Vin Diesel, Sam Heughan. Synopsis: Ray Garrison, a slain soldier, is re-animated with superpowers. Opens in US theaters on February 21st, 2020.
The New Mutants (2020). Directed by Josh Boone. Written by Josh Boone and Knate Lee (based on the comics by Chris Claremont and Bob McLeod). Starring Anya Taylor-Joy, Antonio Banderas, Maisie Williams. Synopsis: Five young mutants, just discovering their abilities while held in a secret facility against their will, fight to escape their past sins and save themselves. Opens in US theaters on April 3rd, 2020.
I See You (2019). Directed by Adam Randall. Written by Devon Graye. Starring Helen Hunt, Jon Tenney, Judah Lewis. Synopsis: Strange occurrences plague a small town detective and his family as he investigates the disappearance of a young boy. Opens in US theaters on December 6th, 2019.
They Reach (2019). Directed by Sylas Dall. Written by Sylas Dall and Bry Troyer. Starring Mary Madaline Roe, Morgan Chandler, Eden Campbell. Synopsis: In 1979, a young girl stumbles upon a possessed tape player. She unknowingly unleashes a demonic entity that haunts her family while slowly dragging the small town of Clarkston to Hell. US release date is TBA.
Adopt a Highway (2019). Written and directed by Logan Marshall-Green. Starring Elaine Hendrix, Ethan Hawke, Chris Sullivan. Synopsis: An ex-felon discovers a live baby left in a dumpster. Opens in US theaters on November 1st, 2019.
Age Out (2019). Written and directed by A.J. Edwards. Starring Tye Sheridan, Imogen Poots, Caleb Landry Jones. Synopsis: Fresh out of foster care at age 18, a young drifter turns to petty crime to survive, and discovers an impossible love in an unlikely friend. Opens in US theaters on November 22nd, 2019.
Line of Duty (2019). Directed by Steven C. Miller. Written by Jeremy Drysdale. Starring Dina Meyer, Giancarlo Esposito, Aaron Eckhart. Synopsis: A disgraced cop finds himself in a race against time to find a kidnap victim whose abductor he accidentally killed. Opens in US theaters on November 15th, 2019.
Bombshell (2019). Directed by Jay Roach. Written by Charles Randolph. Starring Margot Robbie, Charlize Theron, Jennifer Morrison. Synopsis: A group of women decide to take on Fox News head Roger Ailes and the toxic atmosphere he presided over at the network. Opens in US theaters on December 20th, 2019.
Let it Snow (2019). Directed by Luke Snellin. Written by Victoria Strouse. Starring Isabela Moner, Odeya Rush, Kiernan Shipka. Synopsis: In a small town on Christmas Eve, a snowstorm brings together a group of young people. Debuts on Netflix on November 8th, 2019.
Holiday in the Wild (2019). Directed by Ernie Barbarash. Written by Neal H. Dobrofsky and Tippi Dobrofsky. Starring Rob Lowe, Kristin Davis, John Owen Lowe. Synopsis: Jilted by her husband on the eve of embarking on an African safari, a woman travels to the continent alone where she meets an elephant conservationist. Debuts on Netflix on November 1st, 2019.
American Son (2019). Directed by Kenny Leon. Written by Christopher Demos-Brown. Starring Kerry Washington, Jeremy Jordan, Steven Pasquale. Synopsis: An estranged couple reunite in a Florida police station to help find their missing teenage son. Debuts on Netflix on November 1st, 2019.
The Man Without Gravity (2019). Directed by Marco Bonfanti. Written by Marco Bonfanti and Giulio Carrieri. Starring Elio Germano, Michela Cescon, Elena Cotta. Synopsis: A man does not obey the laws of gravity. Debuts on Netflix on November 1st, 2019.
The King (2019). Directed by David Michôd. Written by Joel Edgerton and David Michôd. Starring Robert Pattinson, Timothée Chalamet, Lily-Rose Depp. Synopsis: Hal, wayward prince and heir to the English throne, is crowned King Henry V after his tyrannical father dies. Now the young king must navigate palace politics, the war his father left behind, and the emotional strings of his past life. Debuts on Netflix on November 1st, 2019.
The Report (2019). Written and directed by Scott Z. Burns. Starring Adam Driver, Annette Bening, Jon Hamm. Synopsis: Idealistic Senate staffer Daniel J. Jones, tasked by his boss to lead an investigation into the CIA's post 9/11 Detention and Interrogation Program, uncovers shocking secrets. Opens in US theaters on November 15th, 2019.
Marriage Story (2019). Written and directed by Noah Baumbach. Starring Scarlett Johansson, Merritt Wever, Adam Driver. Synopsis: An incisive and compassionate look at a marriage breaking up and a family staying together. Opens in US theaters on November 6th, 2019.
Star Wars: The Rise of Skywalker (2019). Directed by J.J. Abrams. Written by J.J. Abrams and Chris Terrio (based on characters created by George Lucas). Starring Daisy Ridley, Carrie Fisher, Billie Lourd. Synopsis: The surviving Resistance faces the First Order once more in the final chapter of the Skywalker saga. Opens in US theaters on December 20th, 2020.
Boon Jong-ho on "Parasite"
Matt writes: This year's winner of the Palme d'Or was Bong Joon-ho's "Parasite," a universally acclaimed thriller that promises to be a major contender in this year's Best Foreign Language Film category. Our critic Tomris Laffly spoke at length with the filmmaker in this must-read conversation.
Matt writes: Kimberly Peirce's 1999 masterpiece "Boys Don't Cry," which earned its star Hilary Swank a well-deserved Oscar for Best Actress, turns 20 this year, and was honored with an in-depth appreciation by our contributor Leigh Finke. Click here for the full article.
Free Movies
Diary of a Madman (1963). Directed by Reginald Le Borg. Written by Robert E. Kent (based on stories by Guy de Maupassant). Starring Vincent Price, Nancy Kovack, Chris Warfield. Synopsis: An evil spirit leaves the body of his human host, a criminal on death-row, and sneaks into the body of his next human host, a French magistrate.
Halloween is Grinch Night (1977). Directed by Gerard Baldwin. Written by Dr. Seuss. Starring Hans Conried, Hal Smith, Gary Shapiro. Synopsis: The evil Grinch who stole Christmas is back to steal Halloween! It's Grinch night and all over Whoville, a horrible storm has started which gives the Grinch a chance to have some fun. But he's soon foiled by a young boy who's on his way to the Uphamisim.
Frankenweenie (1984). Directed by Tim Burton. Written by Leonard Ripps. Starring Shelley Duvall, Daniel Stern, Barret Oliver. Synopsis: A young boy sets out to revive his dead pet using the monstrous power of science.