Trudeau will take questions this afternoon following appearance of new blackface video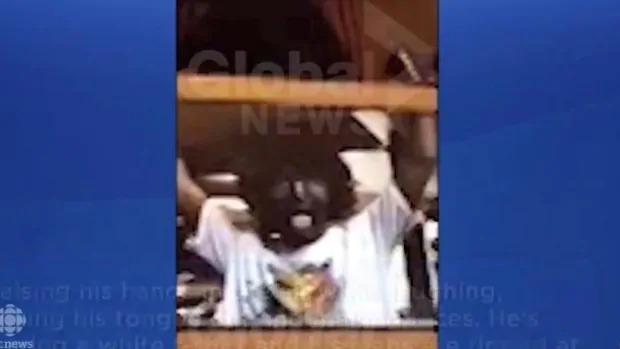 Prime Minister Justin Trudeau will field media questions this afternoon following the emergence of photos and videos showing the Liberal leader in racist makeup.
On Wednesday, Time Magazine dropped a bombshell story featuring a 2001 photo of Trudeau in brownface and a turban, taken at a gala at a private school where Trudeau taught 18 years ago.
When asked Wednesday night, Trudeau also admitted to a second instance of racist behaviour. "When I was in high school I dressed up at a talent show and sang Day-O with makeup on," he said.
This morning, the Liberal Party confirmed a third instance of Trudeau being filmed in racist makeup, as first reported by Global News.
It's not clear where the video was taken. It appears to show Trudeau with his face and arms covered in black makeup, raising his hands in the air while laughing and sticking out his tongue.
"We can confirm that it is him and it's from the early 1990s," said a Liberal Party spokesperson in a statement.
Conservative Leader Andrew Scheer later confirmed the video had been sent to his team originally, which then passed it on to Global for "verification."
After Trudeau kept a low profile all morning, the Liberal Party announced that he will address the media at 2:15 p.m. ET in Winnipeg before flying to Saskatoon.
The photos have disrupted the Liberals' campaign plans. Until now, Trudeau has had morning events on every day of the federal election campaign.
For the first time during the campaign, Trudeau and his team stayed at a different hotel than members of the media Wednesday night.
Speaking to reporters on his campaign plane Wednesday night in Nova Scotia, Trudeau apologized for his actions, saying he now recognizes they were racist.
"I shouldn't have done that. I should have known better, but I didn't and I'm really sorry," he said. "I take responsibility for my decision to do that. I shouldn't have done it. I should have known better.
"It was something that I didn't think was racist at the time, but now I recognize it was something racist to do and I am deeply sorry."
Trudeau's apology based on 'a lie': Scheer
The story dominated the other leaders' campaign events today.
Scheer said the emergence of the video shows Trudeau's Wednesday night apology was based on "a lie."
"I believe Canadians might have been able to accept his apology if he had been truthful and open, if he hadn't based that apology on a lie," Scheer said during a stop in Saint-Hyacinthe, Que.
"He was specifically asked if there were other instances where he engaged in that type of racist behaviour and he indicated there was only one other instance. Now we know there [were] at least three."
Asked today if he's ever dressed in any way that would be deemed offensive, Scheer said he has not.
"I'm not perfect and I don't claim to be a saint, but nothing would come up to that level," he said.
During an interview with John Moore, host of Newstalk 1010 in Toronto, NDP Leader Jagmeet Singh was asked if he'll smile and shake Trudeau's hand at the first leaders' debate.
"It's going to be tough," he said. "To be honest with you, I don't really know how to react. This is someone who so casually mocked the reality for so many people and has hurt a lot of Canadians with this."
Where the leaders are:
You can watch streaming video of available live events on this page throughout the day.
All times are Eastern Time, unless otherwise noted.
NDP Leader Jagmeet Singh:
7:20 a.m. Media appearance on Newstalk 1010's Moore in the Morning in Toronto.
8 a.m. Media appearance on CTV's Your Morning in Toronto.
10 a.m. Announcement about small businesses in Hamilton.
Liberal Leader Justin Trudeau:
2:15 p.m. – Trudeau will hold a media availability in Winnipeg
8 p.m. –Trudeau will deliver remarks in Saskatoon, Sask.
Conservative Leader Andrew Scheer:
10:30 a.m. Announcement and media availability in Saint-Hyacinthe, Que.
Local brewery visit in Granby, Que., with Conservative candidate Nathalie Clermont.
5 p.m. Campaigning with Conservative candidate Dany Sévigny in Sherbrooke, Que.
---
---
Green Party Leader Elizabeth May:
Noon (9 a.m. PT) At the B.C. Assembly of First Nations general assembly in Vancouver.
6: p.m. (3 p.m. PT) Canvassing in Burnaby, B.C., with volunteers.
People's Party of Canada Leader Maxime Bernier:
BQ Leader Yves-François Blanchet: