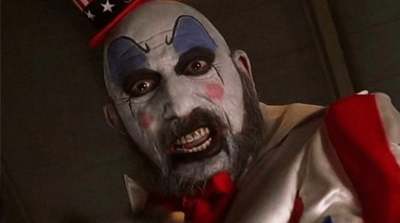 Sid Haig (born Sidney Eddie Mosesian) was a great character actor. His generosity of spirit is apparent both on and off-screen, especially in his work as an all-purpose heavy (gang leaders and bikers a specialty). Being a utility player wasn't always an easy career for Haig to pursue, especially not when he had to survive on a tablespoon of uncooked rice per day, nor when he took a hiatus from acting in 1992 after being offered too many "heavy with a gun" roles. But in Haig's later years, he was a staple at horror conventions, where he could frequently be seen in costume as the murderous clown Captain Spaulding alongside his "House of 1000 Corpses" and "The Devil's Rejects" co-star Bill "Otis B. Driftwood" Moseley.
Genre fans who were lucky enough to talk with Haig knew him to be grateful for their loyalty and interest, despite some persistent (and understandably annoying) gossip about his health during his last months. Haig died this past Saturday night after being hospitalized one week prior; his most recent film role is in Rob Zombie's Peckinpah-esque psychobilly dirge "3 from Hell," which begins with the death of Haig's Captain Spaulding, a fan favorite. He was 80 years old and will be dearly missed.
Haig's generosity of spirit served him throughout a prolific career that started with tap dancing, included dozens of memorable film and TV credits, and ended with cult worship thanks in no small part to celebrity champions like Zombie and Quentin Tarantino. Born in Fresno, California, Haig hit a growth spurt at the age of seven that led him to try tap dancing, just for the sake of achieving greater physical coordination. Soon after that, Haig was paid to dance in a Christmas pageant as well as in local Vaudeville revivals. After starring in a grade-school production of "The Wizard of Oz" (as the Scarecrow), Haig was encouraged to pursue acting by high school drama teacher Alice Merrill and contemporary musical-comedy star Dennis Morgan. Haig took their advice, and studied at the famous Pasadena Playhouse two years later. While there, Haig was taught by Ernie Brown, a student of Method acting guru Lee Strasberg.
Before that, Haig played drums for the T-Birds, including on their chart-topping 1958 single "Full House." In a recent interview with Strangeland Oddities, Haig said that the band had six singles and some radio play, but while "jukebox money was coming in like crazy," he never saw any of it. So, rather than "bust my ass for nothing," Haig switched gears and focused on acting. He was 19 years old at the time.
Haig's first film role came three years later in 1960: "The Host," a 30-minute long western/UCLA student film and the first of seven collaborations with writer/director Jack Hill. In the film, Haig plays a mysterious outlaw who is forced into a confrontation with a brutal killer (Joseph Hanwright). The conclusion of "The Host" is an acknowledged influence on fellow UCLA student Francis Ford Coppola, specifically the finale of "Apocalypse Now." "The Host" was notably first released on home video in 2000 on the same DVD as Hill's 1975 girl gang-sploitation gem "Switchblade Sisters"; that DVD was produced and released by Quentin Tarantino's short-lived but memorable "Rolling Thunder" label (check out QT's enthusiastic intro to "Switchblade Sisters" here).
Among his collaboration with Hill, Haig's a notable scene-stealer in the 1964-shot, 1967-released southern gothic horror-comedy "Spider Baby," where he plays a developmentally delayed killer, as well as in the 1969 drag race thriller "Pit Stop," where he plays an egomaniacal pro driver. The latter performance—preening, imperious, crazed—is especially impressive given that Haig didn't know how to drive when he arrived on set. His slack-jawed, wide-eyed performance as Ralph in "Spider Baby" is equally unforgettable, if only for the scene where he lays into a piece of unidentified meat (maybe rabbit!) at dinner with a group of estranged relatives. "Isn't Ralph a vegetarian" one disgusted guest asks. "Oh yes," says Ralph's sheepish caretaker Bruno (Lon Chaney Jr., who would become a real-life mentor to Haig). "But Ralph's allowed to eat anything that he catches."
While filming "Spider Baby," Haig combated a 103-degree flu; producers had a doctor standing by to administer hourly injections to help keep Haig working. It was only a 12-day shoot, but the movie's producers soon went into bankruptcy, leading to the movie's years-long delayed release. Still, Haig threw himself into his role: in order to complete the scene where Ralph climbs outside one of his victim's windows, he allowed himself to be suspended by a rope tied around his feet. Haig said that playing Ralph "stretched myself to a place I'd never gone before" because "there was no reference to go by; [Ralph] just was whatever I wanted to make him."
Haig generally worked hard to get inside his characters. He would later become a certified hypnotherapist after studying at the Tarzana-based Hypnosis Motivation Institute, which he called "home schoolwork, to create better characters"; he also became a handwriting analyst and an expert in "Chinese face-reading," which he said gave him "signs to look for in people's faces that will tell you who they are." He was also inspired by Charles McGaw's writing on acting. "[McGaw wrote] probably the best book ever written on acting," Haig told fellow actor Mel England in a 2008 Moving Pictures interview. "Because you never have to open it, all you have to do is read the title—'Acting is Believing.' That just proves to be so true. If I believe it, the audience is gonna believe it. They can't help but believe it. Real for me is real for them."
In the 1970s, Haig worked a half dozen times with co-star Pam Grier, including her first role in "The Big Doll House," the subgenre-defining 1971 women-in-prison flick. Haig didn't have enough time to be nervous about meeting Grier, who was 22 years old at the time: minutes after they were introduced to each other, Grier and Haig shot a scene where she, in character as a militant prisoner in a Filipino jail, grabs Haig's hand and tries to entice him, also in character as a fruit-and-drugs-selling horndog, by pushing his hand into her crotch. Of their subsequent collaborations with Hill, their work on Blaxploitation classics "Coffy" and "Foxy Brown," from 1973 and 1974 respectively, stands out, as does "The Big Bird Cage," a better-than-average 1972 women-in-prison flick where Grier and Haig team-up as revolutionaries who plan a prison break from the outside. I'm fond of an early scene where Haig, with a wild grin on his face, leaps off of a suspension bridge after his character, who at the time is being pursued by local Pinoy authorities, winks to co-star Anitra Ford: "Tell 'em I went the other way, will ya?"
In Grier, Haig saw a kindred spirit; he encouraged her to keep acting at a time when she wasn't sure if it was right for her. "We did a ton of films in the Philippines together," Haig told TerrorTime's Brad Slaton in 2016. "You had to have faith with the people you're working with because you're not only fighting the weather and no budget but you're fighting snakes and spiders. It's like, 'Oh, I have to go potty.' Well, you better pick a bush, but take somebody with you to watch for snakes. That bonds people. [Grier] is just an amazing person because she knows her value. She knows her worth. Not in dollars and cents but in respect and the value that her presence in a film brings."
Haig's peers also knew and saw his value. He was a prolific TV actor, showing up in a variety of series, including "The A-Team," "The Flying Nun," and "Star Trek." He also made an impression playing bit parts in films like the psychedelic 1967 revenge caper "Point Blank," where he first met Lee Marvin. Haig recalls that Marvin, at a wrap party, said that he saw a lot of his younger self in Haig. They didn't meet again until they both worked on the 1973 depression-era hobo/train thriller "Emperor of the North." Marvin immediately recognized Haig, and greeted him as if no time had passed between projects.
Unfortunately, Haig would later feel typecast because of his working experiences in the 1980s and early 1990s. He knew he had range enough to play anything offered to him, and his experiences bore that feeling out: he received glowing letters of praise from black activist groups for his portrayal of an illiterate racist sheriff (who was "dumb as a sack of hair," in Haig's words) on "Mary Hartman, Mary Hartman." Haig was also cast in an episode of "Batman" (a plum gig, at the time) because producer Howie Horwitz saw that Haig was in an episode of prime-time TV four nights in a row, and on a different show each night. "Every show I was connected with got dumped, but people kept hiring me," he told The Daily News of Los Angeles in 1996. "You have to develop an elephant skin to be in this business."
In 1992, Haig had taken a step back from film-acting. He did some theater work, and mentored local teenagers in acting workshops ("I love to work with kids"). This was two years before Quentin Tarantino initially approached Haig about working together on "Pulp Fiction." Haig was grateful for Tarantino's attention, but still turned down the part of Marsellus Wallace after seeing that the role was scheduled to be shot in a day's time. Haig did not know, however, that Tarantino doesn't always take as much time to shoot on paper as he does in real life. He would later say that he regretted not taking the part. He was 55 years old at the time.
Still, Tarantino came back to Haig in 1997 and asked him to play a judge in "Jackie Brown," a role that was written specifically for Haig. Haig also memorably plays a weary, overworked bartender in Tarantino's "Kill Bill, Vol. 2." And in 2003, Haig worked with Rob Zombie on the mangled, but still unnerving "House of 1000 Corpses"; as a teenager, Zombie fell in love with Haig's work as the villainous Dragos on the 1978-1979 scifi serial "Jason of Star Command." Haig and Zombie would go on to collaborate on a handful of other projects, including some cut scenes (by Zombie's choice) from the bewitching 2012 chiller "Lords of Salem." Zombie had also written a more prominent role for Haig in "3 From Hell," but the character actor's ailing health necessitated significant rewrites. Ironically, while "House of 1000 Corpses" was edited and released without Zombie's approval, it is now the subject of a maze at Universal Studios' Halloween Horror Nights, including a ride on Captain Spaulding's serial-killer-themed Murder Ride.
Haig was like the arrow in the Fed-Ex sign: once you noticed him, you saw him everywhere. He was as welcome a presence online as he was in person: I'm especially fond of his Instagram account, where you could find hilarious anecdotes and descriptions of past projects (Haig on "THX 1138": "George Lucas wanted me to use the toilet on camera") as well as some cute animal pics (Squirrel!). He left behind a body of work that I know I'm not alone in treasuring, from walk-on parts in "Busting" and "Emergency!" to leading roles in horror movies like "Blood Bath" and the upcoming "Hanukkah," the latter of which is exactly what it sounds like—a Jewish holiday-themed slasher. "Life was one long interview and an improv," Haig told The Daily News of Los Angeles. "Try to live life like it's an improv and make the situation work for you."