Ebert Symposium 2019 Preview: Keynote Speech, Diversity in Film Panel, VR Experiences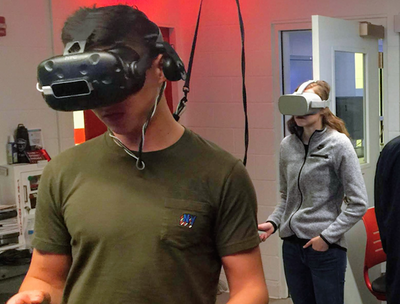 On Friday, September 27th, you are invited to attend the second Chaz & Roger Ebert Symposium at the Illinois Ballroom of the I-Hotel and Conference Center, 1900 S. First St., in Champaign, Illinois. It is a collaboration between Chaz Ebert, the College of Media and Ebertfest. The symposium, titled "Creating an Inclusive Media and Cinema Ecosystem," opens at 9 a.m. and has various panels scheduled throughout the day. This year's topic grew out of Roger's vision of movies as a tool for generating empathy among those of different genders, races, ages, classes or other circumstances. Fostering empathy "is the most noble thing that good movies can do," he said. Though the symposium is free and open to the public, online registration is highly encouraged to reserve a spot for selected panel discussions.
The symposium kicks off at 9am with a welcome address from Chaz Ebert, the university's Vice Chancellor Sean Garrick and Dean Tracy Sulkin. Here is a preview of the first two major events scheduled for the day…
9:15AM: KEYNOTE SPEECH
Dr. Stacy L. Smith, Keynote Speaker
Stacy L. Smith, Ph.D. is Founder & Director of the USC Annenberg Inclusion Initiative (AII), the leading global think tank studying inequality in entertainment. Dr. Smith's groundbreaking research examines inclusion (e.g., gender, race/ethnicity, the LGBT community, people with disabilities and mental health) across film, TV and digital platforms, the music industry, and film criticism. Beyond research, Dr. Smith crafts compelling and innovative solutions to entertainment inequality. Recently, in partnership with TIME'S UP, Tessa Thompson, and others, she launched the #4percentchallenge. She has authored over 100 articles, book chapters, and reports, and is covered regularly in popular press outlets including The New York Times, Los Angeles Times, CBS This Morning, NPR, and many others. LA Weekly named Dr. Smith the most influential person in Los Angeles in 2015. Dr. Smith serves on the Recording Academy Task Force on Diversity and Inclusion following the release of the Annenberg Inclusion Initiative's inaugural study on the music industry and is an Executive Committee Member of She Is The Music. LA Weekly named Dr. Smith the most influential person in Los Angeles in 2015. She appeared on Billboard's 2018 Women in Music List and was deemed one of The Hollywood Reporter's 50 Agents of Change in 2019.
9:30AM: DIVERSITY IN FILM PANEL
Julie Turnock, Diversity in Film moderator
Julie Turnock is as Associate Professor and the Acting Department Head of Media and Cinema Studies at the University of Illinois.
She earned her Ph.D. in Media and Cinema Studies at the University of Chicago in 2008; an M.A. in Film and Television at the University of Amsterdam in 2001; an M.A. in Art History at Indiana University in 1998; and a B.S. in Modern Languages at Georgetown University in 1993.
Her course specialties include History of Cinema, Special Effects, Media Aesthetics and Introduction to Film Analysis.
Allyson Nadia Field, Diversity in Film panelist
Allyson Nadia Field is Associate Professor Cinema and Media Studies at the University of Chicago. Field's scholarship investigates the functioning of race and representation in interdisciplinary contexts surrounding cinema. Her research focuses on African American film, both silent era cinema and more contemporary filmmaking practices, and is unified by two broad theoretical inquiries: how film and visual media shape perceptions of race and ethnicity, and how these media have been and can be mobilized to perpetuate or challenge social inequities. Her work is grounded in sustained archival research, integrating that material with concerns of film form, media theory, and broader cultural questions of representation. She is the author of Uplift Cinema: The Emergence of African American Film & The Possibility of Black Modernity (Duke University Press, 2015). Field is also, with Marsha Gordon, co-editor of Screening Race in American Nontheatrical Film (Duke University Press, 2019) and with Jan-Christopher Horak and Jacqueline Stewart, co-editor of L.A. Rebellion: Creating a New Black Cinema (University of California Press, 2015). Her current book project, tentatively titled Minstrelsy-Vaudeville-Cinema: American Popular Culture and Racialized Performance in Early Film, seeks to reframe American film history through the lens of racialized performance, tracing the development of tropes, themes, and practices from minstrelsy to the vaudeville stage and motion picture screen. In doing so, it attempts to make legible the functionings of minstrelsy's forms within American cinema, understand its complex
negotiations of race in a rapidly changing social order, and explore moments of creative resistance to its
dehumanizing portrayals of African Americans. In support of this project, Field was named a 2019 Academy Film Scholar by the Academy of Motion Picture Arts and Sciences.
Cáel M. Keegan, Diversity in Film panelist
Cáel M. Keegan is Assistant Professor of Women, Gender, and Sexuality Studies and Integrative, Religious, and Intercultural Studies at Grand Valley State University. Keegan completed a doctorate in American Studies at the University of Buffalo. His research examines queer and transgender popular culture, with an emphasis on how media forms express queer/transgender sensation. Keegan is the author of the book Lana and Lilly Wachowski: Sensing Transgender (University of Illinois Press, 2018) and has also published articles in Genders, Queer Studies in Media and Popular Culture, Transgender Studies Quarterly, Mediekultur, Spectator, and the Journal of Homosexuality. He is regularly interviewed by the media on issues related LGBTQ politics, culture, and art: Keegan appears in the Vice Guide to Film's episode on "New Trans Cinema" and recently introduced The Matrix for its 20th anniversary screening at the TIFF Bell Lightbox in Toronto. He also serves as Co-Chair of the Queer and Trans Caucus of the Society for Cinema and Media Studies. His current book project, The Edge of the Real: Transgender Sensation and Its Forms, examines how transgender-authored popular culture has altered our common sense of "reality."
Gordon Quinn, Diversity in Film panelist
Gordon Quinn, Artistic Director and founding member of Kartemquin Films, has been making documentaries for 50 years. In his first film Home for Life, heralded as "an extraordinarily moving documentary" by Roger Ebert, he established the direction of his life and career; storytelling that examines the broader culture through the unfolding lives of real people.
Gordon's documentaries include "Taylor Chain," "The Last Pullman Car," "Golub," "Hoop Dreams," "Vietnam," "Long Time Coming," "Stevie" and "The New Americans." Recently, he directed "Prisoner of Her Past," "A Good Man" and "'63 Boycott" which was shortlisted for the Oscar. He was EP on "The Interrupters," "The Trials of Muhammad Ali," "The Homestretch," "Life Itself," "America To Me" and Oscar nominated films, "Abacus: Small Enough to Jail," "Edith and Eddie," and "Minding the Gap."
A longtime activist for public and community media, Gordon was integral to the creation of ITVS and the Documentary Filmmakers Statement of Best Practices in Fair Use. Quinn has collaborated with generations of diverse filmmakers whose films have won numerous awards and impacted millions of viewers.
Samantha N. Sheppard, Diversity in Film panelist
Samantha N. Sheppard is the Mary Armstrong Meduski '80 Assistant Professor in the Department of Performing and Media Arts at Cornell University. She writes extensively on issues of race, gender, and representation in cinema and media. She is the author of the forthcoming book Sporting Blackness: Race, Embodiment, and Critical Muscle Memory on Screen (University of California Press, 2020). She is coeditor of the anthologies From Madea to Media Mogul: Theorizing Tyler Perry (University Press of Mississippi, 2016) and Sporting Realities: Critical Readings on the Sports Documentary (University of Nebraska Press, 2020). She has published essays in Film Quarterly, Cinema Journal, Journal of Sport History, Journal of Sport and Social Issues, and Black Camera: An International Journal and the anthologies L.A. Rebellion: Creating a New Black Cinema (University of California Press, 2015) and Race and the Revolutionary Impulse in The Spook Who Sat by the Door (Indiana University Press, 2018). She has also written for The Atlantic and Los Angeles Review of Books.
1:00PM: LUNCHTIME & VR DEMONSTRATION
The main Virtual Reality film offered during the symposium's hour-long lunch break is University of Illinois alum Jewel Ifeguni's 14-minute "The Drive," which portrays the contentious relationship between police and people of color. Ifeguni will also be joining us for the symposium. The other selections will be from Google's Immerse VR series exploring racial identity.
To register for the 2019 Chaz & Roger Ebert Symposium, click here.
Header photo: Courtesy of the University of Illinois Center for Innovation in Teaching and Learning.