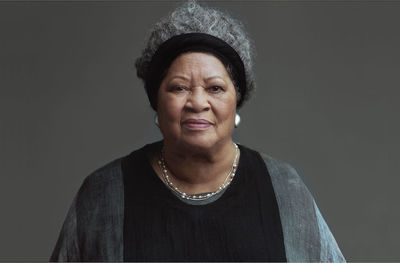 Toni Morrison filled her words with lightning, and eviscerated the white male-dominated literary canon by writing stories about the Black experience. She reimagined the white conception of African American women such as Topsy (Uncle Tom's Cabin) and replaced such destructive imagery with courageous inspirations like Sethe and Pecola. Morrison's personal story stretches from the steel mills of Akron, to the halls of Yale, the hills of Switzerland, and the steps of the White House. This strong Black woman who won the Nobel Prize for Literature in 1993, and wrote Beloved and The Bluest Eye, died on Monday, August 5th, 2019. She was 88.
Morrison was born in Lorain, Ohio as Chloe Ardelia Wofford on February 18, 1931. Her family lived an itinerate life, moving around Lorain, unable to afford rent. Nevertheless, she loved words, a reverence she held onto like an amulet hanging over her heart. She graduated from Howard with her B.A. in 1953, and received her M.A. from Cornell in 55. In the proceeding years, she married, had two sons, and divorced—and in 1965 became editor of L.W. Singer, an imprint of Random House. During her time at Random House she published authors such as Toni Cade Bambara, Angela Davis, Gayl Jones, and Muhammad Ali, and taught at Yale.
Her fiction, Morrison's defining legacy, defies normal storytelling tropes and common narrative structures. Instead, it relies on America's past, and Black history, to redefine its present. Her prose, with a hymnal cadence, pulls through time to mirror the current traumas of Black men and women. A stillness exists when confrontation occurs in her fiction, unflinchingly examining subjects of rape, murder, and institutionalized racism with the heaviness of a humid Southern night. She's Homeric, combining superstition and memories into mythical nonlinear dreams wrapped in the symbolism and legacy of slavery. Marigolds in 1941 aren't just Marigolds, they're the metaphorical results of incest, and the decision to die free or live as a slave—an unthinkable dread for her white readers—is a call to arms for her Black congregation.
I was a senior in high school when I first read Morrison's The Bluest Eye (1970). Prior to then, with a Hispanic mother (Mexican and Puerto Rican) and a Black father from Mississippi, I viewed my bi-racial status with animosity. With one older brother and two younger sisters, my siblings and I possess various shades of eyes and textures of hair. At my all-Black grammar school, I came to hate myself. I disliked my caramel complexion, my light-brown eyes, my semi-curled hair. Later, when I attended a mixed high school, I reversed course and loathed that I wasn't lighter: in eyes and skin color, with straighter hair. Then, like the harvest that cherishes what it has been, came The Bluest Eye.
Her first published novel proved to be her most controversial. Set in 1941, the story centers on a girl named Pecola, who others regard as ugly because of her dark skin and eyes. She hopes for blue eyes like Shirley Temple. Covering topics of rape, incest, child molestation, and racism, Morrison's novel reconfigures the Topsy narrative of a young Black girl who must be convinced she should be loved. Pecola, like Morrison's many other characters, represents one of her great talents, making young Black men and women say "I'm not alone." And not only am I not alone, I'm proud of my existence.
Through her multiple successes, Morrison told young Black men and women they could run a publishing house, foster unique Black perspectives, teach at Yale, even write their own novels—all accomplishments that may have seemed out of reach for her sharecropping, yet proud grandparents. Morrison's 1973 follow-up Sula also describes a young Black woman, this one dealing with the conventionalities of sexual expression during World War I. Morrison's third novel Song of Solomon (1977) follows Macon Dead III, her first Black male protagonist. Known as Milkman, Macon is alienated from his family and community, ultimately traveling through Pennsylvania to recover his ancestors' gold. His journey is one of self-discovery, pondering, "What does it mean to be Black?"
The three characters: Pecola, Sula, and Macon are all wanderers, defining themselves through their own terms, rather than the standards of white America. Morrison's fiction vocalizes Black pain as poetry, enlivening the full spectrum of the Black experience. She elevates the dialects of slaves, parses through regionalisms, and notates the varying economic strata within African American community, all the while imbuing her words with a distinctly charged and arresting tone. Her masterpiece Beloved (1897), based upon the real-life story of the African American slave Margaret Garner, follows a young Black woman named Sethe who must make the unthinkable decision of killing her children or letting them live as slaves. Here, Morrison mixes elements of horror and history in antebellum America with phantasms. The success of these accumulated works—including her essays, lectures, and teachings at Princeton—led to Morrison winning the Pulitzer Prize in 1988, the Nobel Prize for Literature in 1993, making her the first African American woman to do so. In 2012, she received the highest civilian honor of the United States, the Presidential Medal of Freedom, presented by Barack Obama.
Proudly Black, yet universal, multiple attempts were made during Morrison's lifetime to adapt her works into film. Only one person succeeded—Oprah Winfrey—who named four of Morrison's novels to her Book Club. Winfrey's 172-minute adaption of Beloved, directed by Jonathan Demme, didn't fare well at the box office. Nonetheless, the film features incredible performances from Winfrey and Danny Glover, and faithfully retains the novel's mysterious and tormented depictions of slavery.
There's also director Timothy Greenfield-Sander's Sundance documentary "Toni Morrison: The Pieces I Am." A fitting tribute to the private novelist, she giddily recounts her early life as a bevy of esteemed thinkers and writers praise her. Here, Morrison reveals her self-deprecating sense of humor, her infectious laugh, and her modest smile. Unafraid of confrontation, in her gently measured voice, she also demonstrates her charged self-belief and thoughtfulness.
Her thoughtfulness is a communicable talent, because no one binges through a Morrison novel. You read, and stop, and think upon Macon's lonely life in Song of Solomon. You allow your tears to well and flow like the river Jordan while remembering Beloved, and listen to your heart disintegrate with the harsh whip of a page turn whenever Pecola cries over her ebony-colored skin. A Morrison story consumes you, revealing the harsh fiction beneath the harsher truth. She allows the reader to tussle with their morality, their biases, and insecurities to become a better human being. Because to love Morrison is to learn to love yourself.
Having said that, I can't help but think that now, with a White House administration that deals in mistruths, who thinks of skin color in the pejorative sense, that we're losing Morrison when we most need her. We're losing her sense of humor and her charitable empathy. We're without Morrison's awareness and ability to vocalize the America we've come from, the antebellum nation whose memory some would rather "move on" from, forget, and the unfortunate reality a race, a gender, still live under today. Black America and African American women haven't just lost a novelist, an academic, or a Nobel Laurette, we've witnessed the departing of a hero: A proud Black woman writer.
Photo image credit: Timothy Greenfield-Sanders / Courtesy of Magnolia Pictures