Andrew Davis and The Fugitive Return To Chicago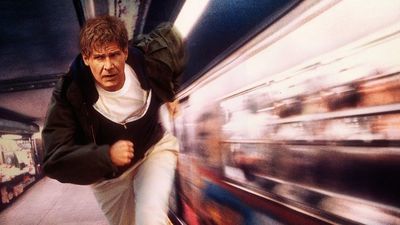 The Music Box Theatre, Chicago's most venerated institution dedicated to the increasingly rarefied world of quality cinematic presentation, is marking the 90th anniversary of its opening with a week of films designed to commemorate the intriguing programming that has made the place such a favorite amongst movie fans, ranging from a Maurice Chevalier vehicle ("Innocents of Paris") that is also celebrating the big 9-0 to an all-night Dolly Parton retrospective. (Yes, the immortal "Rhinestone" is included.) Of course, it stands to reason that one of these events would focus on a film that was actually made in the city where the theatre has been running since Herbert Hoover was president.
However, of all the movies shot within the city limits over the years, which one would have the honor of representing the area in all of its glory. As is par for the course for the crack programmers at the theatre, they have made the wise choice by selecting "The Fugitive," the enormously successful and Oscar-winning screen version of the famous television series, and bringing in its director, Chicago native Andrew Davis, to do a Q&A afterwards. Not only is it an enormously entertaining film in its own right—one that looks and plays as well today, if not more so, as it did when it was originally released in 1993—but it stands as one of the best and most distinctive representations of Chicago to ever hit the big screen.
In the odd and unlikely event that you are reading these words and have somehow not seen "The Fugitive" as of yet (and if this is the case, you are advised to stop reading this article and watch it right this instant), perhaps a brief recap of the plot is in order. Like the television series, it tells the story of Dr. Richard Kimble (Harrison Ford), a wealthy and respected surgeon who returns home one night to see his beloved wife being murdered by a one-armed assailant who manages to escape before the police arrive. Not believing his story, the cops arrest Kimble and he is quickly convicted of murder and sentenced to death.
When the prison transport bus he is riding on is involved in a spectacular wreck involving a train, he is able to escape and eventually makes it back to Chicago, where he takes it upon himself to try to solve his wife's murder and clear his name while constantly struggling to stay one step ahead of the law. Just as dogged in his pursuit of Kimble is Samuel Gerard (Tommy Lee Jones), a U.S. Marshal who leads his team of investigators though "every gas station, residence, warehouse, farmhouse, outhouse and doghouse" on the trail of his quarry. Gerard is not interested in Kimble's guilt or innocence—only in bringing him back into custody (when Kimble insists that he didn't kill his wife, Gerard, in the film's most famous lines, tersely responds "I don't care.")—but as he continues to pursue Kimble, he finds himself slowly becoming convinced that the doctor may indeed be innocent after all.
Since I am assuming that anyone still reading this is familiar with "The Fugitive," I suppose that I don't really have to spend too much time trying to sell its considerable merits. I do not have to talk about how it remains one of the few truly successful TV-to-film transfers because the screenwriters were far more interested in creating a compelling narrative—a classic example of the wrong-man-on-the-run storyline that Alfred Hitchcock himself would have been proud of—than in merely exploiting a familiar title and story idea in the laziest manner imaginable. I do not have to discuss that one of the reasons that it continues to hold up so well more than a quarter-century after its initial release is because of the wise decision to focus more on the human element.
Unlike a lot of action movie heroes, we genuinely find ourselves interested for Kimble and rooting for him to get to the bottom of the inevitable conspiracy. Hell, we even find ourselves rooting for Gerard in a way as well—he is, after all, just trying to do his job in a fair and dispassionate manner. I certainly do not have to tell you about the incredibly staged and executed action set pieces—the most famous being the still-astonishing train crash and Kimble's desperate leap for freedom from atop a dam into the river below—that stand as a testament to the glory of practical effects just as the industry was about to make the shift to CGI. Finally, nothing needs to be said about the collection of great performances on display here—not just the ones from Ford (who does some of the best work of his career here) and Jones (who won a much-deserved Supporting Actor Oscar for his work), but from a virtual Murderer's Row of killer supporting players including the likes of Joe Pantoliano, Julianne Moore, Jeroen Krabbe, Daniel Roebuck, L. Scott Caldwell, Jane Lynch and Andreas Katsulas.
What I would like to highlight, however, is the brilliant way in which the film makes use of its Chicago locations throughout. Since the city began allowing more productions to shoot in the wake of the passing of Mayor Richard J. Daley (who, the story goes, was allegedly so incensed by an episode of the TV show "M Squad" that showed a Chicago cop taking a bribe that he refused to allow anything else to film in town) in 1976, many films have set up shop in the Second City. In a lot of cases, these films go out of their way to showcase the city at its best, providing picture-postcard visuals so pristine that even your most fearful relative in the burbs might contemplate a day trip. Those are fine but as a lifelong Chicagoan and a lifelong film buff, I prefer the ones that provide a more down-to-earth and realistic depiction of the city and its neighborhoods.
To that extent, "The Fugitive" is one of the very best because it captures the feel of the city in a way that few other films have. (I would also include "The Blues Brothers," "The Fury," "Mad Dog and Glory" and "Princess Cyd" on that list.) Yes, the film includes any number of spectacular shots of locales like the Hilton Chicago and the Picasso statue standing in Daley Plaza. On the other hand, it also takes us on a tour of the back alleys, basement apartments and funky neighborhoods that don't often make the cut and which help keep the story on a more grounded and realistic level that only helps to enhance the story. Even better is the great sequence in which Kimble tries to escape Gerard by darting into the St. Patrick's Day parade for cover. Instead of the elaborately choreographed set-piece one might expect, it turns out that the scene was a largely improvised affair that was shot as the actual parade was going on, with Ford and Jones weaving through an actual crowd of participants, giving it a documentary-like feel that really sticks with you.
Andrew Davis is a filmmaker who has done a lot of strong work over the years—his filmography even boasts perhaps the only two Steven Seagal vehicles that are actually worth watching ("Above the Law" and "Under Siege")—but his best films have tended to be the ones that he has done on his home turf. He made his debut with "Stony Island" (1978), a charming story about a young man who joins forces with his friends to form a band that was one of the first films to emerge in the post-Daley era (it was shooting when he passed and even includes footage of his funeral). "Code of Silence" (1985) was an enormously effective action thriller featuring Chuck Norris battling corrupt cops that features a great fight scene atop a moving Brown Line L train car.
Although his 1989 thriller "The Package" took place in locations all over the world, nearly all of it was filmed in Chicago and indeed, locals can have fun watching it and seeing what nearby sights have been chosen to represent those in places like Washington and Germany. "Chain Reaction" (1996) found Keanu Reeves and Rachel Weisz being pursued by bad guys in an extended chase that includes the Michigan Avenue bridge and a fictional location that is the Museum of Science and Industry at one point and the Field Museum at the next. In all of his Chicago films, especially "The Fugitive," you never catch him using a location just because it looks appealing. In his film, the city itself is a character just as colorful and distinct as those played by the actors and even if you aren't familiar with the city, you can tell at an instant that you are in the hands of someone who is and who knows how to make it come alive on the screen.
The Music Box could not have picked a better movie than "The Fugitive" to represent the city of Chicago as part of its anniversary celebration. Like the theatre itself, it may have a few years on it at this point but it has lost none of its excitement or eccentric charm. If you have seen "The Fugitive" before, it not only holds up beautifully but on practically every level, it puts the current CGI-heavy blockbusters to shame by showing that it is possible to make an action film that is actually intelligently conceived and executed and not just a bunch of randomly connected set-pieces. If you have never seen it before, this is the perfect opportunity to finally experience it—a classic film in a classic theatre.
"The Fugitive" will be screening at the Music Box Theatre on Friday, August 23, at 7:00 PM as part of the week-long Music Box 90th Anniversary celebration. In addition, director Andrew Davis is scheduled to appear for a Q&A after the screening. For tickets and the complete anniversary line-up, click here.