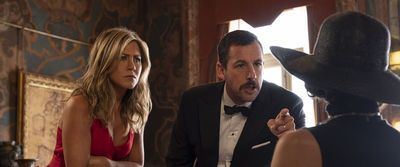 The latest Netflix Original to result from the deal between the streaming giant and Adam Sandler's Happy Madison is just entertaining enough to make you wish it was actually good. Sandler reunites with his "Just Go With It" co-star Jennifer Aniston for another vacation comedy – someone should write a book about how the former Billy Madison has found a way to turn his career into a way to pay for lavish trips – with a mystery twist courtesy of "Zodiac" and "Trust" screenwriter James Vanderbilt. With competent but unspectacular direction from Kyle Newacheck ("Game Over, Man!") and an entertaining supporting cast, "Murder Mystery" does just enough to keep audiences engaged until its goofy mystery is solved. It falls into a few too many Happy Madison tropes – of course, he has to be a bit immature and she has to play into gender roles as the mystery-loving hairdresser – but it moves at a steady enough clip that fans will be satisfied, even if they've forgotten it entirely by the end of the weekend.
Sandler and Aniston play Nick and Audrey Spitz, a NY couple who is celebrating their 15th wedding anniversary. They're a happy (enough) couple, and Aniston and Sandler have the easygoing chemistry that comes with actual friendship and former screen coupling. Some of the best moments in "Murder Mystery" are the minor beats between the two that define a decade-and-a-half of marriage. They're so believable as a couple that one wishes they didn't feel the need to overplay the gender roles for comedy (although one is grateful that Sandler doesn't lean on a goofy voice this time). Why, for example, does Nick have to be living the lie that he passed his detective's exam instead of telling Audrey the truth? It's the kind of "insecure guy" trope that often sinks Sander comedies (although only plays a minor role here, thankfully).
Nick finally does what he promised his wife 15 years ago and takes her to Europe for a long-delayed honeymoon. On the plane, Audrey runs into a suave player in first class named Charles Cavendish (Luke Evans), and he invites the Spitzes to join him on the family yacht instead of taking the tour bus they originally had planned. After some hesitation, Audrey and Nick find themselves thrust into the set-up for an Agatha Christie wannabe when the patriarch of a multi-billion-dollar empire – Malcom Quince (Terence Stamp) – ends up murdered. The list of suspects is lengthy, including Grace Ballard (Gemma Arterton), Colonel Ulenga (John Kani), Suzi Nakamura (Shioli Kutsuna), Tobias Quince (David Walliams), Maharajah Vikram Govindan (Adeel Akhtar), and Lorenzo (Victor Turpin). Of course, it's not long before the Spitzes are the number one suspects, especially as more and more of the major players end up dead. Can they solve the murder and clear their names?
Neither the mystery nor the comedy of "Murder Mystery" has been developed quite past of the point of "satisfactory," but it seems unlikely that those who have watched films like "The Ridiculous 6" and "The Week Of" are going to care. In fact, they may be pleasantly surprised that more effort has been put into this film than anything Sandler has done for Netflix so far. In fact, if we choose to be optimistic, this is a step in the right direction. Add this step up from "total disaster" to "reasonable escapism" to his amazing performance in "The Meyerowitz Stories (New and Selected)" and the news that he's starring in the new film from the Safdie brothers ("Good Time") and there's honest reason to believe that Adam Sandler is on the cusp of a major period in his career. As the resident expert on the Netflix Happy Madison films, this is very good news for me.