Former Nunavut premiers weigh in on 'premier election' debate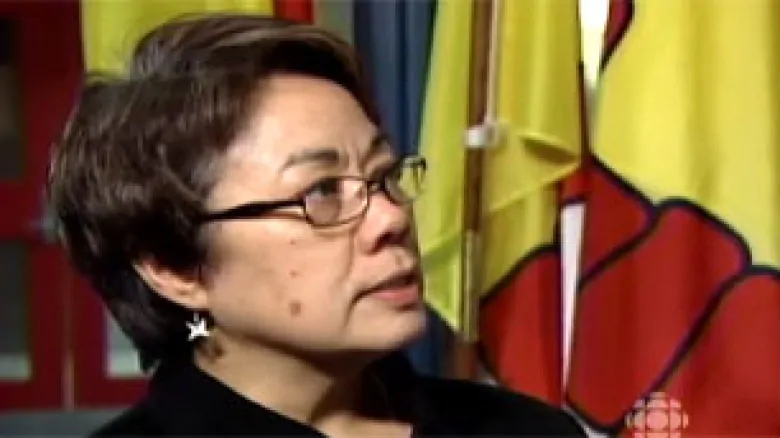 Former Nunavut premiers Eva Aariak and Peter Taptuna are weighing in on the debate on whether Nunavummiut should elect their own premier.
The debate ignited across the territory earlier this month when Aggu MLA, and former Nunavut premier, Paul Quassa raised the issue in the Legislature. He hinted he'd bring a motion forward in the fall, and that the issue should be put to Nunavummiut through a plebiscite.
While Aariak didn't take a position on whether or not it was time for Nunavummiut to elect the premier, she said it was the right time to start talking about it.
Meanwhile Taptuna said, in his opinion, the territory isn't ready to have its premier elected.
Paul Okalik, Nunavut's first premier, declined CBC's request for an interview. He said he was out of public office and preferred if CBC spoke with "elected people."
'Now is the time to start discussing it'
While the issue never arose during Aariak's tenure as premier, she reminisced about how it was a topic that was brought up numerous times in the Nunavut Implementation Commission's community visits.
"Now is the time to start discussing it, hear different views across Nunavut, and I think it would be very interesting," Aariak said, noting today's world of social media would make for a lively debate.
"Currently, the premier does not really have a lot of authority other than assigning ministerial portfolios, and to remove their portfolio. But the cabinet member can't be ousted by the premier — so there's limitations in that area.
"But how the elected premier would have more authority? It's not my position to say without proper research and discussions."
Aariak reserved her opinion on whether Nunavut should, in fact, move toward a system whereby the premier is elected. Though she said she thinks Nunavut will one day get into party politics.
She reminisced of certain times from when she was premier, which made her ponder on what those scenarios would look like with an elected leader in power.
"There were a few times where we had to make a decision, and the decision coming forth was the [one with] most votes. Even though I may not have entirely agreed with it as a premier," she recalled.
"But the majority of the cabinet members voted for it. So where do you stand in that?"
Asked why now is an opportune time to debate the issue, as opposed to five or 10 years ago, Aariak pointed to Quassa's ousting last year as prompting her to begin at least thinking about the idea.
"There was such an outpouring of comments about the disappointment of that incident happening, because there was a strong belief in Paul's messaging about the pride of Inuit culture and language," Aariak said.
"There are a number of elders who are on Facebook, and I read what they commented on. So that, I think, was the initial thought of 'Hmm, what would it be like if we were to elect the premier territorially?'"
A 'major disadvantage' for Kitikmeot candidates
Taptuna was more opinionated on the issue, saying Nunavut isn't ready, and having an election for premier would present a number of challenges.
Namely, he highlighted the potential for MLAs' roles to diminish.
"I see it's going to be a situation where you try and keep the Legislative Assembly as workable as possible. And usually the premier and cabinet develop a mandate, and they work with the MLAs to refine it, change it, and they go from there," Taptuna said.
"Electing a premier based on his mandate, a candidate's mandate, is going to be very difficult for the MLAs to work with. A mandate that they may not agree with."
Notably, Taptuna is Nunavut's first and only premier from the Kitikmeot. He said when the conversation first arose earlier this month, there was concern among people in western Nunavut about where an election for premier would leave their representatives.
"That's exactly what the first concern was brought up by most people out here in the West, and it's a small voting population," Taptuna said, adding it's would be "a major disadvantage" to Kitikmeot candidates in a territory-wide election for premier.
Taptuna also highlighted Nunavut's high cost of travel, and whether most candidates could afford campaigning in every region a territory-wide election.
"You're learning toward partisan politics and with a very small population, and a very huge territory with a lot of major differences between the communities. And that's where a consensus-style government works the best," he said.
"Once you get into that situation where you have to campaign throughout Nunavut, there's very few people that can afford to do that. I don't know if an individual would want to commit to that kind of cost. That's going to be a major stumbling block."