Feeling loved at home: Yukon veteran honoured with Quilt of Valour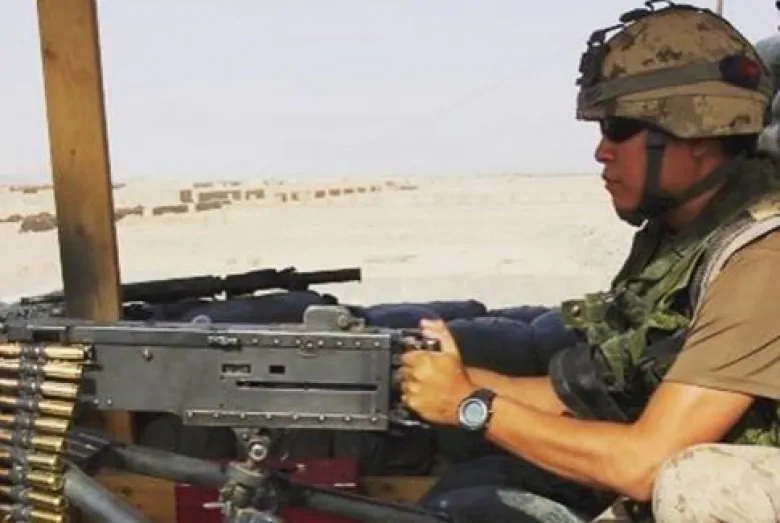 Retired Canadian Forces Cpl. Doug Tizya describes the suffering experienced by soldiers fighting the war in Afghanistan as "biblical."
Tizya, a member of the Vuntut Gwitchin First Nation, did two tours in Afghanistan with the 2nd Battalion of the Princess Patricia's Canadian Light Infantry.
On Friday, during Indigenous Peoples Day celebrations in Whitehorse, Tizya's service was recognized with a Quilt of Valour.
"You suffer a lot there," he said, adding that being honoured with the quilt helps ease some of that pain.
Tizya went to high school in Whitehorse before joining the military. He was deployed to Afghanistan in 2002, shortly after the 9/11 terrorist attacks, and again in 2006. Tizya received the Sacrifice Medal after being wounded during his second tour.
'I'll never forget him'
The day Tizya was wounded was excruciatingly hot, he recalled — maybe 50 C. He was sitting down to eat along with some other men.
They had taken off their gear in an attempt to cool down, said Tizya, when "all of a sudden the Taliban started dropping mortars on our on our patrol base."
He remembers grabbing his rifle, helmet and armour and running toward shelter when a mortar landed beside him and knocked him out.
A couple of his fellow soldiers pulled him into a building. One of them, Cpl. Andrew Grenon, tore off his own shirt and used it to bandage Tizya's wounds.
Grenon was killed in 2008 when the armoured vehicle he was in was attacked in southern Afghanistan.
"I'll never forget him," said Tizya of Grenon. "I actually went to his funeral and told his mom that and she was very proud."
Surprise honour
Tizya, who now lives in Brandon, Man., had no idea he was being honoured on Friday.
He was taking in the Indigenous Peoples Day festivities around the Kwanlin Dun Cultural Centre when his mother pulled him aside.
"I thought they were going to get me to jig and I was just sitting there thinking, there's no way in hell I'm going to go jig," he said.
Instead, Tizya was bestowed with a Quilt of Valour sewn by Yukoner May Gudmunson.
"I don't live here anymore and when you come home and you experience this, it's — wow," he said. "I feel so honoured and grateful and loved when I come home."
Tizya had a message for other soldiers and vets who may be going through tough times.
"You've got to hit your bottoms and stuff," he said. "But if you let your love in, if you let people that love you help you, you'll be OK."