Cinepocalypse 2019: Kindred Spirits, The Swerve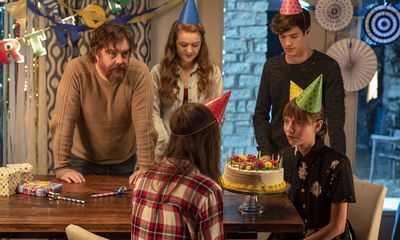 One of the biggest events at Cinepocalypse this weekend was the world premiere of the latest from celebrated American horror director Lucky McKee, who was in Chicago to present "Kindred Spirits." McKee is known around horror circles for movies like "May," "The Woods" and "The Woman," women-centered stories that challenge the viewer on the type of people that McKee is depicting. It's with this context that his latest seems all the more of a minor work, especially with its hollow depiction of the three women at the center of a cheesy story.
"Kindred Spirits," written by Chris Sivertson, has a disturbingly flat idea of its world of women, involving the high schooler Nicole (Sasha Frolova), her mother Chloe (Thora Birch) and Birch's younger sister, Sadie (Caitlin Stasey). Taking place in a generic image of suburbia, "Kindred Spirits" starts with a glossy memory, accompanied by an overly whimsy score, where a young Nicole is saved by a young Sadie from getting hit by a car in the middle of the road. Flash forward to years later, and Nicole is an angsty teenager with some aggression problems, and is distant from her mother. But when Sadie reappears in their lives after years having been off the grid, it's a happy occasion—a cool aunt for Nicole to connect to, another chance for Chloe to have a relationship with her sister, and also stolen moments for Chloe to spend time with a man named Alex (Macon Blair), who she is secretly seeing. It's not too long into the bonding between Sadie and Nicole before Sadie starts to show a wicked, manipulative side, and one that involves trying to look and be like Nicole, and then trying to destroy her.
As Sadie settles into the house, "Kindred Spirits" is propelled by a straight-forward scheme, and doesn't have the performances to give its clear character tensions some depth. Thora Birch is given so little to do here, a dull mother figure for both her daughter and her younger sister. She's seemingly called upon by the script whenever it needs more conflict, often related to Nicole's real but unbelieved paranoia about Sadie. And poor Nicole, she's written with every teen girl movie cliche, including dashing to her room and flopping onto her bed, or dancing around her room to generic rock music with angst.
Along with its jarringly indifferent framing and staging for its many conversation-driven sequences, the movie struggles to slowly build a visceral menace. Caitlin Stasey tries to give some physicality to a ferocious role by reverting to teenage-like talk in a flash, but it doesn't create a cohesive psychosis. It too readily feels like a character constructed in large part by some overcooked acting takes, creating an overly broad idea of who Sadie really is.
"Kindred Spirits" is just too plodding with its manipulation tale that echoes the adult '90s thrillers it's inspired by. McKee's film has a curious ambition to give life to the type of thriller that's since been relegated to Lifetime movies—the soft-lighting innocence that veers to juicy menace—but it never gets that idea off the ground, and loses its self-awareness in the process. The closest that "Kindred Spirits" comes to wicked fun is with a nasty kill late into the story—a sharp moment in an otherwise dull thriller.
Also making its world premiere at Cinepocalypse is the slow-burn character study "The Swerve," written and directed by Dean Kapsalis. Azura Skye is the center spectacle of this story about Holly, a wife, mother, teacher, and daughter whose psychosis starts to crumble after she's part of a deadly car accident, but is not sure as to whether it happened or not. It's just one of many things on her mind, along with her difficult two sons, her very distant husband, and a student in class who shows interest in her in inappropriate ways. Adding to the stress is the return of her sister Claudia (Ashley Bell), who comes to embody the happiness that has left Holly, even though she has problems of her own.
The general premise of Kapsalis' script may sound a bit familiar, but it's the way in which "The Swerve" unfolds that helps it stand out. Skye gives an excellent performance in a role that spends a lot of time with her in contemplation, which leads to abrasive actions; she creates a slowly but unsettling course of events, and it leads to something horrifying by the very end. And cinematographer Daryl Pittman and composer Mark Korven play an essential part, the latter creating a nearly-Technicolor vision of suburbia that abrasively juxtaposes Holly's fading presence, and a sense of unease from Korven's spare yet effective presence. This has to be one of there slowest burns that played the festival—like an American take on Michael Haneke—but it is well worth the time.