Cannes 2019 Videos: Table of Contents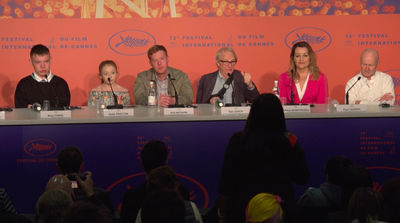 The following table of contents contains Chaz Ebert's complete video dispatches from Cannes 2019, along with our special festival editions of Thumbnails.
Video Dispatches
#1: Cannes 2019 Preview: The Walking Dead Stroll the Red Carpet to Open the Festival
All the enticing highlights of this year's festival are previewed by Chaz Ebert, including the star-studded opening night selection, Jim Jarmusch's "The Dead Don't Die."
#2: The Dead Don't Die & Gender Disparity
In addition to discussing the Jarmusch film, Chaz presents exclusive footage of the press conference, containing insights from star Tilda Swinton on the history of gender disparity at the festival. Also included in this video are Gael Garcia Benal's "Chicuarotes," Leila Conners' "Ice on Fire" and Abel Ferrara's "Tommaso."
#3: Sorry We Missed You, Les Miserables, Rocketman and More
Ken Loach's "Sorry We Missed You" provokes an emotional response from Chaz, while screenings of Ladj Ly's "Les Misérables" and Dexter Fletcher's "Rocketman" also prove to be highlights. She also covers Mati Diop's "Atlantics," Kleber Mendonça Filho's "Bacarau," Annie Silverstein's "Bull" and Zabou Breitman & Eléa Gobbé-Mévellec's "The Swallows of Kabul."
#4: Pain and Glory, A Hidden Life, Portrait of a Lady on Fire and More
Chaz praises Pedro Almodóvar's "Pain and Glory," Terrence Malick's "A Hidden Life" and Céline Sciamma's "Portrait of a Lady on Fire," while sampling the virtual reality experiences offered in the Marché. Also reviewed here are Diao Yinan's "The Wild Goose Lake" and Corneliu Porumboiu's "The Whistlers."
#5: Quentin Tarantino, Werner Herzog, Ernest White II and More
"Once Upon a Time in Hollywood" director Quentin Tarantino, "Family Romance, LLC" director Werner Herzog and "Fly Brother" producer/host Ernest White II all have memorable interactions with Chaz in this super-sized dispatch. She also reviews Bong Joon-ho's "Parasite," Claude Lelouch's "The Best Years of A Life," Jean-Pierre & Luc Dardenne's "Young Ahmed" and Ira Sachs' "Frankie."
Our annual critics roundtable provides an overview of highlights at the festival from contributors Ben Kenigsberg of The New York Times, Lisa Nesselson of France24TV/Screen International and Jason Gorber of thatshelf.com.
#7: The Winners
A round-up of major prize-winners at the festival is revealed by Chaz, including this year's hugely praised, eagerly anticipated recipient of the Palme d'Or.
Thumbnails
Special Cannes 2019 Edition featuring coverage from other sites
Special Cannes 2019 Edition featuring coverage from our site