An Ode to Pedro Almodovar's All My Mother on Its 20th Anniversary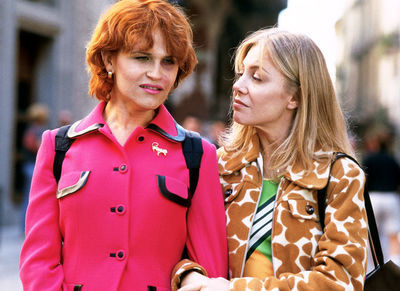 Twenty years ago, Pedro Almodóvar's most acclaimed film, the Oscar-winning "All About My Mother," was released. This film has always stood out to me within the Almodóvar canon as his first earnestly dramatic film, especially as pathos is not a sentiment often associated with Almodóvar's work. Many people think of his campy comedies like "Women on the Verge of a Nervous Breakdown" or his boundary-pushing melodramas like "The Law of Desire," which feature explicit gay sex. Nevertheless, "All About My Mother" is heart-rending story about a mother, Manuela (played beautifully by Cecilia Roth), who is figuring out how to go on with her life once her teenage son, Esteban—the light and center of her life—is hit by a car and killed.
Film critics writing two decades ago noticed this shift in the tone of Almodóvar's work. New York Times critic Wesley Morris, then writing for the San Francisco Examiner, wrote, "Before, with Almodóvar, a sudden tragedy like Esteban's death would have weakened Manuela, depraved her. But here and in Roth's delicate hands, Manuela is an emblem of sacrifice, nearly crippled by grief." Indeed, most of the films Almodóvar has made after "All About My Mother"—"Talk To Her," "Bad Education," "Volver"—have been more sincerely dramatic. These are also, perhaps not coincidentally, the director's most awarded films, which suggests that his previous works were considered too niche (read: too queer) and too campy, and "not weighty enough" to garner awards nominations.
While queer camp was never likely to be lauded by the mainstream film world, dramas about queer people—"Philadelphia," "Brokeback Mountain," "Boys Don't Cry," "Moonlight"—have come a long way. Nearly all of Almodóvar's films have centered queerness in their stories, but "All About My Mother" stands out with regards to its representation of transgender women via the character of Agrado. You would be hard-pressed to find another filmmaker who has so consistently written transgender characters into his films and who has cast transgender actors, some of whom have even played cisgender female characters. But even within Almodóvar films, Agrado is special in terms of how well-adjusted and sympathetic she is. In contrast, "Bad Education" features a transgender woman who is a cynical junkie and "The Skin I Live In" presents a transgender woman who was forcibly transitioned.
In "All About My Mother," much of the movie's plot stems from Manuela's decision to track down Lola, a transgender woman and Esteban's father. Lola is largely an unseen character, only appearing in the final 15 minutes of the film. Nonetheless, she is responsible for bringing several of the female characters together and, as such, drives the plot forward. Lola is the reason Manuela returns to Barcelona and reunites with Agrado. And through Agrado, Manuela meets Rosa (Penelope Cruz), a nun who has not only been impregnated by Lola, but been infected with HIV. She has pregnancy complications, which leads Manuela to step in as a surrogate mother to care for Rosa. When Rosa dies in childbirth, her son's care is entrusted to Manuela, as per Rosa's wishes. Thus, Lola, a reckless and narcissistic unseen presence for most of the movie, ultimately gives Manuela a second chance at motherhood.
While one trans woman drives the plot of "All About My Mother," it the audacious, scene-stealing Agrado (played by Antonia San Juan) who brings welcome comic relief and warmth to the film. In his review, Roger Ebert wrote, "Manuela is the heroine of the film and its center, but Agrado is the source of life." In the scene where she introduces Manuela to Rosa, the latter mentions that she's heading to El Salvador to do humanitarian work, to which aspiring performer Agrado quips, "Maybe I'll go with you. I always thought I could make it big in the Third World." Later in the movie, she has a stand-out scene where she lists another character's strengths as a woman—it's difficult to describe in words how brazen and funny her assessment is. But beyond the surface-level comedy, it's significant that it is a trans woman who assesses the femininity of a cisgender woman, and not the other way around. This is a position trans women are rarely allowed to occupy.
Agrado's character also fills a pedagogical role, albeit in the most entertaining, least pedantic way. Early on in the film she mentions that she hates drag queens, that they give trans women a bad name and don't understand real femininity. For a trans character to say something like this 20 years ago—to draw a clear distinction between trans women and men who perform in drag but may still identify as men (think: RuPaul)—was avant-garde. It's only in the past few years that we're even beginning to see conversations about the nuances of transgender identity and the politics around it.
Agrado has a key monologue late in the film, where she gives an improvised performance at a live theater performance. She tells the audience her life story in the form of a lengthy list of the cost of each plastic surgery she's undergone to attain her female body. Agrado sums it up by saying, "It costs a lot to be authentic, ma'am. And one can't be stingy with these things because you are more authentic the more you resemble what you've dreamed of being." Almodóvar is schooling the audience on transgender identity and challenging us to redefine our biologically determined notions of authenticity. Furthermore, this poignant monologue, while very funny, suggests that Agrado is a multi-dimensional character: she isn't just comic relief; she also has her own interiority and strong sense of self.
Beyond the avant-garde identity politics of "All About My Mother," what stands out is its use of intertextuality. This is, of course, one of Almodóvar's signature elements; in fact, he often references his own previous films. The intertextuality is not hard to spot, as the primary artworks "All About My Mother" references are American film classics—"All About Eve" and "A Streetcar Named Desire." There are other passing references, such as a Truman Capote book Manuela gifts Esteban for his birthday, which calls to mind another actress-driven classic, "Breakfast at Tiffany's." Finally, there's the striking scene in which Esteban is hit by a car and killed while trying to obtain an autograph of his favorite actress, Huma Rojo, which is a recreation of a scene from John Cassavetes' "Opening Night."
As the ending credits roll, we see the following dedication from Almodóvar: "To Bette Davis, Gena Rowlands, Romy Schneider … to all actresses who have played actresses, to all women who act, to all men who act and become women, to all the people who want to be mothers. To my mother." This movie is as much a love letter to actress-driven films as it is a story about a woman coping with profound grief.
In many ways, the whole film is about life imitating art, or at the very least, about the blurry lines between life and art. Manuela says as much toward the end of the movie, noting that all the important moments of her life have revolved around "A Streetcar Named Desire": she met Lola while playing Stella (Lola was playing Stanley); Esteban was killed after he and Manuela saw a production of "Streetcar"; and Manuela ends up reprising the role of Stella opposite Huma (who plays Blanche) when Huma's costar/lover Nina is indisposed. The leadup to Manuela stepping in to play Stella is also an allusion to "All About Eve," and the ways Eve Harrington manipulates her way into actress Margo Channing's life and tries to replace her. In fact, Nina outright accuses Manuela of being an Eve Harrington, even though Manuela is in no way manipulative or calculating.
But even more than the ways "Streetcar" has touched Manuela's life, there's the character of Huma, who embodies Blanche DuBois both on- and off-stage. She says to Manuela after they first meet and Manuela helps her find Nina, who has run off: "I've always depended on the kindness of strangers." She reveals that she started smoking to imitate Bette Davis, and that's why she calls herself "Huma" (humo is the Spanish word for smoke). She then says that her whole life is just smoke (i.e., nothing is real), another way in which she seems to personify the delusional Blanche. Almodóvar weaves together these two films—"Streetcar" and "All About Eve"—in complex ways to paint a picture of life imitating art.
This is the beauty of Almodóvar's body of work: his films are so rich and multi-layered—I haven't even touched on the imagery of "All About My Mother"—that they beg for deep analysis. However, this film, perhaps more successfully than any other, combines many quintessential Almodóvar-isms—queerness/marginality, intertextuality, a female-centered narrative, notions of destiny, and vivid imagery. While he's far from through making movies, "All About My Mother" represents a clear apotheosis in Almodóvar's career.