What Democrats running in 2020 have to gain in the 'lion's den' of a Fox News town hall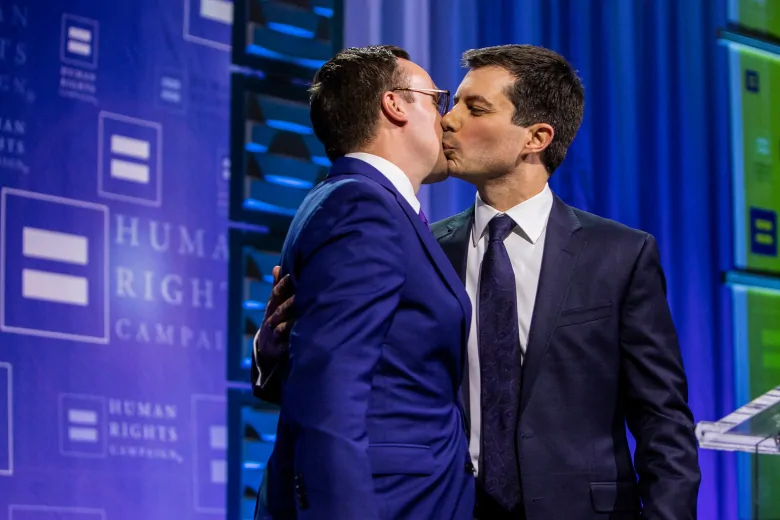 At first blush, it sounds like a dicey idea.
Democratic presidential candidate Pete Buttigieg, the openly gay millennial mayor of South Bend, Ind., faces a town hall this Sunday on Fox News, a network often demonized as the propaganda arm of President Donald Trump's White House.
Yet some Democratic strategists — and recent polling data — suggest this move makes sense in a crowded Democratic field where candidates are jockeying for ways to reach a broader electorate. If that means having to jump from more liberal-friendly platforms like Slate or MSNBC to find American audiences walled off by media tribalism, then so be it, it seems.
"If this is about showing populist movements — white, Christian men — that you're not as bad as people portray you to be, what better way to do that than to go on Fox News Channel?" said New York Democratic strategist Hank Sheinkopf. "The people going on Fox News have figured out some of this."
Indeed, when Buttigieg appears on Fox News this weekend, he won't just be taking the hot seat. He'll be keeping it warm for at least one other liberal contender in a succession of 2020 Democratic hopefuls seeking air time on the Trump-friendly channel.
Four 2020 Democratic hopefuls have either appeared on or been scheduled for Fox News-hosted town halls, despite the party snubbing the network from hosting any of its primary debates. Vermont senator Bernie Sanders drew big ratings in his town hall last month. Minnesota senator Amy Klobuchar had her turn last week, as will Buttigieg this weekend. Next up is New York senator Kirsten Gillibrand on June 2 in Iowa.
Democratic presidential candidate Pete Buttigieg, right, is joined on stage by husband Chasten Glezman Buttigieg, on May 11. The Democratic presidential hopeful is scheduled to appear at a Fox News town hall on Sunday. (Joe Buglewicz/Associated Press)
(For her part, Massachusetts senator Elizabeth Warren rejected a Fox News town hall invitation, slamming the network on Tuesday as a "hate-for-profit" outlet.)
Meanwhile, a handful of their Democratic compatriots — including former tech executive Andrew Yang, Ohio representative Tim Ryan and California congressman Eric Swalwell — are also considering whether to accept Fox News invites.
Never mind the Democratic National Committee's pledge last March to boycott 2020 primary debates hosted by Fox News, citing the network's "inappropriate" ties with the Trump administration.
As Democratic strategist Colin Strother put it: "If you want to kill a lion, a good place to start is the lion's den."
'Take on the beast'
Fox dominates the cable news ratings. Strother suggested that Fox News's perceived adversarial slant against Democrats could present an opportunity for a candidate to show some political pluck.
The Texan was reminded of prison wisdom.
"The rule on your first day: Find the biggest, baddest inmate in the yard to punch in the mouth. You let them know you're not afraid," he said. "You go on there, you take on the beast, you live to tell the tale."
Democratic presidential candidate Sen. Amy Klobuchar of Minnesota speaks during a Fox News town hall on May 8 in Milwaukee, Wis. (Darren Hauck/Associated Press)
The way Strother sees it, anything a candidate can do to draw eyeballs away from the competition might be helpful in a primary with 22 contenders.
A Fox News invitation offers free air time, an alternative messaging path to voters, media buzz, and it allows candidates to show their willingness to debate Republican rivals.
That said, Strother warned about the risks.
"They could also be setting themselves up for gotcha questions," he said, referring to a line of questioning intended to get a candidate to admit something they might rather not.
So far, the Democratic presidential field includes 22 candidates. Top row, from left: Bernie Sanders, Kamala Harris, Elizabeth Warren, Cory Booker, Amy Klobuchar, Kirsten Gillibrand, and Michael Bennet. Middle row: Beto O'Rourke, Tulsi Gabbard, John Delaney, Eric Swalwell, Tim Ryan, Seth Moulton, Julian Castro, U.S. Vice President Joe Biden. Bottom row: Pete Buttigieg, John Hickenlooper, Jay Inslee, Andrew Yang, Marianne Williamson, Wayne Messam and Steve Bullock. (Reuters)
Media historian Michael Socolow, who researches U.S. broadcast journalism and radio propaganda, agreed the strategy could backfire badly.
"Appearing on Fox News runs the risk of alienating the liberal Democrats who despise the channel."
Mary Stuckey, a professor of communications at Penn State University, sees another potential downside, noting that committed partisans "are going to be the least likely Democrats on the planet" to watch Fox News.
"They might be annoyed the candidates are not talking to the primary audience," she said.
As a matter of principle, the liberal commentators on the podcast Pod Save America have argued, the Fox News empire has destroyed the civility of American discourse to such a degree that any political gain from partaking in a town hall wouldn't be worth the appearance of legitimizing the network.
Protesters gather outside of Fox News and the News Corporation building in New York on March 13. Democrats have cast the news outlet as the propaganda arm of the Trump administration, with reports noting close ties between White House staffers and the channel. (Brendan McDermid/Reuters)
For now, none of that appears to have dissuaded 2020 candidates from entertaining the idea of joining a Fox News town hall. The campaign of former vice-president and Democratic front-runner Joe Biden did not respond to a CBC News inquiry about whether he would consider participating.
But if Biden is looking for a compelling reason to accept a Fox News invitation, he might consider unpublished data shared with CBC News about the attitudes of 8,000 Americans toward Fox News that was gathered by the Hidden Tribes Project, a research program launched in partnership with public opinion firm YouGov in October 2018.
The data, which includes information from online surveys, hour-long interviews and focus groups, found that people who viewed Fox News "regularly" included swaths of people in subgroups in the centre of the political spectrum. Fox News viewers included 26 per cent of respondents classified as moderates (characterized as "middle-of-the-road"), 22 per cent of the politically disengaged ("young, low income, distrustful"), and even 10 per cent of passive liberals ("unhappy, insecure, distrustful").
Nearly one-third of respondents classified as moderates (30 per cent) as well as the politically disengaged subset (32 per cent) had positive impressions of Fox News.
"The point is, Fox has a significant audience there," said Tim Dixon, the co-founder of More in Common, the non-profit group behind the Hidden Tribes Project.
Judging by the numbers, he said, "it would be wrong to assume nobody watching Fox is a gettable Democratic voter."
When Fox News host Bret Baier polled the audience at the Sanders town hall last month, asking who would be willing to switch to a "medicare for all" system, the room erupted with cheers.
Bret Baier asked the audience at Bernie Sanders' Town Hall whether they would be willing to switch to Medicare For All<br><br>It did not go the way Baier planned <a href="https://t.co/7YMSJovdya">pic.twitter.com/7YMSJovdya</a>

&mdash;@EdwardTHardy
What's also clear is American media outlets have increasingly become aligned with people's values, Dixon said. The most devoted conservatives polled were the least likely to watch MSNBC or to read The New York Times, while the most left-leaning progressive activists were least likely to consult Breitbart News or religious news sources.
Dixon's research has shown that media tribalism distorts how different groups see each other, too.
"The tribal media sources are actually making people more ignorant of people on the other side. If you're more liberal, the more liberal sources you consume, the more you misunderstand the values of the other side," and vice versa, he said.
Beyond the hard data, Dixon said, there's something to be said about "signalling." He pointed to Sanders's speech at the evangelical Liberty University in 2015 as an example.
"It's a demonstration of courage. A bit of chutzpah. It says, 'I'm not going to play purely to the base,'" he said. "That can be quite a message."