Tsuut'ina elder awarded honorary high school diploma 53 years after dropping out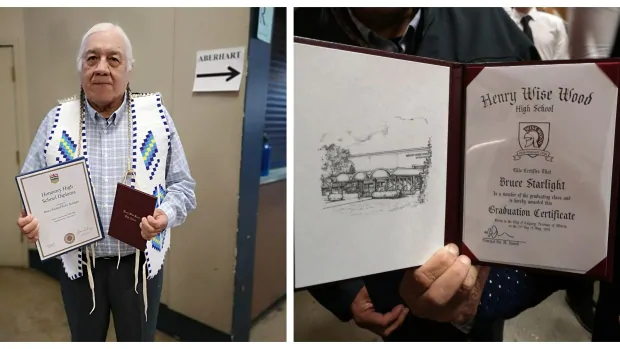 The graduating class at Henry Wise Wood High School received their diplomas last week — and among them was a man who had waited more than 50 years for this moment.
Tsuut'ina elder Bruce Starlight never completed high school but on Wednesday he was surprised to be awarded an honorary diploma from Wise Wood for his important role in the community as an elder and a language commissioner.
"I was so moved by it," he told the Calgary Eyeopener on Monday.
Growing up, Starlight said he always dreamed of becoming a veterinarian, and all through junior high school (at Fairview Junior High) he succeeded at achieving high grades.
But, in 1966, circumstances forced Starlight to drop out of his last year of high school.
'I had to quit'
"My dad died," he said. "Fall came and then there was nobody to look after my mom. There was 12 of us she was looking after, and my nephew and my niece."
Starlight says he tried to make it work, returning to Henry Wise Wood for classes, but he couldn't do it.
"So I went to Western [Canada High School]. I dropped a few courses and thought I could do it over the course of two years," he said. "But at those times, there was no welfare, and my dad was a chief and at that time there was no such thing as widow's allowance. So I had to quit."
Starlight said he and his sister immediately began working to support their large family.
"It was a real hard choice, but it was either that or my siblings wouldn't have clothes to wear to school and wouldn't have food for lunch, you know?" he said.
Honorary graduate
The elder was invited to the ceremony to deliver a blessing, and he was shocked to find out he'd actually been chosen as an honorary diploma recipient.
"I almost cried because that was my life dream … to have a high school diploma in my hand to go to university and take the veterinary course," he said.
"I would've looked after my mom much better but the time was too restrictive…. But you know, it's not my choice. It's always creator's choice."
Starlight said he did return to school later in life at the University of Calgary, where he took linguistic courses.
"That allowed me to preserve my language and teach in the language," he said.
Education advocate
Despite dropping out of high school, Starlight said education has played a huge role in his life and successes.
"Today I'm glad I'm still employed but it took education to do it," he said. "And you've got to be educated in order to survive in this world today.
"So I encourage everyone to stay in school."
Receiving his education certificate this year at Henry Wise Wood was extra special because Starlight was able to graduate alongside his grandson, Nathan.
---
With files from the Calgary Eyeopener.