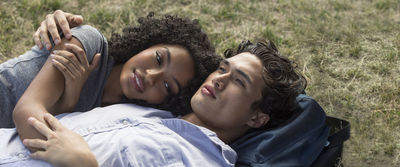 Beautiful, young people fall in a swoony, doomed love over the course of a single, eventful day in a sun-dappled New York City.
Yes, "The Sun Is Also a Star," based on the Nicola Yoon novel of the same name, is the impossibly contrived stuff of Young Adult fantasies. And yet the leads are so lovely and the city is so shimmery that it's hard not to get caught up in its spell – for a while, at least, until its corny coda destroys whatever goodwill the film has generated.
Director Ry Russo-Young (who previously directed the teen time-loop drama "Before I Fall"), working from a screenplay by Tracy Oliver ("Girls Trip"), aims to break our hearts, but also make us think. "The Sun Is Also a Star" is a fable about what it means to be an immigrant in the United States in today's increasingly closed-minded climate. The lead characters struggle to be true to their heritage while also defining their own American experience, on their own terms and with their own expectations. These pressing notions are wrapped up in gauzy, dreamy packaging, with likeable, photogenic stars enjoying a sparky romance that grows increasingly melancholy, as we know it can't last.
Yara Shahidi of "Black-ish" and Charles Melton of "Riverdale" make the leap from television with aplomb as opposites who aren't just attracted to each other – they literally collide on the sidewalk. Granted, Melton's hunky Daniel had seen Shahidi's radiant Natasha earlier that morning in Grand Central Terminal and stalked her through a few different neighborhoods, which we're meant to think is sweet rather than creepy. But still – they meet cute at a moment when they're both on the brink of big changes.
She's the daughter of Jamaican immigrants whose whole family is about to be deported the next day after an ICE raid. He's the son of Korean immigrants who's about to visit a Dartmouth alumnus for an interview that might help him secure a spot at the prestigious university. She's a pragmatist with a head for science who's fascinated by astronomy. He's a romantic with a heart for poetry who'd rather do anything than become the doctor his parents want him to be. She doesn't believe in love; he believes in nothing but. They are ideas, these two, but they're also pleasant company.
Naturally, as they get to chatting and flirting, they realize how different they are. But when Daniel bets Natasha that he can make her fall in love with him by the end of the day, it's only a matter of when, not if, despite the fact that she has a ticking clock of her own. In the vein of Richard Linklater's "Before Sunrise," Natasha and Daniel walk and talk through the streets of Manhattan, Brooklyn and Queens. And they do have decent chemistry with each other, even as they're saddled with some cringey, on-the-nose dialogue. (Along those lines, Shahidi is often stuck spelling out the film's themes through self-aware narration, a frequent YA movie trope.)
But New York City looks lovely and inviting – a place where seemingly anything is possible – through the eyes of cinematographer Autumn Durald Arkapaw, who recently shot Max Minghella's vibrant "Teen Spirit." "The Sun Is Also a Star" also explores sections of the city we don't often see in movies, from a black hair care store in Harlem to the Roosevelt Island tram, as Daniel tries to prolong their "fated" connection and Natasha insists it's pure coincidence while fighting to keep her family in the U.S. A scene at a karaoke bar where Daniel seductively croons "Crimson and Clover" while richly hued lights play across Natasha's mesmerized face is particularly lush.
Certainly, you don't see a movie like this for realism. You go for the escape, and to bask in the glory of its gorgeous leads. But "The Sun Is Also a Star" deserves credit for trying to sneak in some actual substance beneath the fluff. It also features an ending that's downright perfect and borderline daring – if it had indeed ended there and not continued on five years and several minutes of screen time later. There's a natural stopping point that feels just right and leaves the story on an achingly wistful note. But then it keeps going in a scene that prompted unintentional (but well-deserved) giggles from the audience during a recent screening. Sometimes, it's better if everything isn't written in the stars.