Lockout begins for 6,500 B.C. port workers as negotiation deadline passes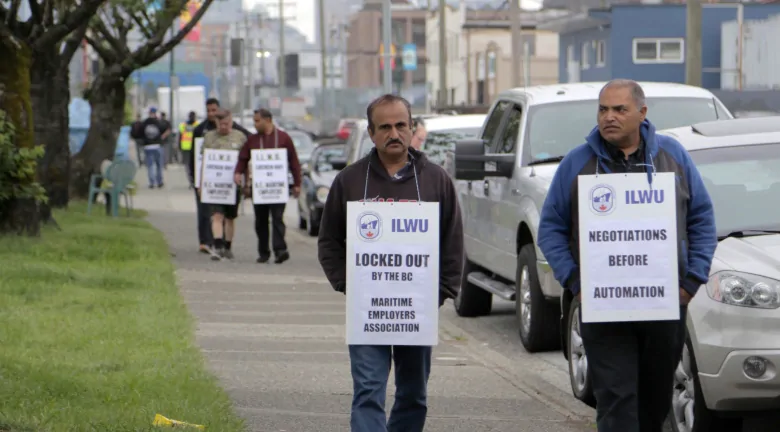 Longshore workers say a lockout has begun after overnight negotiations between their union and the association representing port employers failed to reach a deal before the 8 a.m. PT lockout deadline.
The latest round of negotiations got underway Wednesday, less than 24 hours before the lockout notice issued by the B.C. Maritime Employers Association (BCMEA) was due to take effect.
Talks continued through the night but without a deal by 8 a.m., the 6,500 members of the International Longshore and Warehouse Union (ILWU) found themselves locked out at all B.C. port operations except cruise ship or grain terminals.
At least 40 workers outside the BCMEA dispatch centre in Vancouver started putting on their picket signs as the deadline ticked closer. They began walking and circling the building once the deadline came and went, but wouldn't comment on the situation as a media blackout on the negotiations remained in effect.
BCMEA spokesperson Lauren Chan confirmed the lockout has begun but said negotiators are still at the bargaining table continuing talks.
Union members negotiating at 890 West Pender St. in Vancouver came out for periodic smoke breaks all night, but didn't comment on whether they were close to reaching a deal.
With a port lockout hours away, reps with the BCMEA and longshore workers union are still locked in overnight negotiations over a collective agreement. <a href="https://twitter.com/PortVancouver?ref_src=twsrc%5Etfw">@PortVancouver</a> <a href="https://t.co/2hpbBkwn3o">pic.twitter.com/2hpbBkwn3o</a>

&mdash;@gpsmendoza
The BCMEA has said disruption at B.C.'s ports could cost the Canadian economy about $5 billion a day.
Many employees on the picket line wore hoodies with union crests emblazoned across the back.
One worker, Al, sat in a chair looking dour as he waited for news earlier Thursday morning. He declined to give his last name, but said he's a 51-year employee and believed a lockout would happen over the issue of automation.
The union has said a lockout would shut "down the entire West Coast shipping industry," affecting the Port of Vancouver and around 20 other facilities across B.C. whose workers are members of the ILWU.
Jeff Scott, board chair of the BCMEA, said employers are seeking mediation and are open to more negotiations.
Port workers began limited job action on Monday that included a ban on working overtime in two terminals (in Vancouver and Delta) after parties walked away from the bargaining table following weekend talks.
Ashton said the union is aiming for "fair language in the collective agreement around automation" to ensure jobs are protected.
The BCMEA argues automation is already addressed in the collective agreement and moving toward automated ports is necessary to keep jobs in Canada.
The union voted more than 98 per cent in favour of a strike mandate earlier this month.