GM announces $170M investment in Oshawa plant that will save 300 jobs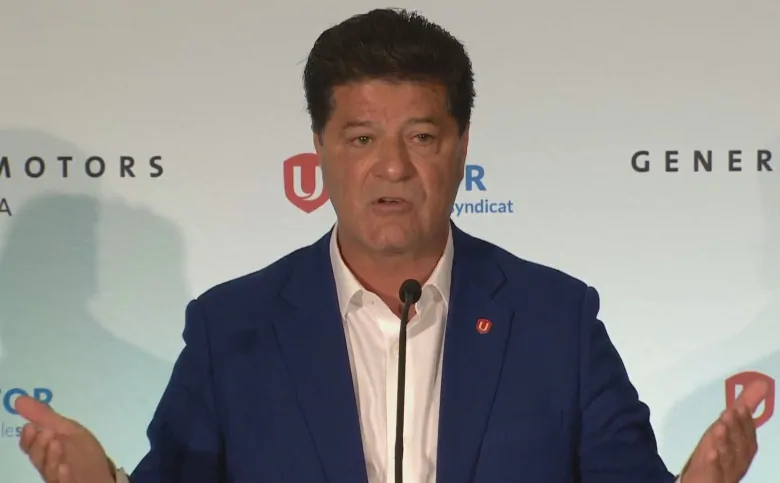 General Motors Canada says it will invest $170 million in its Oshawa, Ont., plant to transition the facility from manufacturing vehicles to stamping, sub-assembly and autonomous vehicle testing.
GM Canada president Travis Hester says the move will save 300 of 2,600 union jobs at the plant.
Hester made the announcement this morning in Toronto alongside Unifor national president Jerry Dias at a news conference. He said the transformed plant will have the potential to grow and attract more jobs as the facility attracts new customers.
GM announced last November it would cease production at the plant by the end of 2019, affecting about 2,600 workers.
Hester told reporters that the Oshawa site will still end vehicle production at the end of 2019, but 22 hectares of the facility will be converted into a test track for autonomous and other advanced vehicles, which Hester said will help expand the nearby Canadian Technical Centre.
Unifor national president Jerry Dias called the agreement 'innovative' and a partial victory but admitted it was far from a perfect solution.
Union says agreement far from perfect
Dias, whose union suspended a media campaign against GM in March amid what it called productive talks with the automaker, called the agreement "innovative" and a partial victory but admitted it was far from a perfect solution. Dias had repeatedly vowed to fight to keep the plant open.
He called it a "deeply personal" announcement, noting his niece and nephew work for GM in Oshawa, while his father lives in the town and his mother is buried there.
"I'll see you Sunday," Dias said, pausing briefly during an emotional speech.
The union said the company had been clear it wouldn't extend vehicle manufacturing in Oshawa beyond the end of the year, but acknowledged there is potential to transform operations to maintain some jobs.
GM Canada to set up jobs action centre
A joint statement from GM Canada and Unifor said the company will offer relocations to other facilities in Ontario for those affected, as well as "enhanced retirement packages" to eligible employees.
GM Canada president Travis Hester says 300 of the approximately 2,600 union jobs at the Oshawa plant will be saved. (Eduardo Lima/Canadian Press)
The statement said GM will also establish a jobs action centre in June in Oshawa to help employees plan for their future. The centre will receive support from GM, Unifor and the Ontario government and it will match employee skills with requirements from new employers.
Many workers still face 'uncertain future'
Todd Smith, Ontario's minister of economic development, job creation and trade, said in a statement on Wednesday that the announcement is good news for Oshawa and the Durham Region.
"We are glad this historic site will continue to be a hub for vehicle parts manufacturing, technological innovation and regional economic growth," Smith said.
"While this agreement is a positive development, many workers still face an uncertain future as the plant scales down. Our government is there for those workers and their families," he added.
Smith said the province's rapid re-employment training service will provide support to workers who are going to lose their jobs.