Charges laid in alleged sexual, physical abuse of 17 children in Garden Hill First Nation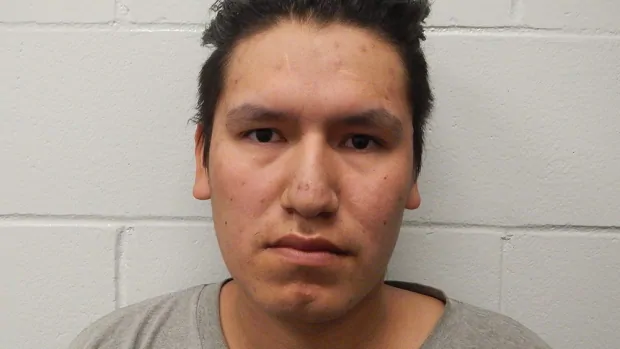 Two men from Garden Hill have been charged with multiple sexual offences against children in the community, Manitoba RCMP say — including one man who had access to a foster home in the Manitoba First Nation.
An extensive investigation identified 17 alleged victims of physical or sexual abuse that police say occurred between 2011 and 2017. RCMP could not confirm Thursday if the children identified were residents of the Garden Hill foster home.
The children were between the ages of three and 15 at the time of the alleged abuse.
Paul Bruce Harper, a 21-year-old man from the fly-in community 475 kilometres northeast of Winnipeg, has been charged with multiple sexual offences, police say. He was first arrested on Feb. 25, 2018, after sexual assaults were reported.
Speaking at a news conference Thursday, Supt. Michael Koppang, who heads up Manitoba RCMP's major crimes services, said police learned during the investigation Harper had access to a residence that served as a foster home for numerous children in the community.
Police identified 150 children who were in contact with the accused as potential victims. All 150 were then interviewed or assessed.
As the investigation continued, Koppang said a 20-year-old man from the community was arrested on Sept. 7, 2018, and has since been charged with multiple sexual offences. That man cannot be named because he's being charged under the Youth Criminal Justice Act.
Both men remain in custody.
Foster mother at home charged
Lucy Harper, a 66-year-old woman who was a foster mother at the home, has also been charged with perjury and two counts under the Child and Family Services Act, including a count of failure to report a child in need of protection and one of failure to provide for a child in need of protection.
She has been released with conditions and is no longer a foster parent, Koppang said.
He said he couldn't release information about the nature of the relationship between Paul Bruce Harper and Lucy Harper.
At Thursday's news conference, Koppang called on any other victims to come forward.
"We recognize the possibility that there may be more children who have been victimized and are urging them to come forward and to speak with our investigators," said Supt. Koppang.
"We recognize that calling the police is an extremely difficult step to take but I want to assure anyone who is thinking of coming forward that our officers are professional and compassionate, and will work with victims to explain every step of the process."
RCMP worked with Manitoba Child and Family Services on the investigation.
Police have partnered with Klinic Community Health, which can accept reports from survivors of sexual assault who are 16 or older from anywhere in Manitoba.
The survivors can remain anonymous and work with Klinic counsellors to determine the best way forward. The centre's 24-hour Sexual Assault Crisis Line can be reached at 1-888-292-7565.