John Singleton: 1968-2019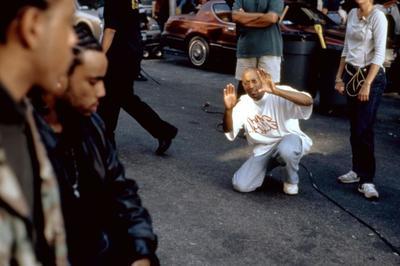 The multiple Oscar-nominated film "Boyz N The Hood" opens with a stunning statistic placed onscreen by its writer-director, John Singleton: "One out of every twenty-one Black American males will be murdered in their own lifetimes." It's a jarring way to begin a picture, one that is at times raucously funny and filled with paternal love. But that was Singleton's way; he wanted to entertain as well as inform, especially on the issues Black people dealt with in America. From his TV work on shows like FX's "Snowfall" to films like the historical drama "Rosewood," John Singleton wanted to tell the Black stories far too often absent from the mainstream. To represent us, to elevate us, to warn us and to love us—these were his goals.
So today is an especially sad day. John Singleton avoided one statistic to unfortunately succumb to another. In a statement released by his family, it is noted that 40% of African-Americans suffer from hypertension. This too is a harsh statistic looming over lives filled with love, joy and struggle. The family's statement calls attention to the disease and advises those afflicted (myself included) to know the symptoms and guard their health. A lifelong hypertension battler, Singleton suffered a stroke that would eventually take him from us far too early. He was 51 years old.
Singleton's death haunts me because I've always felt a kinship to his films and his message. He was 23 when he made "Boyz N The Hood" and I was 21 when I saw it. We were both one year removed from university, writers who had originally chosen to study computer science. We were from similar neighborhoods on opposite coasts. I was still in my 'hood when Singleton returned to his to shoot what would be his masterpiece, a debut that would make cinematic history. As I sat in the theater back in 1991, I felt Singleton reach out from the projector at the Newport Centre Mall Cinemas and touch my soul. Through Tre Styles, the character played by my doppelganger, Cuba Gooding. Jr, I felt seen in a way I had never felt before. And Singleton had taken my own mother's toughness and cast it in the image of a character with perhaps the greatest name in the history of the cinema, Furious Styles, played by the glorious Mr. Laurence Fishburne.
"Somebody was praying for that fool," Furious notes after nearly blasting the head off an unsuccessful home invader. Singleton's camera is as jittery, terrified and excited as the viewing audience is when this occurs. This is the scene I always think of when contemplating how successfully "Boyz N The Hood" calibrates its tonal shifts. It's funny, dangerous and potentially heartbreaking. It's also a fully immersive experience: the sound design of the film is its secret weapon. Neighborhood noises, both sacred and profane, permeate the speakers, putting you right on the street with Tre and his friends Doughboy (Ice Cube) and Ricky (Morris Chestnut). And every so often there is, without warning, the sudden sound of off-screen gunfire. It's such a realistic depiction that my theater audience jumped every single time it happened. No matter how many times I've seen the film, I still jump.
Singleton was a master of dropping his viewers into the thick of his films, sometimes using techniques that were gleefully old-fashioned yet pulsated with the energy of youth. You were in the passenger seat of the speeding cars of "2 Fast 2 Furious," in the chaos of horrific racial violence in "Rosewood" and, most amusingly, bearing witness to the comical reactions of Pharaoh Eddie Murphy as he is outsmarted by a reminiscing Michael Jackson in the "Remember the Time" music video. You felt related to the mismatched siblings in "Four Brothers." And you were running with Chestnut's Ricky, barreling down the alley in the hopes of escaping your impending demise. That last image and its following scene of mourning remains the most harrowing and emotional sequence Singleton ever directed, earning him the honor of being the first Black person, and the youngest person ever, to receive a Best Director Oscar nomination.
Looking back on his work, one is surprised to see how great and prescient Singleton was with his casting. Taraji P. Henson, Terrence Howard, Nia Long, Andre Benjamin, Ice Cube, Jeffrey Wright and Ving Rhames all had early and memorable roles in films Singleton directed or produced. He would work with many of these actors several more times, always using them at their full potential. He reteamed with Gooding on "American Crime Story" and Henson and Howard on "Empire." Rhames in particular became Singleton's shorthand for the kind of manliness that could be used either as the stoic toughness in "Rosewood," where he was a far less problematic avenger than Jamie Foxx's Django in "Django Unchained," or as in "Baby Boy," where Rhames' giant, occasionally nude frame and imposing personality were used to comically undercut whiny, immature Tyrese Gibson's more toxic attempts at masculinity.
Lest we forget, Singleton was on the awesome Regina King bandwagon from the beginning, casting her in a small role in "Boyz" before allowing her to run off with his sophomore film, "Poetic Justice." That film was like very few other Black films before it, a standard issue road trip movie that existed in a refreshingly lackadaisical, plotless and character-driven ether; it meandered like Eric Rohmer and swore like Richard Pryor. The film made viewers flies on the windshield of Tupac's post office truck, looking in on him and Janet Jackson as they navigated the prickliest of near-romances.
The nine films Singleton directed span multiple genres, and while he wasn't always successful, one cannot deny his versatility. "Higher Learning," his take on the college film a la "School Daze" is a fascinating hot mess that's surprisingly ballsy and surreal. His inconsistent action thriller, "Abduction" has some great set pieces that still make it worth a look. Even "Shaft," which I think is an awful misfire, has some fantastic work by an unhinged Jeffrey Wright and a muted (by his standards only) Christian Bale.
With each project, one can feel what drew Singleton to the material: his concern for the story he felt he needed to tell. This is strongly felt in his last production, the FX series "Snowfall." Working with great writers like Walter Mosley, Singleton took the potentially exploitative story of the origins of the crack epidemic and infused the narrative with dense plotlines and richly drawn characters. As with all his work, he was unafraid of low comedy or high melodrama, often playing both instruments with virtuosity.
All this leads me back to "Boyz n the Hood," a movie that affected me so deeply that it begat the hardest, most personal piece I ever wrote about a movie. (It also has a great, pointed cameo by the director. See if you can find it. But I digress.) Today, I thought of Ice Cube's final speech in that film, which Cube delivers superbly before Singleton hauntingly (and literally) fades him out of the frame: "I turned on the TV this morning, they had this shit on about… about living in a violent world. Showed all these foreign places… I started thinking, man, either they don't know, don't show, or don't care about what's going on in the hood."
That last line always bugged me—it seemed so awkward, especially in an Oscar-nominated script. And yet, now that I reflect on it, I realize it was John Singleton's mission statement. He knew, he cared and he showed what was going on with our people. And he will be missed. Rest in peace.