Unwrapped: Christmas mystery 48 years in the making will soon be solved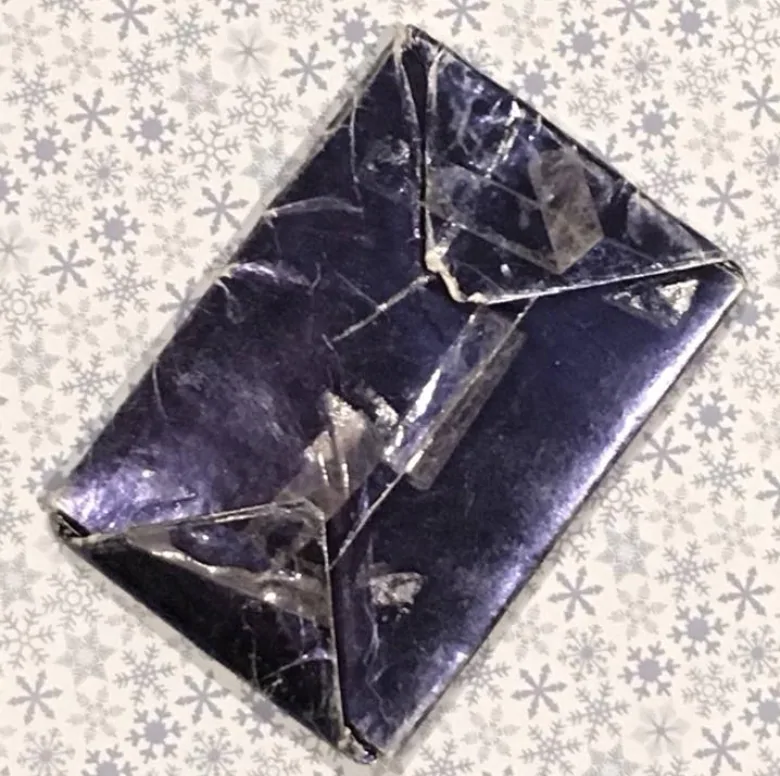 A present with an astonishing past will finally reveal its secret next month.
On Dec. 6, the dog-eared Christmas gift an Edmonton man has been lugging around for 48 years will finally be opened.
By someone else.
To back up for a moment, Adrian Pearce became something of a media sensation last December when the multitudes learned he had kept an unopened Christmas gift given to him by a former girlfriend who dumped him when he was 17 years old.
Pearce was a high school student living in a Toronto suburb in 1970 when his 15-year-old girlfriend gave him the present, then promptly broke up with him. He vowed never to open the package.
He kept it ever since, and even put it under the family Christmas tree for years.
The gift that Adrian Pearce received from the girlfriend who dumped him almost 48 years ago. (Facebook)
After he posted his strange tale on Facebook, the story spread and eventually made headlines in the Philippines, Poland, Russia, Germany, the Netherlands, Australia, England and the United States.
Since then, Pearce said, the former girlfriend — named Vicki — has been in touch.
"We have found the girl," he said Tuesday in an interview on CBC's Edmonton AM. "And we've invited her to come and open the present."
Pearce said Vicki originally tried to contact him before the story became public, but he didn't recognize the name so he just ignored her message.
He and his wife have since met Vicki, he said, and he now knows the reason she "dumped him" all those years ago.
"On the day that she bought me the Christmas gift she, through an unusual circumstance, met a guy that she fell for," Pearce said.
She had stronger feelings for the other guy, he said.
Vicki no longer remembers what's under the gift wrapping, said Pearce, 65, who continues to get messages on social media about his initial post.
Adrian Pearce says he has written a book about the Christmas present he has left unopened since 1970. (Adrian Pearce)
"It's kind of a goofy story," he said. "One, it's a Christmas story. Two, it's sort of a love story."
Pearce said he has self-published a book about the gift, which includes chapters written by his wife, and by his former girlfriend.
An event has been planned around the official unveiling. The present is slated to be opened on Dec. 6 at a St. Albert establishment called the Boutique Gallery Bar by Gracy Jane.
The event is open to the public. Pearce said he is selling tickets for $5 each to raise money for the Christmas Bureau.
He has invited his former girlfriend to attend. If Vicki shows up, she will actually open the gift, Pearce said.
Or his wife will do the honours.
"I vowed that I would never open it," he said. "So, to keep my word, I'm not going to open it."