Suspect in Sherwood Park explosions not linked to 'any group or ideology,' police say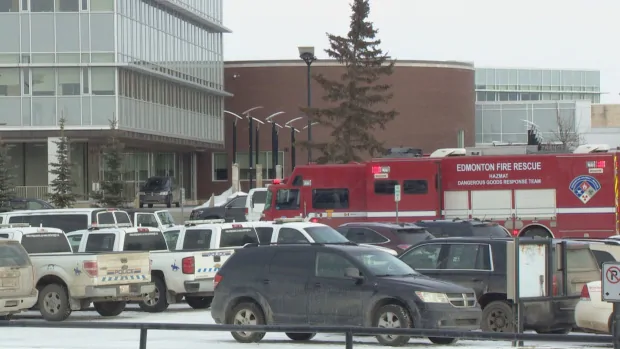 The dead man linked to two explosions at the Sherwood Park community centre earlier this week had no ties to any group or ideology, police say.
Investigators from the RCMP major crimes unit have not released the name of the 21-year-old man who was found injured Tuesday evening inside a vehicle in the parkade of the Strathcona County Community Centre.
The man was located by police officers shortly after the first explosion at about 6:30 p.m. He was taken to hospital, where he later died.
A second explosion happened in the same parkade at about 8:15 p.m., while the emergency response team and the explosive disposal unit (EDU) were on the scene. No one was injured in that blast.
RCMP have provided few details about what happened, and have not identified the dead suspect.
"There's no indication that this incident is related to any group of ideology," RCMP K-Division spokesperson Fraser Logan said Thursday. "We will continue to work with our partners through K-Division's integrated national security enforcement team to ensure we investigation all avenues as thoroughly as possible."
Police told the media Wednesday that investigators were not looking for any other suspects and said the public was in no danger.
Emergency crews and tactical units rushed to the building Tuesday evening after witnesses reported hearing an explosion inside the parkade. A nearby home for seniors was evacuated and road blocks were erected in the area.
Heavily armed officers could be seen throughout the night moving in and out of the community centre complex, which houses the county's council chambers as well as the library, meeting rooms and outdoor plazas.