Photography student sends message about MMIWG using Canadian flag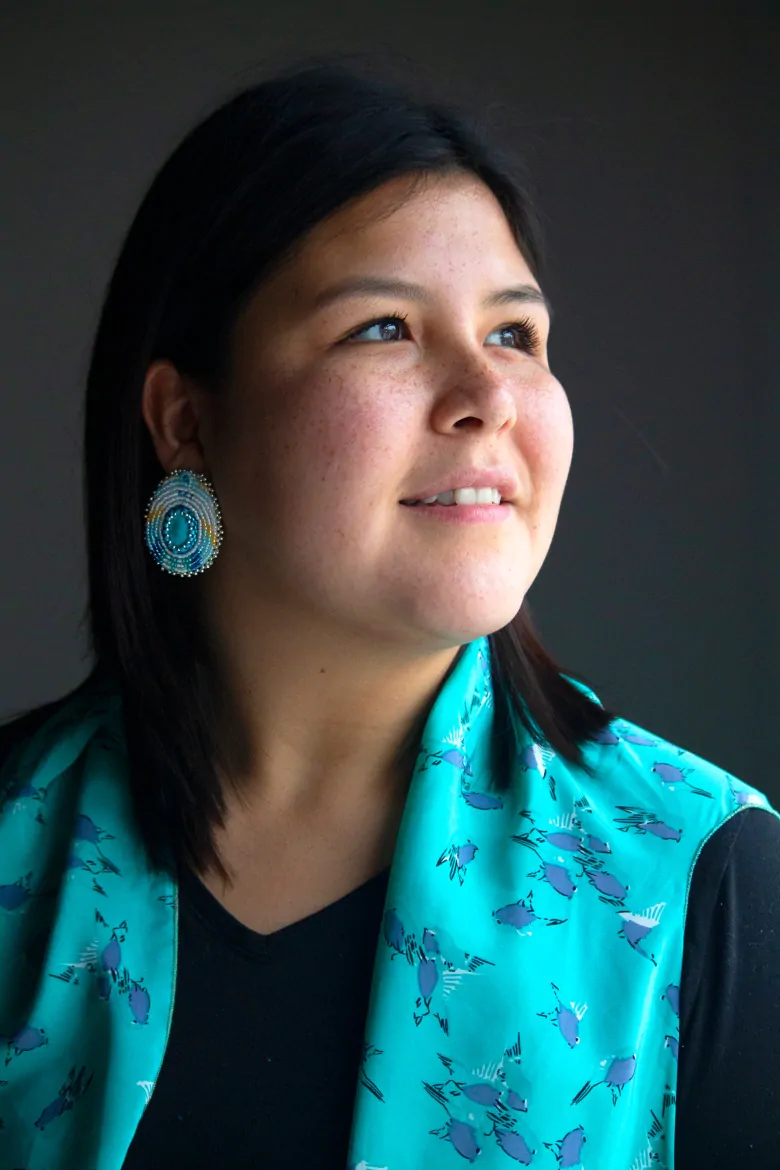 A photography student from Beausoleil First Nation in Ontario is hoping to bring awareness to murdered and missing Indigenous women and girls in Canada through her art.
Charla Sylvester, 25 discovered her love for photography after she began taking photos of her infant daughter.
Now she is in her 10th week of the photography program at Georgian College in Barrie, and has already made an impact on social media with one of her photo assignments.
In the photo a young woman lies on the ground looking up at the camera, her mouth covered and her body wrapped and taped up in a Canadian flag. Sylvester's cousin posed for the photo.
Charla Sylvester is a 25-year-old photography student at Georgian Bay College in Barrie, Ont. She is originally from Beausoleil First Nation. (Cyndal Lorch)
Sylvester was thinking of Tina Fontaine, the 15-year-old from Sagkeeng First Nation whose body was found wrapped in a duvet when she was pulled from the Red River in Winnipeg in 2014.
"I feel like she's a major face for the issue and her story really impacted me," said Sylvester.
In February, Raymond Cormier was acquitted of charges in Fontaine's death. The verdict fuelled rallies across the country and brought up questions around the Canadian justice system.
"Other girls are found at the bottom of river banks, wrapped up, and I thought what's a better way to express that by using the Canadian flag as a body bag."
Sylvester said she wants to bring attention to the issues facing Indigenous Peoples across Canada, but she says that because she's not good with words she has to get creative to express her message. She was able to turn to photography as a medium to channel her thoughts.
The assignment asked for a focus on visual cues and Sylvester was instructed to try to reach out to people who don't know and need to be informed about an issue through her image.
"I'm happy that it's spreading and doing what I want it to do, which is open up the discussion," she said.
Sylvester said she wants to add more photos to the series as her skills improve.