McGill students vote to change 'Redmen' sports teams name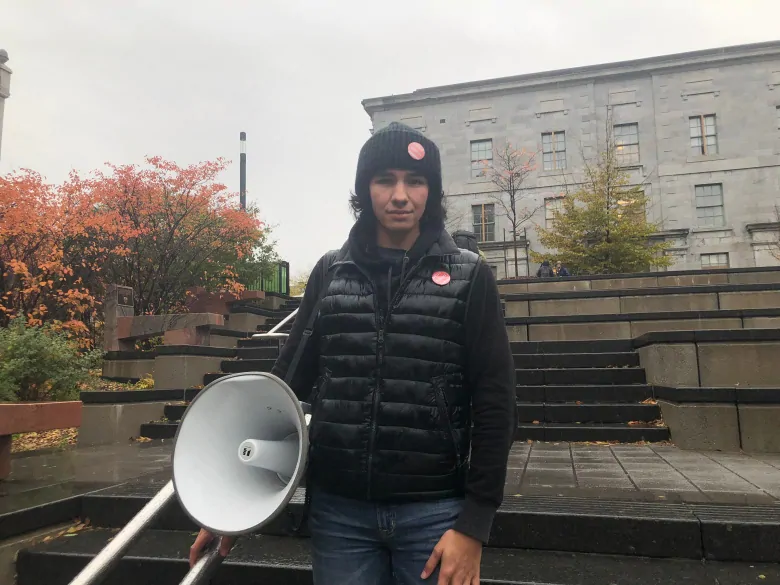 McGill University students have voted in favour of changing the name shared by varsity men's sports teams, the Redmen, in a move they hope will pressure the school to take action.
Monday evening, students voted 78.8 per cent in favour of a change. The non-binding referendum, organized by McGill's student union, collected 5,856 votes, one of the highest participation rates for a vote of its kind at the university.
"Today, as students, we are defending values of respect and inclusion on campus," a statement by the union said, adding it was thrilled by the result.
Tomas Jirousek, a third-year political science student from the Kainai First Nation in Alberta and member of the men's varsity rowing team, has been lobbying to remove the name.
He launched a petition that was signed by more than 10,000 and, on Oct. 31, organized a demonstration to protest the use of the name.
"It was a really amazing turnout and I'm really proud of the work we did to get out the vote, but also in educating so many people that we were able to get 80 per cent of students voting yes," Jirousek told CBC News Tuesday morning.
Tomas Jirousek is from the Kainai First Nation in southern Alberta and has been a varsity athlete on McGill's rowing team for three years. (Jessica Deer/CBC)
Next, Jirousek says a letter of support signed by more than 100 professors at the school will be released publicly. He's hoping to release more examples of public support in upcoming weeks.
The university has said the name stems from colours worn by the team in the 1920s. However, Indigenous symbols, connotations and unofficial nicknames were propagated by the press and fans in many circumstances.
Usages of the name "Indians" to refer to men's teams began as early as 1938, and in the mid-'60s, women's teams began being referred to as the "Squaws" or "Super Squaws."
Images of Indigenous people also found their way onto McGill jerseys and helmets of the football and men's hockey teams between 1981 and 1991.
University 'tends to drag its feet' on Indigenous issues, student says
The school created task force to look into the issue last year, in response to a call to change the name by another task force on Indigenous studies and Indigenous education.
Jirousek said the university has told students it would wait to take action on the sports team name until the working group releases its report in December.
"I would like to say I'm surprised that the university hasn't taken action yet, but after three years of studying here, I'm really not surprised," Jirousek said.
"I think the university tends to drag its feet when it comes to taking action on a lot of issues pertaining to Indigenous people."
As an example, Jirousek said students called on the university to recruit more Indigenous professors several years ago, "but we still see at this current moment not a single Indigenous tenured prof here at McGill."
But he says Monday night's vote encourages him to keep pushing.
"This Redmen thing is something that's a lot bigger for me," Jirousek said.
"It's about giving a platform to Indigenous students and allowing us really to drive an agenda and for us to hopefully build a momentum in tackling other issues that the university has."
With files from Radio-Canada's Laurence Niosi and CBC's Jessica Deer