Edmonton airport sees no errant cannabis 3 weeks after legalization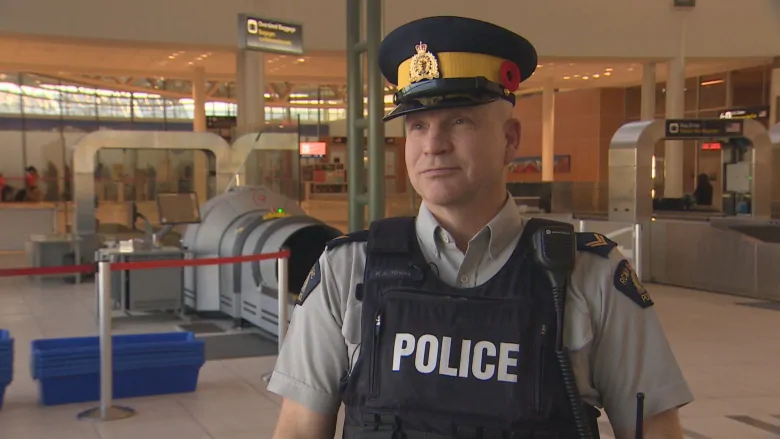 Bins installed at the Edmonton International Airport for international travellers who need to dispose of cannabis have yet to be used, three weeks after Canada legalized marijuana.
Travellers flying within Canada are allowed to carry up to 30 grams in their carry-on or checked bags.
"I think some of us thought we were going to have a few problems … a substantial amount of people going, 'It's legal. Now we can carry it and we're going to possess it,' " said RCMP Cpl. Kevin Krebs.
"That actually didn't turn out to be true."
RCMP Cpl. Kevin Krebs says there hasn't been any incidents related to cannabis legalization. (Travis McEwan/CBC)
Cannabis consumption is not permitted on airport property. There has been no issues with travellers smoking cannabis at the airport, Krebs said.
Travellers are likely to be cautious about travelling with cannabis, said Traci Bednard, an EIA spokesperson.
"We always want to over prepare when we think about travel," Bednard said. "It's really stressful and sometimes the consequences can be significant if people don't understand the rules."
Warning signs and cannabis disposal bins sit at both the domestic and international security entrances at the Edmonton International Airport. (Travis McEwan/CBC)
Cannabis dropped into the disposal bins is eventually burned in bulk at a commercial incinerator with the authorization of Health Canada.