Tyrell Perron convicted of 1st-degree murder in death of 14-year-old Edson girl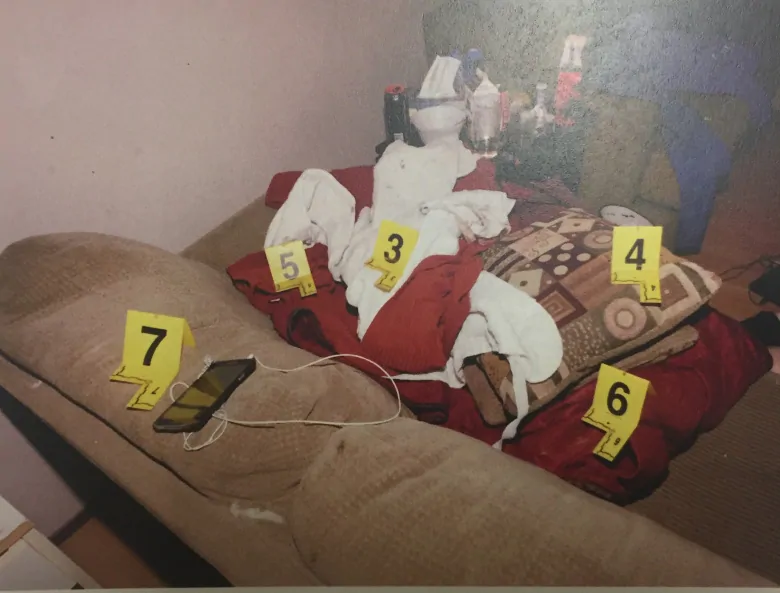 It took a jury in Hinton, Alta., five hours to find Tyrell Perron, 24, guilty of first-degree murder and offering an indignity to a body.
In March, 2016, Perron stabbed, smothered and sexually assaulted a 14-year-old Edson girl who can only be identified by initials D.H. due to a court-ordered publication ban.
When the verdict was announced, D.H.'s mother, sitting in the front row of the courtroom, showed no emotion.
Perron gave a small smile and nod in the prisoner's box after the verdicts were read. Although his mother had attended most of the three-week trial, she was not in court to hear the verdict.
In closing arguments Tuesday, Crown prosecutor Phil LeFeuvre told the jury there were two ways they could find Perron guilty of first-degree murder: first, that it was planned and deliberate. Secondly, that it was in the commission of a sexual assault.
LeFeuvre argued the murder was committed for the purpose of sexually assaulting D.H.
"This was not a spur of the moment decision by the accused," LeFeuvre told the jury. "He'd been thinking about it for awhile. He felt humiliated by a 14-year-old. He could not handle that she was seeing other people."
Perron's rage continued to grow, and he admitted having "a dark side" and described his feelings "as monstrous," LeFeuvre said.
Exhibit markers at the crime scene where a 14-year-old was murdered in March, 2016. (RCMP/Court exhibit )
"He could not deal with it and thought about killing this child as a result," he said. "He finally carried out his plan and murdered D.H."
During the three-week trial, the jury watched a videotaped interview conducted by RCMP with Perron. In legal arguments leading up to the trial, the defence unsuccessfully fought to keep the video out of evidence.
Perron admitted during the interview that he had become obsessed with D.H. and thought he was in love with her.
"I was standing over her with a knife and I just stuck her in the neck," Perron told the RCMP interviewer. "And she started screaming to stop. I covered her face with pillows.
The victim's DNA was found on the blade of this knife. The accused's DNA was found on the knife handle. (RCMP/Court exhibit )
"After she had finished bleeding out, I raped her and then I got ready to kill myself."
First-degree murder carries an automatic life sentence, with no chance of parole for 25 years.
Court of Queen's Bench Justice Paul Belzil wants to proceed directly to sentencing, which will include reading victim impact statements.