Jamal Khashoggi's suspicious disappearance is testing the U.S.-Saudi alliance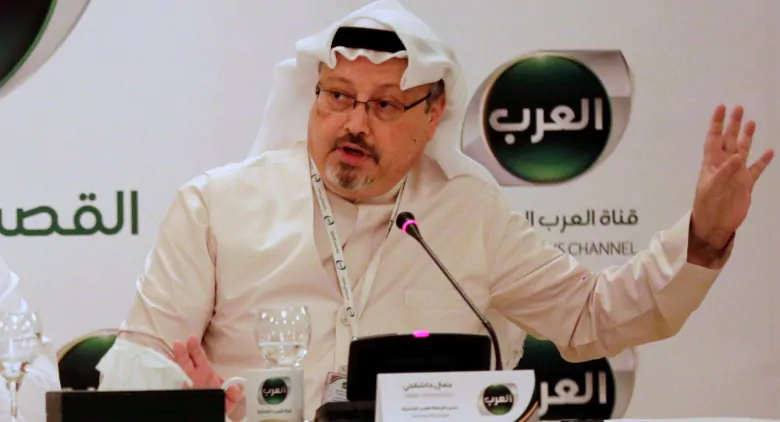 The mystery deepens with each passing day: What happened to Jamal Khashoggi?
If the missing dissident Saudi journalist was indeed murdered and dismembered inside the Saudi consulate in Istanbul, as reports suggest he was, U.S. President Donald Trump could face a diplomatic crisis.
U.S. lawmakers from both parties have already called for sanctions against anyone found responsible for Khashoggi's disappearance.
Under enormous strain to respond strongly to reports of Khashoggi being executed by a 15-member "assassination squad," Trump could also order sanctions, stop lucrative U.S. weapons sales to the Kingdom, end joint military exercises, or demand an halt to the blockade on Qatar.
Except he likely won't, even if Saudi government participation in a possible murder is confirmed, say former diplomats and Middle East experts.
Trump was asked by journalists on Thursday whether he would halt arms sales to Saudi Arabia if their agents murdered Khashoggi, a U.S. resident and Washington Post columnist. Trump responded that cutting billions in arms sales to the Kingdom would hurt U.S. workers and "be a very tough pill to swallow."
'Hell to pay'
Senators from both parties have called for Trump to invoke sanctions against Saudi officials under the Magnitsky Act, legislation initially designed to punish Russia for killing a lawyer who exposed corruption, if their involvement in the alleged murder of Khashoggi is confirmed.
Sen. Lindsay Graham, a Trump ally, has said there would be "hell to pay" if it turns out Saudi Arabia killed the columnist. Sen. Bob Corker, another powerful Republican, said he believes the Saudis killed Khashoggi, and signed a letter backing sanctions.
In this Dec. 15, 2014 file photo, Jamal Khashoggi, then general manager of a new Arabic news channel speaks during a press conference, in Manama, Bahrain. Khashoggi was a Saudi insider before going into self-imposed exile in the U.S. (Hasan Jamali/Associated Press)
But a tangled web of U.S. geopolitical interests, and a personal bond between Trump's son-in-law Jared Kushner and Saudi Crown Prince Mohammed bin Salman could disrupt action against the House of Saud, some experts said. Others argue the Trump administration will have to do something significant.
"The Saudis have now, I think, placed their relationship in the greatest jeopardy it's been in the last 25 years, or more," said Robert Jordan, a former U.S. ambassador in Riyadh during the George W. Bush administration. "This is not a trivial thing. It makes a great challenge for a country with the values of the United States to continue in the same vein."
To Washington, Riyadh's friendship is important for counter-terrorism, containing Iran, and efforts for rapprochement with Israel and the Palestinians. The U.S. also supports a Saudi military campaign in Yemen.
Authoritarian streak
Khashoggi, a prominent Saudi columnist living in Virginia in self-imposed exile, was shown walking into the Saudi consulate in Istanbul, Turkey, on Oct. 2. As his fiancée waited outside for hours, he never reappeared. He has not been seen since.
Saudi officials insist Khashoggi left the building unharmed, though they haven't produced evidence to back their claims. Turkish employees working at the consulate were sent home on the afternoon of the alleged killing and Saudi officials have claimed there is no security camera footage available to show Khashoggi leaving.
Reports say U.S. intelligence intercepted communications in which Saudi officials discussed a plot to lure Khashoggi back to the Kingdom to detain him.
For his part, Trump indicated he believes Khashoggi may have been murdered.
"So far it's looking a little like that," he said in a Fox News interview.
In this April 9, 2018 file photo, Saudi Crown Prince Mohammed bin Salman is welcomed by French Prime Minister Edouard Philippe in Paris, France. The disappearance of Khashoggi on Oct. 2, 2018, in Turkey, peels away a carefully cultivated reformist veneer promoted about the Saudi Crown Prince. (Francois Mori/Associated Press)
Experts believe such a scheme would have come at the direction of Mohammed bin Salman, or "MBS," the 33-year-old Saudi Crown Prince who generated global buzz for highly-publicised reforms, including ending the ban on women drivers.
Salman's self-described push for modernization helped him forge a kinship with Jared Kushner, and Trump's son-in-law staked his Mideast strategy largely on Salman's claims of being a bold regional reformer.
Critics say the young Saudi prince has an authoritarian streak. Last year, for example, amid claims of corruption, he ordered the imprisonment of prominent Saudi business figures and princes in Riyadh's Ritz-Carlton.
"The Crown Prince has been brilliant in many aspects. Eliminating the ban on women driving is a home run; an issue every American knew," said David Des Roches, a senior fellow at the Near East South Asia Center for Security Studies in Washington, D.C. "But that's the shiny side to the relationship. All this other stuff detracts from it."
Back in Riyadh
Asked whether the U.S.-Saudi bilateral relationship might be irreparably broken, Tom Lippman, the author of Saudi Arabia on the Edge: The Uncertain Future of an American Ally, demurred.
This won't have been the first time the Saudis have crossed the U.S. during their 75-year alliance, he said.
"It's always been this way. Even under [former U.S. President] Jimmy Carter, who made human rights the cornerstone of his foreign policy, even he was obsequious to the Saudis because he wanted something from them."
"What I'm expecting here is no long-term or even medium-term damage," Lippman said.
A demonstrator holds picture of Saudi journalist Jamal Khashoggi during a protest in front of Saudi Arabia's consulate in Istanbul, Turkey, Oct. 5, 2018. (Osman Orsal/Reuters)
Trump will still be walking a diplomatic tightrope, said Gerald Feierstein, a former U.S. ambassador to Yemen under President Barack Obama.
Much may be riding on the preservation of the delicate relationship, but "business as usual won't work," he said.
"This is a tricky challenge for any administration, not just the Trump people. They have to signal very clearly to the Saudis, and also a U.S. domestic audience, that they understand the seriousness of this and won't just allow the Saudis to sweep this under the rug."
In the meantime, a large investment conference next week is going ahead in the Saudi capital. Some U.S. invitees, including the New York Times, have withdrawn. A year after a handful of Saudi royals were detained at glitzy Riyadh hotel, Feierstein expects many others in the business community may vote with their feet and pull out of the meeting, citing lost confidence the Saudi regime.
For those who do attend, however, the conference venue may sound familiar: The Ritz-Carlton Riyadh.